Establishment mad over Spicer's Emmys cameo… and yet exalt accomplices of Bush & Obama crimes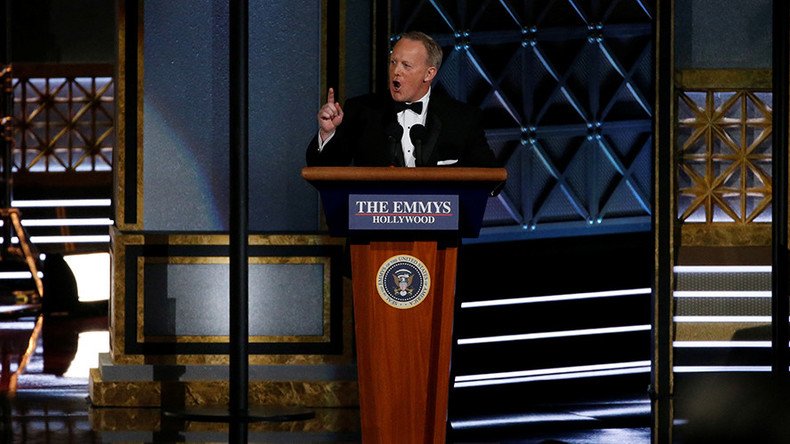 Sean Spicer made a surprise appearance at the Emmys on Sunday night, and it drove Hollywood and the establishment absolutely crazy.
On Sunday night, Stephen Colbert, host of CBS' Late Night with Stephen Colbert, hosted television's Emmy awards and brought along his trademark biting political comedy. For the most part, things went as expected on the show as diversity was cheered, Trump was jeered, and self-congratulation dominated the evening.
The biggest star of the night though, in absentia, was President Trump. Colbert set his sights on Trump and skewered him mercilessly throughout his monologue. Trump's presence loomed large over the proceedings, even among the award winners, as Saturday Night Live (SNL) won an award due to its comedic coverage of the 2016 election with Alec Baldwin and Melissa McCarthy garnering awards for their iconic comedic portrayals on SNL of Donald Trump and Sean Spicer, respectively.
Speaking of which, the one big surprise of the evening that has got tongues wagging here in Hollywood, was not a wardrobe malfunction, a big upset winner or a La La Land - Moonlight Oscar level controversy, no, the big news of the Emmy awards was the appearance of …Mr. Sean "Spicey" Spicer.
Spicer, the much-mocked former spokesperson for the Trump White House, came on stage and had a little fun at his own expense when he said, "This will be the largest audience to witness the Emmys, period – both in person and around the world."
Spicer was playing off of his famously incorrigible, bordering on incontinent, defense of Trump's inauguration crowd size, which occurred in the first week of his job as White House Spokesmen, and set an adversarial tone between him and the press, not to mention observable reality. Spicer's display of good humor at his own expense at the Emmys was moderately well received in the room, and according to reports, he was quite popular at the after parties.
Not everyone in Hollywood, or elsewhere, was so enamored with the Emmys "normalization" of Spicer. Zach Braff, former star of the television show Scrubs, summed up the opinion of many when he tweeted, "I'm not ready to laugh "with" Sean Spicer. I think he is an evil, opportunistic liar, that hurt our country". Many others on twitter followed suit.
I'm not ready to laugh "with" Sean Spicer. I think he is an evil, opportunistic liar that hurt our country.

— Zach Braff (@zachbraff) September 18, 2017
Jon Favreau, the former speechwriter for Barack Obama, tweeted, "Harvard fellowships, Emmy appearances, huge speaking fees: there's just gonna be no penalty for working in Trump's White House."
I dislike Spicer and am repulsed by Trump, but I found Favreau's anger to be grating, considering the man he worked for, President Obama, committed a plethora of immoral acts while in office and no one ever dare speak of them, never mind hold any of his underlings like Favreau accountable for them.
Harvard fellowships, Emmy appearances, huge speaking fees: there's just gonna be no penalty for working in Trump's White House, huh?

— Jon Favreau (@jonfavs) September 18, 2017
For instance, after Obama ordered a drone strike that successfully assassinated Abdulrahman Al-Awlaki, a 16-year-old American boy living in Yemen, Obama's spokesmen and Favreau's colleague, Robert Gibbs, said the child"should have a far more responsible father" if he didn't want to be murdered in cold blood. What Gibbs said about the Al-Awlaki boy is decidedly much worse than anything Spicer ever said about crowd sizes or anything else, and Gibbs has faced no social penalty for that or for his boss's unethical and potentially criminal acts while in office, and neither has indignant tweeter, Jon Favreau.
Even though the mainstream media and many liberals like to brush aside these uncomfortable facts, let us not forget that besides murdering an American child overseas, and many foreign-born ones too, Obama also savaged the first amendment and freedom of the press here at home by attacking whistleblowers under the archaic espionage act eight times, more than all other presidents combined. He also sold out the country, the working class in particular, when he ignored the rule of law by failing to prosecute the crooks and liars on Wall Street who, through egregious fraud, drove the economy off a cliff in 2008. Despite all of these atrocious acts, Obama and his underlings have no fear of being shunned by "serious" people in elite circles.
And do not forget that Obama also made the cowardly decision to "look forward" and not prosecute Bush administration officials for their war crimes. Which brings us to Jeb Bush's former spokesman Tim Miller, who proved it wasn't just the mainstream left that were angered by Spicer's Emmy appearance, but the establishment right as well, when he tweeted, "I know people who were offered opportunities to lie for Donald Trump and quietly declined. Harvard and The Emmys calling wrong folks."
I know people who were offered opportunities to lie for Donald Trump and quietly declined.

Harvard & The Emmys calling the wrong folks

— Tim Miller (@Timodc) September 18, 2017
Anyone even remotely connected to the Bush family calling out Sean Spicer, or anyone else, for shamelessly lying is the height of hypocrisy. President Bush, unquestioningly supported by his low energy brother Jeb, lied America into a war in Iraq that killed hundreds of thousands, if not millions, of people in Mesopotamia.
Besides the war crime of preemptive invasion in Iraq, President Bush also undermined America's legal and moral authority by presiding over a brutal torture and rendition program that violated international law and the Geneva Conventions.
This is the same President Bush who also instituted an intrusive and unconstitutional domestic surveillance program to spy on the American people and then had his surrogates lie about it to the American people.
Bush administration spokesmen, Ari Fleischer, along with Bush speechwriter David Frum, communications director Nicole Wallace and neocon war cheerleaders Bill Kristol and Max Boot, among others, propagated the lies about WMD that convinced America to go to war in Iraq, and also dissembled the truth about domestic spying and torture and yet they now face no social stigma for their sins, but rather are celebrated by the establishment press.
In fact, if you turn on any cable news program you will be sure to see plenty of former Bush administration talking heads not just being "normalized," but held in the highest regard for their knowledge and insight, instead of being berated for their moral depravity and ethical degeneracy. Fleischer is a regular contributor on CNN, and Frum, Kristol, and Boot are all held in the highest esteem at the allegedly liberal MSNBC because they routinely assail Trump. Nicole Wallace is so adored by MSNBC, she got her own show on the network.
These miscreants should be shunned, badgered or chastised at every turn for aiding and abetting the Bush regime's crimes, but instead, they benefit from the disease that is epidemic in America, political myopia, and historical amnesia.
In the age of Trump, it is establishment liberals who suffer the most severe cases of this malady of myopia and amnesia, and there are no greater examples of this than the odious political comedian Bill Maher, and MSNBC host Joy Reid.
Maher, an avowed liberal, has been waxing nostalgic for a return to the glory of the Bush years ever since Trump came to office. Apparently Maher abhors Trump's assault on presidential "norms" so much that he prefers the good old days when the presidency wasn't sullied by Trump's uncouth behavior, but only by Bush's preemptive war, torture, and surveillance and Obama's kill list, war on whistleblowers and his ignoring of Wall Street and Executive branch criminality.
Joy Reid, a devout Clinton supporting liberal, recently was quoted as saying that she has more in common with neocons like Frum, Boot, and Kristol than she does with those on the far left. When you embrace the muscular American Empire of Bush neo-conservatism, and the globalist economics of Clinton neo-liberalism like Reid has, you've really mastered the art of bad ideas. But at least Reid is not alone with her vacuous ideology, as nearly everyone else in the mainstream media, Bill Maher included, parrot the same nonsense that she does.
What I dislike even more than Spicer and Trump, is the holier-than-thou hypocrisy of those on both the left and the right in the political and media establishment who willfully ignore the moral and ethical depravity that infected the White House long before Trump ever did.
If the institutions of "decent society" can be so craven as to exalt the deplorable scoundrels who were accomplices to the crimes of Bush and Obama, then maybe those White House veterans, like Favreau, Wallace and Frum, who benefit from that amoral worship of power should, at a minimum, keep their mouths shut and be grateful they aren't in prison or at the end of a rope.
But former and present Trump administration staff like Spicer, Kellyanne Conway and Steve Bannon shouldn't fret about their post-White House careers. If they really want to guarantee themselves a high-paying, cushy job in cable news, all they need to do is convince Trump to tweet less and kill more. You see, in the eyes of the "serious people" in "polite society," tweeting is horrifically un-presidential, but killing, torturing and spying in the name of American Empire? That's how you get the keys to the establishment kingdom.
Michael McCaffrey, for RT
Michael McCaffrey is a freelance writer, film critic and cultural commentator. He currently resides in Los Angeles where he runs his acting coaching and media consulting business. mpmacting.com/blog/
The statements, views and opinions expressed in this column are solely those of the author and do not necessarily represent those of RT.
You can share this story on social media: