Sanctions on N Korea are failure of diplomacy, 'hamburger' talks needed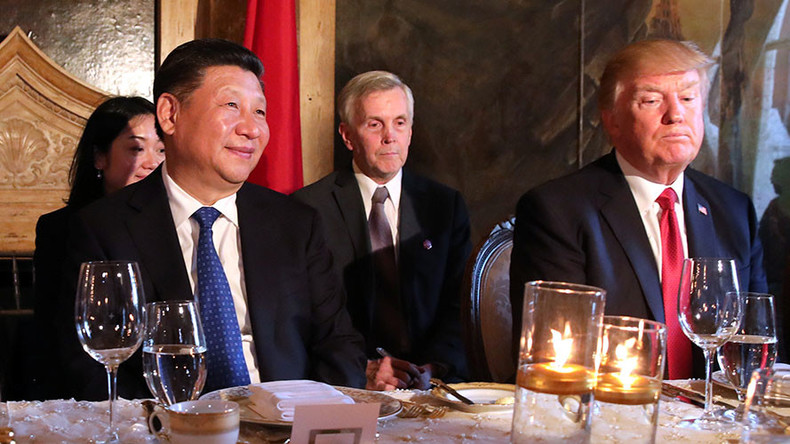 Sanctions on North Korea are not about diplomacy, they are the unilateral, one-sided implementation of a punitive measure that doesn't get anyone to the table. However, that is exactly what is needed, experts told RT ahead of Trump's speech at UNGA 2017.
Top Russian and American diplomats Sergey Lavrov and Rex Tillerson met at Washington's request in New York on September, 17 for the first time since the diplomatic spat between the two countries.
The informal meeting on the sidelines of the UN General Assembly touched upon the situation in Syria and the implementation of the Minsk agreement in Ukraine.
Investigative journalist Rick Sterling suggested the reason why Washington requested the meeting was that "they are looking for some kind of agreement or something like that ahead of Donald Trump's address to the UN General Assembly on Tuesday."
"They'd probably like to have something positive to say. And we'll see what results," he added.
Former Pentagon official Michael Maloof said he thinks "the Russians and the Americans have never really wanted to cut off any kind of negotiation or discussion."
"In fact, I think this is part of the plan to continue discussions because of the overarching security issues that both countries share in terms of Syria, Afghanistan, Iraq. These are all very important issues, and also dealing with Al-Qaeda and ISIS," Maloof told RT.
He also pointed out that the US is not going to cut off discussions just because of a diplomatic flap.
On Saturday, the US accused Russia of bombing positions of Syrian rebels it supports in Deir ez-Zor province in Syria. Russia responded that it attacked ISIS positions and had warned the US the strikes were going to take place.
In Maloof's opinion, the meeting between Lavrov and Tillerson could be a step toward restarting closer coordination.
"There is coordination already through the Pentagon and with the Ministry of Defense in Russia. They do have a hotline, and they do talk, and this has never been severed. Even though there was a brief pause, that was reinitiated," he noted.
"If Russia feels that they were bombing ISIS positions, then it indicates that perhaps the intelligence is not keeping up particularly on the US side and there needs to be better coordination between the two sides on who and what the targets really are. Because that is important," Maloof added.
Earlier Rex Tillerson said the US is pursuing a "peaceful pressure campaign," regarding North Korea, while the US Ambassador to the UN Nikki Haley stated that Washington has exhausted all diplomatic means.
Asked whether the US has tried all diplomatic options with North Korea. Maloof said, "absolutely not."
Maloof suggests "the US needs to take the Russians and the Chinese up and actually sit down with the North Koreans."
"Even President Trump himself offered last year and again this year to actually sit down and offer what he would call "a hamburger" and have a lunch over discussions. I would call it "hamburger diplomacy." But we have not had an offer of direct talks. And this is what, I think, is Kim Jong-un is looking for," he concluded.
The situation on the Korean peninsula is expected to be high on the agenda at the UN General Assembly this week.
North Korea is ready for a diplomatic solution, but that's not something Washington has so far presented to Pyongyang, argues Eric Sirotkin, the co-founder of the National Campaign to End the Korean War, told RT.
"What we are facing is a real failure of diplomacy. Sanctions are not about diplomacy. Sanctions are punitive. Sanctions don't sit anyone at the table, and they are the unilateral one-sided implementation of a punitive measure. So, the idea that somehow diplomacy had prevailed was a little naïve at the time on the part of the [US] UN ambassador," Sirotkin told RT.
"Kim Jong-un said in July they will not negotiate the nuclear weapons unless the US ends its hostile policies toward the DPRK. Consequently, you have got two sides in the tug of war… The idea is that in a tug of war you have to let go of one end of the rope, you have to have the courage to do that and to then use creative aspects of conflict resolution to get the job done we are not willing to do that," he said.
"We are left with very little option other than considering "fire and fury." And in reality that shows a lack of creativity but arguably violates our commitments under international law, as well," Sirotkin said.
The statements, views and opinions expressed in this column are solely those of the author and do not necessarily represent those of RT.