Lavrov and Tillerson meet to talk Syria & Ukraine on UN General Assembly sidelines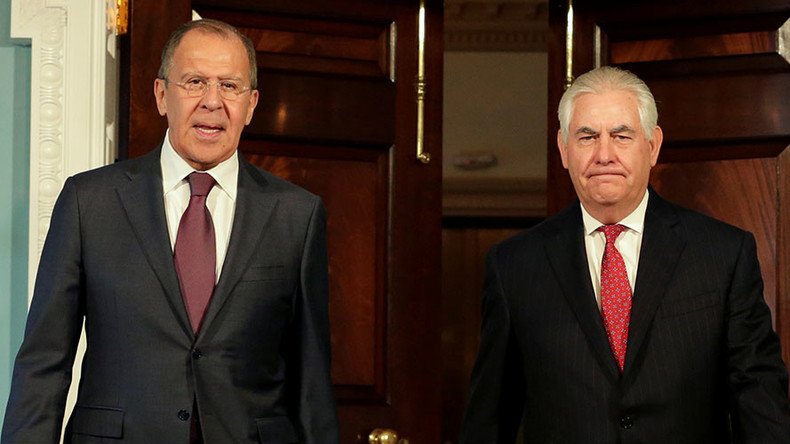 Russian Foreign Minister Sergey Lavrov and his US counterpart, Rex Tillerson, held an informal meeting on the sidelines of the UN General Assembly to discuss the situation in Syria and the implementation of the Minsk agreement in Ukraine.
Lavrov and Tillerson met at the Russian Permanent Mission to the United Nations in New York. Lavrov arrived in New York late Sunday to take part in the 72nd session of the UN General Assembly. The annual General Debate of the assembly will start September 19.
According to a statement from the Russian Embassy in the US, both sides "discussed the interaction on the Syrian crisis and other aspects of the situation in the Middle East and North Africa as well as the implementation of the Minsk agreements."
The US State Department also said that Syria and Ukraine were the main topics of the meeting.
"The two recommitted to deconflicting military operations in Syria, reducing the violence, and creating the conditions for the Geneva process to move forward, pursuant to United Nations Security Council Resolution 2254," State Department spokesperson Heather Nauert said.
On Friday, Russia, Iran, and Turkey agreed on the boundaries of the fourth and final de-escalation zone in Idlib, Syria. All four de-escalation zones in the war-torn country will remain in force for a period of six months.
The zones, proposed by Russia, are aimed at separating terrorist groups, including Islamic State (IS, formerly ISIS/ISIL) and Jabhat al-Nusra (Al-Nusra Front), from the moderate opposition.
"We see this as a turning point. The creation of de-escalation zones represents a turning point in people's minds," Russia's special envoy for Syria, Alexander Lavrentyev, told reporters in Astana following the announcement.
Moscow has repeatedly said that the de-escalation zones are part of a plan to stop the violence in Syria. They are a temporary measure intended to pave the way for peace talks and a resolution to the six-year armed conflict in Syria.
READ MORE: Syrian troops have liberated 85% of the country – Russian MoD
The violence in Syria seems to be waning as Islamic State loses the last vestiges of its territory. Earlier in September, the Russian Defense Ministry said that the Syrian military had liberated around 85 percent of the country from insurgent terrorists.
You can share this story on social media: