New Cold War wind blowing for Russian Olympic team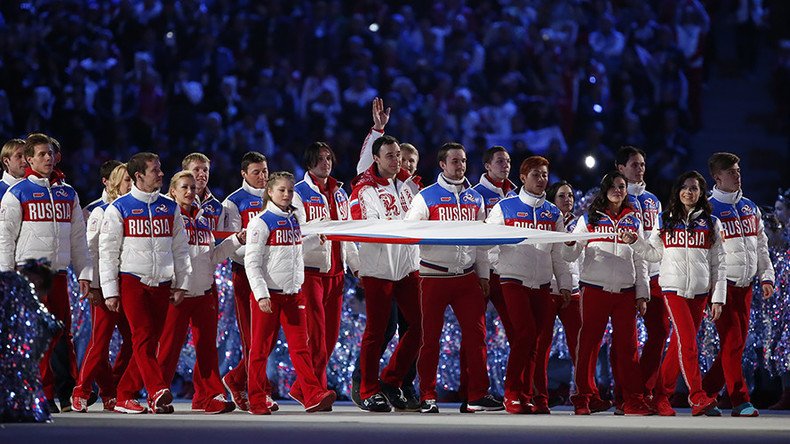 Winter is coming and still many Russian Track and Field athletes remain ostracized. Only through courts and bureaucracy will they get the chance to compete as Authorized Neutral Athletes (ANAs).
While the disappointing United Kingdom Anti-Doping Agency (UKAD) received substantial payments to reform dope testing in Russia, for Russia's Winter sports athletes it's unclear as to their participation in the 2018 Winter Olympics in PyeongChang, South Korea.
The Paralympians remain banned and now vested interests are calling for a ban across the board.
I term UKAD 'disappointing' as no statement from this for profit business is complete without some variation of disappoint. Like their equally rapacious American counterparts, the US Anti-Doping Agency (USADA), they were "disappointed" by a World Anti-Doping Agency (WADA) ruling, despite UKAD sanctioning a wide range of performance enhancing 'therapeutic use exemptions' (TUEs) for its own athletes. When Fancy Bears exposed the hypocrisy, the CEO of UKAD, Nicole Sapstead was "disappointed". Not ashamed or worried, just that variant of disappoint.
Russia is no different to any other country where athletes, coaches and functionaries wish to lather themselves in glory. It is a nation where access to technology and materials has been used to enhance performances. UKAD came to get Russia back on track and this June WADA permitted Russian Anti-Doping (RUSADA) to work under supervision.
In August, Vitali Mutko accepted the WADA road map, with one exception: Russia wouldn't accept the charge that there was a state-run doping program. And he's right. In fact, if anything should be taken from the McLaren Report, it's that mechanisms of state were abused for profit by a criminal organization involving the man who is responsible for damning an untold number of Russian athletes.
Grigory Rodchenkov, former director of the World Anti-Doping Agency (WADA) laboratory in Moscow, avoided justice by duping US filmmaker, Bryan Fogel, into getting him to America and into a witness protection program. The lies he told this writer in 2012 were known to Fogel and to the global anti-doping community for decades. Rodchenkov escaped, Russian athletes remain stigmatized.
Geopolitics and greed made Russia the whipping boy instead of beginning a debate on what is happening in sport. Removing the FIFA World Cup to actually removing sports events to blanket banning Russian athletes, it was all anti-Russia, all the time. And it was very convenient as this year has shown.
UKAD found the "extraordinary" tales of the mastermind of British Cycling's unbelievable leap from zeroes to heroes "disappointing" in January. Still, sickly Chris Froome won his 2nd Grand Tour of 2017. Under UKAD's watch, a medical doctor claimed he was doping athletes from a range of sports. At the time of this writing, UKAD told this writer that they cannot comment, but "are observing developments", their promised "independent review" non-existent.
They won't dig too deep as it's bad for business, yet a bad Russia is good for business. This summer, UKAD lost a bid to test athletes at the IAAF World Athletics Championships in London, as they were considered too expensive. They were "disappointed" not to have won the tender to test athletes on their own soil. UKAD receives $6.5 million+ per year from the British taxpayer and earned handsomely from the Russian taxpayer for their work to date in Russia; private work is vital with cutbacks in the offing. Which is why the latest missive from the 17 money and power hungry National Anti-Doping Organisations (NADO) is no surprise.
The long buried report by the University of Tubingen in Germany estimated that 40-60 percent of elite athletes dope. This report was forced into light by the UK Parliament exactly two years ago! The IAAF was accused of blocking the report and of misleading the UK Parliament. In 2011, 30-45 percent elite athletes admitted doping, yet at that year's World Championships only 0.5% failed tests. It found official tests cannot catch the cheats in any case. So is it possibly time for some introspection by those who fail athletes, public, the public purse and common decency?
Not at all. The power hungry anti-WADA profit-seekers NADO have repeatedly looked to blanket ban Russian athletes and delegates, as well as strip the country of all sporting events - here and here - plus pushing to ban Russia from hosting the FIFA World Cup 2018. Unwilling to clean up at home and answer for their own failings, the Tubingen Report hit the news and they hit send on their statement - calling for Russia to pay at least an "eight figures" fine as well as further sanctions. One of their members, UKAD, simply called the German Report "disappointing". A thesaurus is needed for the UK's TUE factory.
It all comes down to dollars and politics. Russian Winter Olympians will wait for the green light. Athletes who have sacrificed years to their sport will compete in Korea on the whim of money hungry apparatchiks who have done more to destroy sport than the dopers they feign interest in.
The statements, views and opinions expressed in this column are solely those of the author and do not necessarily represent those of RT.
You can share this story on social media: