'Amid migrant crisis, Eastern Europe wants to uphold values (and get funds from Brussels, too)'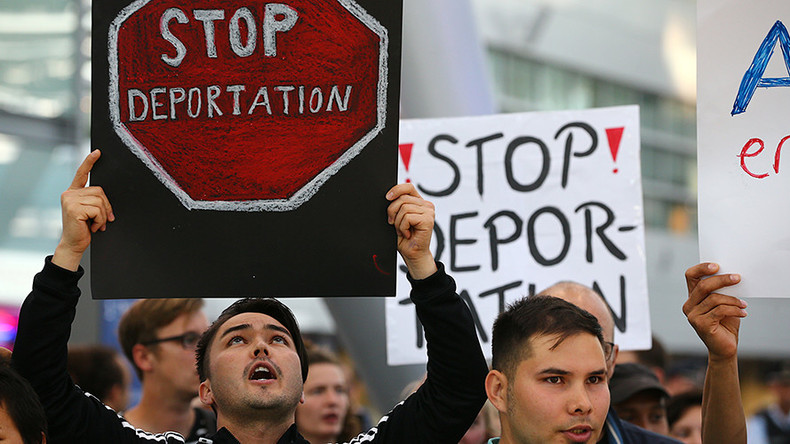 The central EU states are pressuring the eastern frontier states to step up to the plate and do their fair share in accommodating the migrants arriving from Greece and Italy, political commentator Adrian Yalland tells RT.
The German Chancellor Angela Merkel criticized Hungary over its position on migrant quotas, calling it unacceptable.
Last week, the European Court of Justice rejected a complaint filed by Budapest over the EU refugee quota system, which is something Hungary's has opposed. Viktor Orban's government called the decision political and vowed to continue the fight.
RT: Angela Merkel's called Hungary's stance unacceptable, and she's not the first politician to have lashed out at the country over its refugee policy. What do you make of this pressure?
Adrian Yalland: I think the difficulty that there is across Europe is that you have the Visegrad states in the eastern part of the EU that have upward pressure coming from Kosovo and from the Balkans, as well as pressure coming from the 36,000 refugees that are still counted in Greece and Italy. And then you have the liberal states in the center and the west of the EU - Denmark, Scandinavia, Germany, France - and they want to see this issue settled. They are putting pressure upon – and it is not just Hungary – it is the Czech Republic, it is Romania and Poland after the Truth and Justice Party was elected. They are putting pressure on these eastern frontier states to, as they see it, step up to the plate and do their fair share of accommodating these migrants that are coming in from Greece and Italy.
But I think what they are seeking to do is impose a central EU policy. They feel the European Court of Justice (ECJ) has a right to decide whether this issue is proportionate, and the judgment is very clear that the ECJ has decided that this is a proportionate policy and therefore it should be imposed and implied uniformly across the EU. Whereas the states in the east are saying: 'Hang on, you're not taking into account the fact that we got so much pressure coming up from the Balkans as well. So we're getting a double whammy.'
This goes to the very heart of the struggle that there is within Europe, which is not just about Eastern Europe and Western Europe, it is about conservative Europe on the eastern frontiers – nationalist, conservative, or less liberal Europe in the Visegrad states – Poland, Romania, Hungary and the Czech Republic. With the more liberal central European states, they want to see a more liberal, more European policy.
It was very interesting to hear Dimitris Avramopoulos, the Greek Minister for Migration, who said: 'Imposing this policy will bring about unity and solidarity.' That tells you everything you need to know about the way the Commission approaches this issue, which is that they believe that unity and solidarity can be imposed by the ECJ. Whereas in the eastern states they say: "Hang on a second, we're not sure about this…"
RT: After the court ruling, Hungarian Foreign Minister Peter Szijjarto said that 'politics has raped European law and values.' Can Hungary's position be justified here?
AY: … Ultimately, I think what is happening here is reading what is going on below the surface: this is very clear – Hungary is holding its hand out for some more money. I think Hungary has already put a claim in for several million euro to fund the border guards and the new border fences going along its eastern border. I suspect that what this actually is… is about the Victor Orban government saying to his core voters that 'we're going to stand up for Hungarian values; we're going to oppose inward migration from the Balkans and also from refugees; we don't want to see our culture diluted; we don't want to see economic prosperity weakened. What we're going to do is stand up for Hungary, and that is very much the rhetoric that Victor Orban's conservative and nationalist government has been elected upon. At the same time, what they are saying to the EU is: 'you need to give us some money.' If the EU opens its checkbooks and writes a big, fat check for Hungary, this becomes less of a problem.
RT: During his state-of-the-union address, the President of the European Commission Jean-Claude Juncker made a very unambiguous comment saying that 'in the EU the rule of law is not optional, it is a duty.' Even though he didn't directly mention Hungary, the message was clear. Do you think words will now become action?
AY: It will be a bit of both. I think Europe is a fudge. Europe does business by deals behind closed doors and by bringing together compromises. That is not necessarily a bad thing. That might not be a transparent way of doing politics, but it seems to work largely because Europe is so diverse, and there are 28, soon to be 27 member states – each have their own constituencies that they need to appeal to.
Juncker is correct, there is the rule of law across the EU that the ECJ is the highest appellant court of the EU. This is the point that Merkel is making that we have effectively a constitution, and the rule of law must be applied uniformly across all member states. That doesn't mean to say that there can't be deals done behind the back door where a country says: If you want us to toe the line you wish to impose solidarity and uniformity in our country, you're going to have to pay for it.'
The statements, views and opinions expressed in this column are solely those of the author and do not necessarily represent those of RT.