The West turns a blind eye to Myanmar's brutality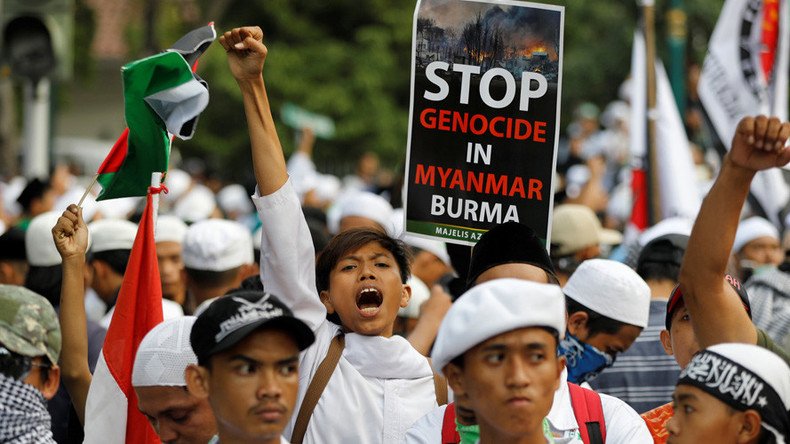 The West is often accused of double standards. This is because it readily levies charges of human rights abuses against its enemies, but remains as silent as the grave when its allies do the same.
Few cases of double standards have been as grotesque as the Western adulation for the Myanmar leader Aung San Suu Kyi.
Never forget: Aung San Suu Kyi is the poster girl for freedom and democracy in Washington, London, and Berlin. Just a few months ago, Britain invited this Nobel Peace Prize winner to Buckingham Palace to meet Prince William and the Queen, as well as awarding her the Freedom of the City of London.
Meanwhile, back home, Aung San Suu Kyi's government has enacted a series of atrocities inflicted on the largely defenseless Rohingya Muslims who live in the west of the country.
Genocide is probably too strong a term to describe the campaign of rape, torture and mass murder being inflicted against the Rohingya by the Myanmar army. But only just.
Harsh Measures
To be fair the army is beyond Aung San Suu Kyi's control, but she has done nothing to chasten them, or to allow the United Nations to investigate alleged crimes committed by the armed forces. Most recently she blamed "terrorists" for "a huge iceberg of misinformation" on the current crisis.
The Rohingya have been stripped of the vote. The Myanmar parliament, two years ago, approved the Population Control Healthcare Bill, which attempts to restrict Rohingya women from having babies.
When I visited Sittwe, capital of Rakhine Province, last April, the situation was stomach-churning.
Mosques were burned down, while the Rohingya Muslims have been driven into camps. One-third of the town's population used to be Muslim. But now there are just a few thousand left in a ghetto surrounded by machine guns and barbed wire.
It's worse in the north, where large areas have been declared a "military operations area" which means there is no international presence through aid or media, and there are no witnesses.
Innocent Victims
This is a campaign of terror targeted indiscriminately against civilians. We've seen at least one credible alleged massacre, which occurred on the 27th in the village of Chut Pyin where at least 130 people were reportedly killed. Tens of thousands have fled to neighboring Bangladesh.
The Arakan Project, a monitoring group that has a network of people on the ground, declared that at least 130 people were killed in a raid on the village in an attack that lasted five hours during which villagers were rounded up and burned alive. Allegedly some were beheaded by Burmese soldiers.
A survivor of this massacre described to me what he had witnessed: "My two nephews, their heads were [cut] off. One was six years old, and the other was nine years old. My sister-in-law was shot with a gun."
The army is forcing the displacement of tens of thousands of unarmed villagers from their homes, yet the failure of the international response is deafening. The lack of media coverage has been shocking.
Let's try a mental experiment. Let's imagine the outrage from Western governments if these atrocities had been committed in Venezuela, Iran, North Korea, Zimbabwe or by the Assad regime in Syria.
Ambassadors would have been called in for interview, diplomats sent home in disgrace, embassies closed, armies mobilized.
Sanctions would, of course, have been imposed. In Myanmar, they actually lifted sanctions four years ago. These sanctions were removed after pogroms were directed against the Rohingya in 2012 and there's no doubt they were lifted prematurely. It's chilling that there's no talk about bringing them back.
This raises the question of what sanctions are about.
Are they applied to punish wrongdoing and reward good behavior? Or simply to emphasize the muscularity and (of course) the virtue of the West?
From Donald Trump, theoretically leader of the free world, we've heard nothing. From Angela Merkel, nothing. From Britain's Theresa May – and let's not forget that the Rohingya Muslims fought alongside Britain in the jungle war against the Japanese in World War Two- nothing. No threats of sanctions. No punitive action. No ambassadors called in.
It's business as usual.
From Aung San Suu Kyi we've not just had silence. There's been denial.
As for the United Nations, it's been deeply complicit with all this, as indefatigable Emanuel Stoakes (a reporter who's done so much to keep the Rohingyas in the public eye) and I reported in a dispatch for 'Middle East Eye' six weeks ago.
Horrible Atrocities
In the north, the Rohingya Muslims are being burned alive. Children are being murdered. Women are being gang-raped. Villages are being burned.
The situation in #Rakhine is becoming more precarious. My hope now is that all concerned will follow through on recommendations w/out delay.

— Kofi Annan (@KofiAnnan) August 24, 2017
Yesterday, I spoke through an interpreter to a man who had just escaped across the border to Bangladesh. He said: "More than 200 homes were burned in my village. I had four children, but the military shot one of the sons. He was two years old. What crime did my son commit? Why did they kill him?
"I saw with my own eyes houses being burned. I saw four people shot to death [and] two stabbed. I saw this all while we were hiding and looking on. We could do nothing but cry."
Another Rohingya villager had arrived in Bangladesh with his wife and nine children only three days ago: "The military killed my seven-year-old son. Not only that, but they killed my mother, who is 65, my two sisters and my brother's wife, along with their two children. Another of my brothers lost his wife.
"I saw many Rohingyas shot to death, burned alive and women being raped. The village head, along with the security forces chief asked all the women to gather on the bank of the river and then shot them all. And from that group, they picked fifty women who were pretty and brought them to a house and raped them. They were beaten cruelly after being gang-raped. I saw everything with others who were hiding on a hill, but we could do nothing but weep."
Asked what the international community should do in response, he replied: "There is no question about the scale. We want justice. We call upon the United Nations to do something for us so we can live like human beings."
These are the voices of the people of Myanmar which the world doesn't want to hear.
The statements, views and opinions expressed in this column are solely those of the author and do not necessarily represent those of RT.
You can share this story on social media: