'N.Koreans taught from age of 3 to expect American invasion'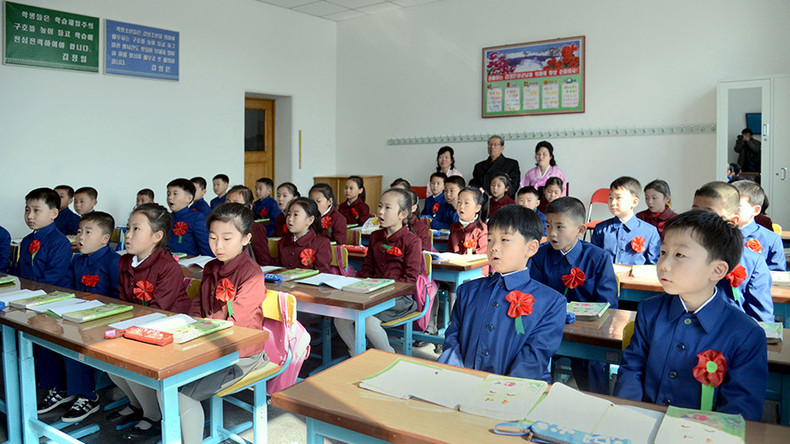 There exists a chasm in mutual understanding between Pyongyang and Washington. The US sees its massive naval exercises as readiness, while North Korea views them as preparation for an actual invasion, says Sam Yoon, from the Council of Korean Americans.
Tensions have increased again on the Korean peninsula after Pyongyang conducted another missile test that triggered an immediate reaction from South Korea and Japan.
The North Korean missile flew over northern Japan and landed in the Pacific Ocean 1,180 km east of Hokkaido's Cape Erimo, according to the Japanese and South Korean governments.
The launch caused Japan to warn residents in the area to take shelter.
Pyongyang said it sees ongoing naval exercises between Washington and Seoul as "dress rehearsal" for an invasion of North Korea.
Sam Yoon, from the Council of Korean Americans, suggests that all sides are fueling the tension on the peninsula.
RT: This launch comes just three days after North Korea conducted a test of shorter-range missiles. Why conduct another test so soon?
Sam Yoon: I think this is clearly a response to the joint military exercises, a provocative response, fairly predictable, looking back at history. I think the fact the missile was launched over the only country in history which has actually suffered loss of life due to nuclear weapons is extremely provocative. There is a message being sent there in that missile test. To me, every missile test is a message of some kind that we need to understand and understand well before this escalation just spirals out of control.
Currently, the US is engaged in extensive war exercises with South Korea around North Korean territory. So, what we are faced with is a situation in which they are not stepping back. They said there would be a reaction if the US and South Korea - at this very volatile time - held these exercises… Pyongyang is saying 'we don't support the war exercises that are going on with tens of thousands of troops along our border.' So it's not totally unexpected. - Human rights lawyer Eric Sirotkin, to RT.
RT: South Korea and the US have been conducting joint military exercises which are viewed as a threat by the North. Why hold these exercises now if it risks escalating the situation?
READ MORE: 'Overwhelming force': South Korea conducts bombing drill in response to Pyongyang's missile test
SY: There is a difference in perception between North Korea and the US that is a chasm. The US considers this a readiness exercise because they are simply looking at the capability of the North and its provocations and needs to be ready at a moment's notice if something were to happen, which no one is hoping will.
There is a long history of conflict between both Koreas and Japan. Japan occupied Korea rather ruthlessly from 1910 to 1945, and there is no love lost there. There had been this missile that flew apparently hundreds of miles in the sky above Japan and over Japan, which is on the map due east of Korea. It is not surprising to shoot a missile toward the US positions or toward the US a little bit that they would have to fly over Japan. There is nobody saying this missile had a nuclear weapon capable of destruction. It is a reckless thing to do, absolutely. Is it an inopportune time? Yes. But it is totally expected in this tit-for-tat war and militarism scenario that we are faced with. It is very necessary that we use this not to fire something back at them, nor consider hyping the military conflict, but that we step back and get to the bargaining table. - Human rights lawyer Eric Sirotkin, to RT.
In North Korea, you have a society that from the age of two or three you are educated that the US, South Korea and Japan want nothing but to destroy your country. So, they are seeing these military exercises as being a preparation for an actual invasion. This is a failure of understanding of how each other thinks. And given the escalation that is happening now, it is almost a response out of fear. But our failure to take it seriously and see this in some kind of way an invitation to have dialogue would be a failure on our part… Our failure to even consider that as an option is something that we do at our peril.
The statements, views and opinions expressed in this column are solely those of the author and do not necessarily represent those of RT.
You can share this story on social media: