'US goal is to agitate Venezuelan economy, but objective remains unclear'
Venezuela is already facing a severe economic crisis which the new US sanctions will aggravate, but it's unclear what exactly Washington wants to achieve by that and whether it seeks regime change in Caracas, says author and editor Eva Golinger.
Venezuela has denounced the latest round of US sanctions and called it a violation of international law.
"We will take all possible steps to protect our citizens. We have all the resources required to do so," Venezuelan Foreign Minister Jorge Arreaza told RT. In case the sanctions have a negative effect on Venezuela's economy and its population, "the responsibility for this will be borne exclusively by US President Donald Trump and the military-industrial complex, which is in control of US policy," he added.
On Friday, Trump signed an executive order that bans American firms from dealings in new debt and equity issued by the government in Caracas – which the White House called a "dictatorship" - and its state oil company, PDVSA.
According to author and editor Eva Golinger, these sanctions are a change from what the US has been doing since 2015. The then President Barack Obama declared Venezuela a national security threat, "despite the fact that there is no direct threat whatsoever to US interests from Venezuela," she said.
Unlike earlier imposed sanctions, this new round "can have a direct effect on the people of Venezuela because they effectively cut off the supply of dollars to Venezuela, which is an oil-based economy that's highly dependent on the US dollar even though it's not a dollarized economy," Golinger told RT.
"Venezuela is already facing a pretty severe economic crisis because of a drop in oil prices, the government mismanagement of economy, some external and internal sabotage on the part of private enterprises and multinationals. So this is just going to agitate the economic situation in the country, which is clearly the goal of the Trump administration," she said.
Read more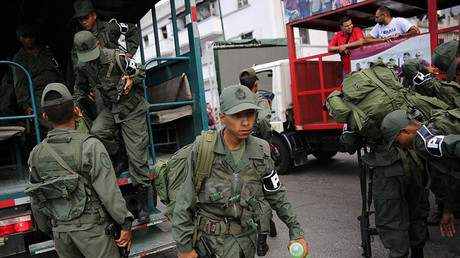 What exactly their objective is harder to ascertain, she added.
"Is it a regime change? Is it that the Maduro government will somehow subordinate itself to the Trump administration? Or what exactly they are looking for? Because at this stage the opposition in Venezuela, anti-government organizations have not yet proposed any kind of realistic alternative to the current government that has been in any way seen as receiving wide acceptance amongst Venezuelans," she said.
As to whether Washington would go further and impose a ban on the purchase of Venezuelan oil, Golinger said it's unlikely because it would have a direct impact on American companies and consumers. That would be a very ineffective measure in terms of Trump's popularity in the US, she opined.
"He's been lobbied heavily over the past few weeks and months by US companies saying "no, don't do that because that would directly harm our interests," Golinger said.
"When we look at the executive order, it's pretty specific in detail. They make some exceptions for US companies; they don't want to affect directly US interests. It may have some impact but much less than it would be were the oil supply to be cut off. At this stage I believe around 30 % of oil supply in the US comes from Venezuela. In exchange, Venezuela is probably most reliant on the US for the large percentage of its economic income coming from abroad, particularly dollars," she said.
The statements, views and opinions expressed in this column are solely those of the author and do not necessarily represent those of RT.