Iraq admitting torture of Mosul prisoners: 'Very positive step'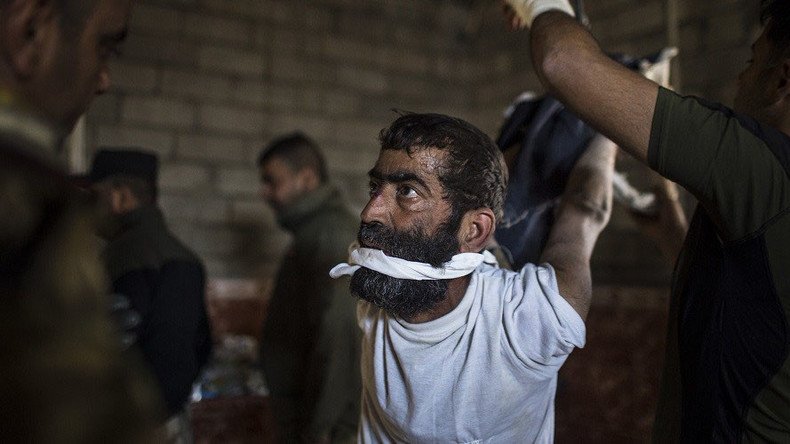 The Iraqi government should look into this kind of incident and hold people accountable for torture, because it should be fighting for justice, not the other way around, says Mohammed Serkal, UN Coordinator for the group Salam for Democracy and Human Rights.
Iraqi Prime Minister Haider al-Abadi recognizes the country's security forces abused prisoners during the major offensive to retake Islamist-held Mosul.
Many were terror suspects who hadn't faced trial. An investigation started after photographer Ali Arkady published pictures of the alleged torture. Suspects were allegedly beaten, raped and tortured to death.
Mohammed Serkal, UN Coordinator for the group Salam for Democracy and Human Rights
RT: Why did it take so long for the Iraqi government to admit the torture incidents did take place?
Mohammed Serkal: Basically those incidents took place a couple of months ago when the Mosul operation was taking place. Surely now when the rubble has been cleared out, and the troops went to Mosul, it is time to investigate any crimes that were committed in Mosul regardless of the side in the fighting.
RT: You talked about this issue in front of the UN. Tell us about that. What response did you get?
MS: Before speaking we had some meetings with the Iraqi mission representatives about these allegations. We asked them for their response. First of all, they said there was no such incident in Mosul. But then they said they would look into it. Obviously, the question was raised during Item 4 – which covers war crimes and other issues that should be addressed by the UN. Now we can feel that maybe some of the pressure has been put on the government to make a further investigation into the matter. We find it very positive. That is what we are looking for from the government of Iraq; to look into this kind of incident to seize and also to hold people accountable for these incidents. The government should be fighting for justice – not the other way around – that was the reason, the goal to fight ISIS – because they don't believe in the law, but the government of Iraq should believe in the law and defend the right of the person in any place in Iraq.
RT: What should be the Iraqi government's next steps?
MS: Foreign Minister (Ibrahim) al-Jaafari has requested the assistance of the UN to look into the crimes committed in Mosul. That is another positive step because Iraq does need assistance from the UN too, for example, collect evidence, statements, and also to make sure the interviews with the criminals should be transparent and should not be under threat. I think the next step should also be, when the UN is concerned about Syria, should also be concerned about Mosul, should hold a special session on Mosul and to discuss the future of Mosul after ISIS is thrown out from Iraq.
RT: Why is this happening in general? Do you think there might be other similar incidents?
MS: In any war we see hate, and we see retaliation from both sides. Unfortunately, when the war in Mosul took place, the background was that before [there was a] sectarian war. That created a kind of hate, or revenge war between neighbor and neighbor, and taking revenge between one and another based on maybe religious divide, or based on the way Mosul was occupied. Those groups didn't respect any laws, and they started killing people without justifications. Obviously, in a tribal system in Iraq, this would not go away without being accountable. So revenge is the solution sometimes for this kind of incidents, unfortunately. That is why we need the government … not a tribal system.
The statements, views and opinions expressed in this column are solely those of the author and do not necessarily represent those of RT.
You can share this story on social media: