'Iraqi soldiers who suffered under ISIS see Mosul victory as payback time'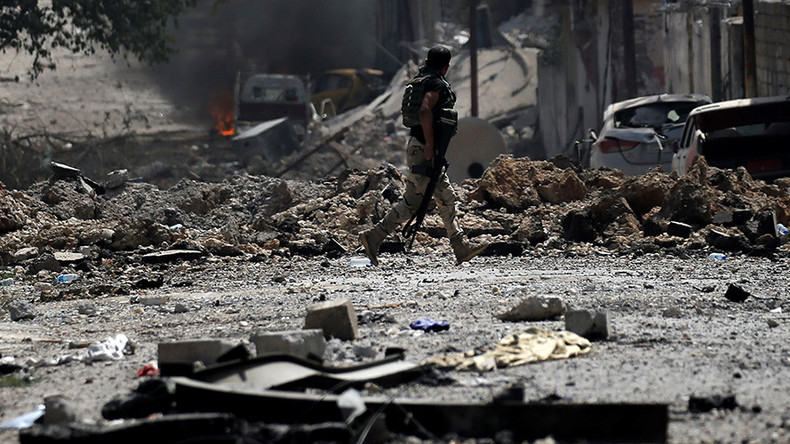 The 16th Division of the Iraqi Army consisted of Mosul residents persecuted by ISIS, and now they consider it payback time, says Saad al-Matlabi, member of the Security Committee for the Baghdad provincial council.
The US-led coalition spokesman has recently said that Iraq needs to investigate reports of war crimes committed by the Iraqi Army unit. This comes amid calls from rights groups for Washington to end its backing of the army.
A report issued Thursday by Human Rights Watch outlines a number of alleged abuses by the US-trained 16th Division of the Iraqi Army in Mosul and suggests the Iraqi military unit executed dozens of suspected members of Islamic State (IS, formerly ISIS/ISIL) without trial.
"In these reports, what we have seen is numerous extrajudicial killings by Iraqi forces of men that they say were linked to ISIS: without any judge, without any trial, simply executing them on the battlefield," the senior Iraqi researcher for Human Rights Watch, Belkis Wille, told RT.
RT: We've been hearing some serious allegations from rights groups. Will there be a thorough investigation into all cases of rights violations?
Saad al-Matlabi: There is an investigation but is it fair enough? Is it wide enough? Is it deep enough?
That is the question because we still are in a state of war. The 16th division which we are talking about was made out of Mosul people, who were persecuted by ISIS. If there are any personal vendettas or knowledge of who ISIS were, and there was a payback, even if a violent payback – some people may understand that. But as a state – that is definitely rejected…
RT: What would you like to see?
SM: We would like to see more state control, more legal presentation, better transparency in dealing with such issues. But at the same time, there must be fairness and firmness with the ex-ISIS components.
RT: There are some allegations that some people were accused of being ISIS supporters or being members of ISIS but they weren't given fair trial before being tortured, before being abused. And some witnesses have been afraid to come forward. How can you have a fair trial and due process if people are afraid to come forward? What are you going to do about that?
SM: For all witnesses, the state will provide safeguards, but the problem is that we are speaking of a close-knit society, people know each other. It is a large city, but those who were enrolled in ISIS are very well known within the city. The people who were persecuted by ISIS now are leading the 16th division. And basically, they see it as payback time. It is a little hard to understand or to stand against them since now they have the guns and they have ISIS hostages or prisoners of war at their hands.
The statements, views and opinions expressed in this column are solely those of the author and do not necessarily represent those of RT.