'Unless G20 Summit is held on a deserted island, there will be protests'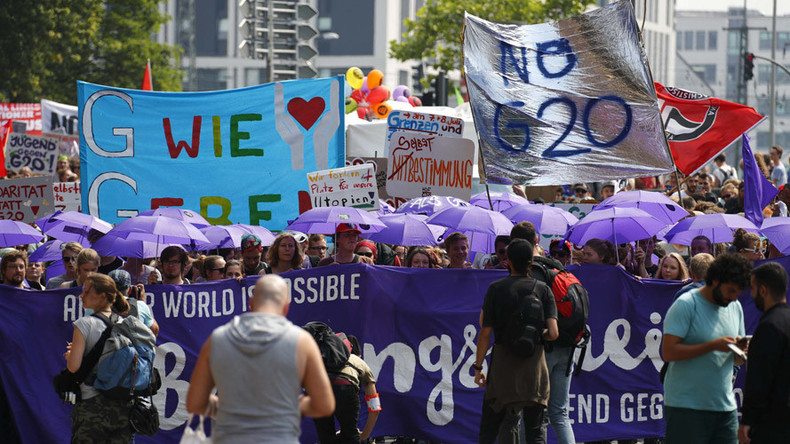 It is not so much the case where these economic summits are being held, it is the fact that increasingly the powers that be are no longer able to rule in the old way, political commentator and writer John Wight told RT.
Violence broke out on the streets of Hamburg during a mass demonstration against the G20 summit on Thursday. Police deployed water cannon and tear gas against protesters who hurled bottles and reportedly refused to remove their masks.
RT: Do you think questions should be asked about holding the G20 Summit in Hamburg at all, given the logistics and layout and size of the city?
John Wight: Unless you hold these events somewhere in the middle of the Atlantic on a deserted island then these protests are going to take place. It is not so much the case where they are being held, it is the fact that increasingly the powers that be are no longer able to rule in the old way and people are not willing to be ruled in the old way. And they have a point when you consider the disaster that is taking place both within a global economy and ensuing untenable and exponential levels of inequality. Not only within states but also between states, you have the issue of climate change. You have a growing crisis on the Korean peninsula, Eastern Europe, the Middle East, South and East China seas. This is a growing crisis. These scenes are the norm and unless these world leaders are willing to meet on a desert island in the middle of nowhere, then these [protests] are going to be happening increasingly, unless there is a serious structural change.
"I think it was a deliberate decision because everybody knows that Hamburg has a community of young radicals that are ready to resort to violence. And also everybody in Germany knows that the police of Hamburg have a record of a lot of violence and rudeness against protesters themselves. This was a riot that was bound to happen. I think it was a very deliberate decision. Angela Merkel could have held the meeting in a castle somewhere in Bavaria or on some island of the coast of Germany, and they wouldn't have had to deploy [thousands of] police…This whole thing is a show of force…Everybody is reporting on these violent clashes, but everybody is forgetting that there were 12,000 peaceful protesters and these peaceful protesters are being thrown into one bag with a few violent young radicals…The government is trying to tell the people that if you protest against us or the system, you are going to be associated with violence and radicalism." - Ernst Wolff, journalist and author
RT: Do you think the authorities were correct to respond in that way?
JW: It is inflaming things but authorities are between a rock and a hard place because of the threat of terrorism, a very real threat. Obviously, we've had an increasing spate of terrorist attacks throughout Western Europe, so they are mindful of the possibility of something of that order. After all, we are talking about world leaders. So obviously there is going to be a heavy security presence. Questions will obviously be asked, but I think ultimately it is due to a status quo that more and more people are growing angry about, given the levels if inequality, the march to war, the tensions all over the world. And this is all fitting into this growing ocean of anti-politics. And it is this anti-politics that fed Brexit, fed the election of Donald Trump, and so forth. This is now the rule rather than an exception. And if the authorities want to forestall these scenes, then they have to do something about their own role in creating the conditions in which these protests are emerging.
'Culture of violent protests'
RT: Both the protesters and police were ready for violence. What is your impression about what is happening in Hamburg?
Dr. Rainer Rothfuss, geopolitical analyst and consultant: For me this is a clear sign of disintegration of European societies. If you see such a form of taking the rights of democracy, as the protesters claim, to the streets. Of course, these are mostly peaceful protesters; roughly 1,000 among the 12,000 who have the tendency to become violent or to cover up their faces. But the scenes in the streets and which you could also see at former incidents, like the G8 Summit in Heiligendamm in 2007, and two years ago in Frankfurt when the European Central Bank opened its doors, it really gives you the impression that society is heavily under tension. And I ask myself, 'How will the media blame Russia for this?' because they claim [Russia] is attempting to disintegrate European society. No! It is internal problems, it is a confrontation between left-wing representatives who don't believe any longer in the system that it really pursues ... the interests of normal, less-favored people in the society. It is becoming like a culture of a violent protests. And I think it is a dangerous development.
'Putin-Trump meeting the only story in town'
READ MORE: Putin and Trump shake hands ahead of first face-to-face meeting at G20 (VIDEO)
RT: The focus in the US and Russia is largely on Donald Trump meeting President Putin. How do you see that going?
Janice Atkinson, independent British European Parliament member: It is the only game in town, it is the only story in town. The two most powerful men in the world are going to be talking and they are going to be talking about the threat of Western civilization as Trump was talking about in Poland…High on their priority is going to be the defeat of ISIS, because that is our common enemy. The defeat of terrorism and security threats, the security is linked to the nation states, taking back the control of our borders, stopping the flow of migration out of Africa and the Middle East and trying to get to grips with the Middle East. That is what they should be talking about. Forget the Paris Climate Change agreement, let the Europeans and the others warble on about that. That's is not the greatest threat we face at the moment.
"Let's hope something positive will come out of it. But a word of caution: President Trump comes facing hostile atmosphere back home in America, hostile atmosphere - apart from Britain - most of the European Union leaders are hostile to him. We have seen a thawing of relations with the French president, who extended an invitation to him for Bastille Day. In general, he will need to appear to be tough so will probably will make some lip service, tough talk against Russia. He will have to do that for the domestic audience and to get some brownie points in Europe, in general." - Adel Darwish, journalist and co-author of 'Water Wars: Coming Conflicts'
RT: Vladimir Putin has worked with previous US leaders: Barack Obama, George W. Bush, Bill Clinton. How likely is a working relationship with the current US leader?
JA: There's more in common with Putin and Trump than there ever was with the previous presidents. Particularly, Obama, who was just a puppet for the rest of the world leaders. But these two men actually understand each other. Trump has written "The Art of the Deal;" Putin gets the art of the deal – Putin is trading on the world's states with energy, trying to do business in spite of the sanctions levied against him. Trump understands that he is a businessman. The art of the deal, and what I would advise them is: "Come on guys, you can do this!"
The statements, views and opinions expressed in this column are solely those of the author and do not necessarily represent those of RT.