Putin and Trump shake hands ahead of first face-to-face meeting at G20 (VIDEO)
Russian President Vladimir Putin and his US counterpart, Donald Trump, shook hands for the first time before their much-anticipated meeting in Hamburg. Syria, Ukraine, and North Korea are among the potential talking points.
As the G20 summit kicked off in Germany, the leaders had their first short contact, shaking hands and confirming the upcoming full-fledged meeting.
Donald Trump announced the meeting over Twitter, while Putin's spokesman provided confirmation.
"They shook hands and said that soon they will hold a separate meeting, that they will see each other soon," Kremlin spokesman Dmitry Peskov told reporters.
I look forward to all meetings today with world leaders, including my meeting with Vladimir Putin. Much to discuss.#G20Summit#USA🇺🇸

— Donald J. Trump (@realDonaldTrump) July 7, 2017
The Kremlin has said that it will not be a brief contact on the sidelines, but "a full-fledged 'sit down' meeting." Previously, the leaders spoke only by phone.
In the lead up to the meeting, Moscow and Washington have voiced some of their expectations. The Kremlin sees the event as an opportunity to "establish a working dialogue" between Putin and Trump, which is vital for resolving "a critical mass of conflicts and problems," according to Kremlin spokesman Dmitry Peskov. He also said that the conflicts in Syria and Ukraine and the ways of resolving them may be discussed, among other issues, in the first meeting between the two leaders.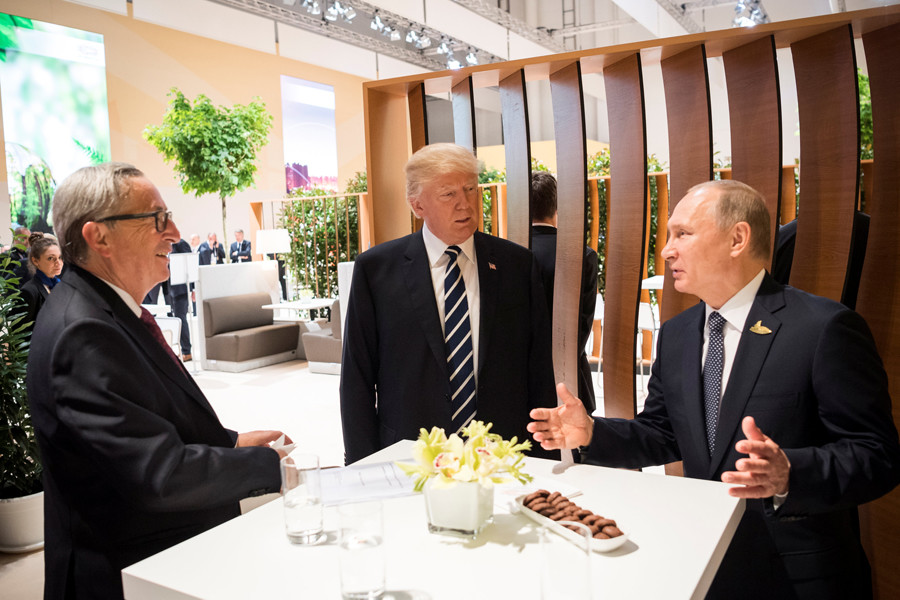 The US State Department also outlined its vision for resolving the conflict in Syria ahead of the July 7 event. US Secretary of State Rex Tillerson said that Washington is ready "to explore the possibility of establishing with Russia joint mechanisms for ensuring stability, including no-fly zones."
In response, Russian Foreign Minister Sergey Lavrov said Moscow is awaiting clarification on the no-fly zones mentioned by Tillerson. He also stated that Russian proposals on Syria were presented to the Americans in spring in preparation for the first contact between the leaders.
There is also the North Korean issue, which Moscow and the US have different approaches to. At a UN Security Council (UNSC) meeting over Pyongyang's recent missile launch, the US delegation urged the implementation of new sanctions against North Korea, while Moscow called on the UNSC member states to follow a joint Russia-China initiative which envisages a halt to joint US South-Korean drills in exchange for North Korea freezing its nuclear weapons programs.
READ MORE: Moscow promotes joint Russia-China plan instead of US attempts to 'strangle' N. Korea at UNSC
US President Donald Trump pledged during his visit to Poland on Thursday that the North will face repercussions over its "dangerous" behavior.
Just one day ahead of the G20 summit and the long-awaited meeting, Trump visited Warsaw, where an agreement on delivering American Patriot missile defense systems to Poland was signed. The systems are to be delivered by 2022. During his short visit, Trump also stated that Washington is working with NATO ally Poland to deal with Russia's "destabilizing behavior."
The Trump-Putin meeting is grabbing attention in light of the worsening Russia-US relations, which are currently "at the zero mark," according to Russian presidential aide Yury Ushakov. Meanwhile, the US is still investigating alleged Russian interference in the 2016 US election. Moscow has consistently dismissed the accusations as baseless.
READ MORE: US, Poland agree to strike deal on Patriot missile defense systems
You can share this story on social media: