'Qatar won't surrender reins of state to Saudi-led bloc'
Saudi Arabia is effectively asking Qatar to stand down its foreign policy, shut down news channels and news websites, says military analyst Kamal Alam. Qatar is unlikely to follow through on the demands, he added.
The diplomatic row in the Gulf has escalated after the Saudi-led bloc said it would continue its blockade of Qatar. During a meeting in Cairo, Saudi Arabia, Bahrain, Egypt and the Emirates said Qatar's response to their list of demands lacked any substance.
For its part, Qatar, which because of its oil and gas reserves has the highest per capita income in the world, maintains the Saudi bloc is merely attempting to label a political opponent a terrorist.
The 13-point list of demands against Qatar includes the closure of all the country's international news outlets, including Al Jazeera, as well as halting contacts with outside political opposition groups. The Saudi-led bloc also wants Qatar to cut its ties with Iran and militant groups named by the Saudis and their allies as terrorists.
RT: Saudi Arabia says the restrictions on Doha will continue. Qatar says it wants a dialogue. How will the two sides come to an agreement?
Read more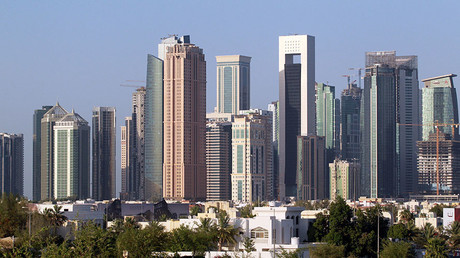 Kamal Alam: I think they have set the level very high in terms of confrontation. The Qataris from the beginning have said they want dialogue to end this. However, the Saudis and the UAE have leveled allegations against Qatar so grave that if they back down, they will be seen as losing. This is mostly about egos here. The Saudis at the moment have an ego which will not allow them to back down on this. So, there doesn't seem to be any end in sight. Kuwait and Turkey are trying to mediate without much luck, so far.
RT: Qatar has also accused the bloc of labeling its political opponents as terrorists. What do you make of that?
KA: There is a blame game going on, tit for tat. Both countries are blaming each other. Qatari news channels today were broadcasting videos of Saudi officials supporting terrorist groups in Syria on live TV. There doesn't seem to be any way out of this at the moment. Because at the end of the day, the GCC as a cohesive bloc has failed to solve their problems in Yemen, Syria and Iraq. As a result, they are blaming each other for all of their problems.
RT: It's not clear whether Qatar has met any of the 13 demands. Are they realistic?
KA: Qatar has also very clearly said that all the demands laid down are meant to fail because no legitimate state can give up sovereignty like that. What Saudi Arabia is effectively asking Qatar is to stand down on their foreign policy, shut down news channels, shut down news websites and hand over all the reins of state infrastructure to the Saudis. That seems unacceptable to the Qataris.
RT: Donald Trump has repeatedly accused Qatar of supporting terrorists. Is that going to help resolve the crisis?
KA: I think it definitely doesn't resolve the crisis in any way. We've seen from this administration there are at least three or four different Middle East policies. The White House has one policy, the State Department has another policy, and the Pentagon and the CIA have different policies. It is the same in Syria and Iraq; it is the same with Qatar. While the president [Trump] has been very vocal against Qatar, the US military has been very supportive of Qatar because the biggest air base in the region they have, is there as a forward operating base for CENTCOM. The US military is very pro-Qatar, while the president had bemused a lot of people by tweeting and speaking against Qatar almost on a daily basis.
The statements, views and opinions expressed in this column are solely those of the author and do not necessarily represent those of RT.