'If Beijing discovers energy resources in S. China Sea, US may challenge claim'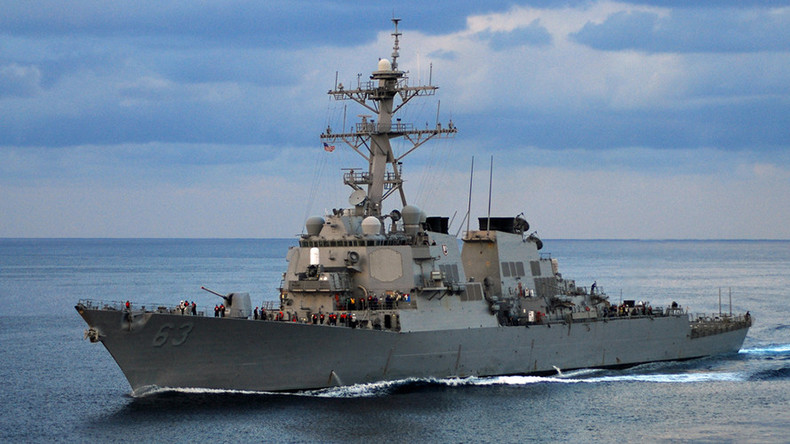 With over a billion people, China has a huge energy appetite, which it's spending a lot of its foreign earnings importing. So long-range, if there is energy found it wants to lay claim to it, Jim Dean, managing editor, Veterans Today, told RT.
China on Sunday sent military vessels and planes to warn off an American warship, the USS Stethem, a guided-missile destroyer, that sailed near a disputed island in the South China Sea, according to the Chinese Foreign Ministry.
Beijing claims the vessel violated its territorial waters.
RT: The Pentagon has declined to comment on this incident. How damaging could this incident be, for US-China relations?
Jim Dean: We have to ask: why is he doing this now? We have as a background on it. He mentioned that he was unhappy with China being able to have a strong effect on North Korea on their missile program. We had the huge weapons deal signed with Taiwan. Here we have as part of turning the screws – another one of these ships floating by one of their artificial islands. This is part of a sparring campaign that I think is going to go on for quite a while. This dispute over who has sovereignty over the South China Sea is going to be with us for years. It really doesn't involve the US, because it is on the other side of the world, but the US likes to show the flag. China has major interest here. It's got a billion people, a huge energy appetite, which it's spending a lot of its foreign earnings importing. So long-range, if there is energy found in this area it wants to lay claim to it, and the US is basically saying: 'We will challenge that.'
RT: Beijing called it a "military provocation". Why do you think the US would have sent a destroyer to a disputed island, at such a sensitive time?
JB: Just to get the publicity – that "we can do it, and we will continue doing it..." Trump loves to control getting the time on him, on the US, which means other issues are not being covered. So it is a provocation. This gives China the rights – they are going to respond. They may do so by adding war military forces, and defensive forces to those islands, which the US may want, because then will say China is expanding their military occupation of these islands. It is a long PR battle, and we're going to have to wait and see what happens as we hear from some of the other nations in the area that are also laying claims to the islands.
RT: Relations between China and the U.S. recently took a downturn, over the Taiwan arms deal. Are we seeing the end of so called Trump-China honeymoon?
JB: I don't think so yet. It's not that China has been doing nothing to help on the North Korea situation. They canceled a very big coal deal with North Korea, which is a very important foreign earnings for them. They had been doing as much pressure as they can. But the US has ignored North Korea's offer that it would stop testing its missiles if South Korea and the US would stop doing their big military maneuvers. When that didn't get a response, they even offered to go into talks with no conditions, which the US basically ignored. This North Korean thing is being strung out also to create more publicity that says, 'North Korea could strike the US with a missile,' which is just absolutely ludicrous. We really have some theater going on with this, and it is going to go on. This is going to go on for quite some time.
The statements, views and opinions expressed in this column are solely those of the author and do not necessarily represent those of RT.