Putin at Direct Line Q&A: America is not Russia's enemy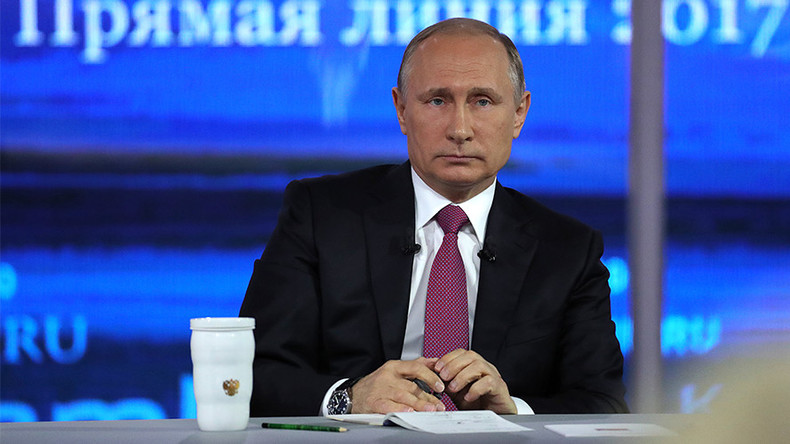 The standout from the Russian president's annual Q&A session was his insistence that Moscow doesn't consider America to be its enemy. This contrasts with much of the current hysteria across the Atlantic.
According to the Kremlin press secretary, Dmitry Peskov, over 2 million questions were submitted for this year's "Direct Line." From that number, 70 received an answer as Vladimir Putin sat on a Moscow stage for four hours.
Before this year's event, close observers had a few stand-out topics they hoped to see addressed. Many wanted Putin to reveal whether he'd run for president again next year, which he didn't clarify. And the domestic audience were keen on his views concerning Russia's economic recovery, plus issues such as roads, corruption and health care. Luckily, for them, we had plenty on those themes.
Meanwhile, when it came to foreign policy, there was a focus on America and Ukraine. But rather little about the European Union and not much on Syria and the wider Middle East. That said, Putin's renewed vigor for the topic of Ukraine and his measured response to the relationship with US were significant clues to his priorities.
Attempting a thaw
"We have been through two wars together," Putin said, referring to Washington. "In the past, the Russian empire played a substantial role in helping America gain independence and supported the US."
"I know the mood of our people, we don't believe America is our enemy... There is hysteria in the media and it affects the mood, but many people in Russia admire the achievements of the American people and hope relations will normalize."
This olive branch appeared to yield an immediate result when, a few hours later, the US State Department published a statement from its chief, Rex Tillerson, saying that both countries "share unique responsibilities to uphold international peace and stability, and to cooperate on issues of global importance."
Echoing Putin, the former oilman continued by pointing out how "the relationship between the United States and Russia stretches back to the early days of our republic." He also threw in congratulations to mark last Monday's "Russia Day" holiday – which the American side had apparently forgotten about three days earlier.
Putin observed how solid relations with America were "important" and said he was "ready for constructive dialogue" with Trump. Especially on issues such as poverty prevention and terrorism. However, Putin's goodwill had limits. He accused Washington of trying to influence internal politics in states across the globe, via NGOs, and claimed numerous world leaders are scared of voicing concerns publicly, out of fear of US reprisals.
The president also jokingly offered refuge to James Comey, the former FBI director dismissed by Donald Trump, who has insinuated that Moscow may have interfered in last year's US election. "It sounds very strange when the boss of the security services writes down his conversation with his commander-in-chief and then leaks it to media, via his friend... How, in that case, does he differ from Mr Snowden?" Putin said. "That means he's not a leader of the security services, but a human rights defender. And if he is under persecution, then we are open to offering him political asylum, too." Nevertheless, he did remark how Comey "thinks there was Russian interference in the electoral process but does not provide any proof again."
Read more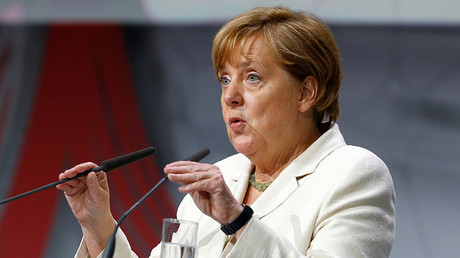 Unfair trade
On sanctions, Putin pointed to American domestic squabbling as the reason for a raft of new measures proposed recently.
"We now know that the US Senate has drawn up another draft law on toughening these sanctions. What are the reasons for this? Nothing extraordinary is taking place. Why have they started talking about sanctions again, for no particular reason? This, of course, testifies to the ongoing domestic political struggle in the US."
At the same time, he preferred to see the glass as half full. "We have always lived under sanctions, whenever Russia grew stronger there would always be sanctions, throughout history," Putin reminded his audience. "If there were no situation with Crimea and other problems, they would have invented something else to contain Russia."
"There are pluses. We had to switch our brains on," he continued, remarking how Russia's electronics, aerospace and agriculture industries have all benefitted from the embargoes. It's also worth noting how Russian economists have warned for years that the country must shed its dependence on oil and gas. A situation described, in 2015, as a "curse" which hindered reforms by Sergey Ivanov, who is known to be a close confidant of the president.
As it happens, Washington's unilateral push to heighten penalties on Russia has already prompted a backlash from Europe – with German Foreign Minister Sigmar Gabriel and Austrian Chancellor Christian Kern lashing them on Thursday.
"Europe's energy supply is a matter for Europe, and not for the United States of America," they insisted in a joint statement, before accusing Washington of meddling to secure business advantages. "The draft US legislation describes what it's really about: the sale of American liquefied petroleum gas and the squeezing out of Russian natural gas from the European market."
Read more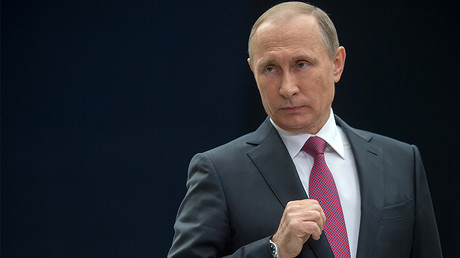 On home soil
When it came to domestic issues, Putin was optimistic. Especially about the country's GDP growth three quarters in a row, record low inflation and the fact that investment in fixed assets is growing faster than economy. Yet, he conceded how "hundreds of thousands" are living in poverty (actually measured in the millions) and seemed genuinely surprised when a teacher from Irkutsk revealed she was earning around half the local average official salary.
The president went on to acknowledge how inflation of almost 13 percent last year, with no salary adjustments, was unfair, promising to increase wages soon. He also claimed success in battling demographic problems, saying the "birth rate is up like in no other European country." And this boast is justified, despite a recent fall; itself a legacy of the 1990s when Russian fertility rates collapsed, meaning fewer potential mothers are coming of age today than previously.
On Ukraine, Putin backed Kiev politician Viktor Medvedchuk's plan for an independent, but federalized Ukraine. And he questioned the patriotism of Ukraine's billionaire president, Petro Poroshenko, calling on him to clean up his financial affairs. "If you want to be a true European, close your offshore accounts and then you can talk about the good of your people," he implored.
Throughout the afternoon, viewers were invited to submit comments to be shown onscreen. While a great many supported Putin, some took the opposite view – with one stating, "Perhaps you're tired and you should quit?" These were clearly visible to the president, who didn't seem flustered. But surely the president realizes that domestic issues will have to trump foreign policy concerns ahead of next year's election. That's, of course, assuming Putin intends to run.
The statements, views and opinions expressed in this column are solely those of the author and do not necessarily represent those of RT.