'Provocation of unauthorized rallies was needed to keep narrative going'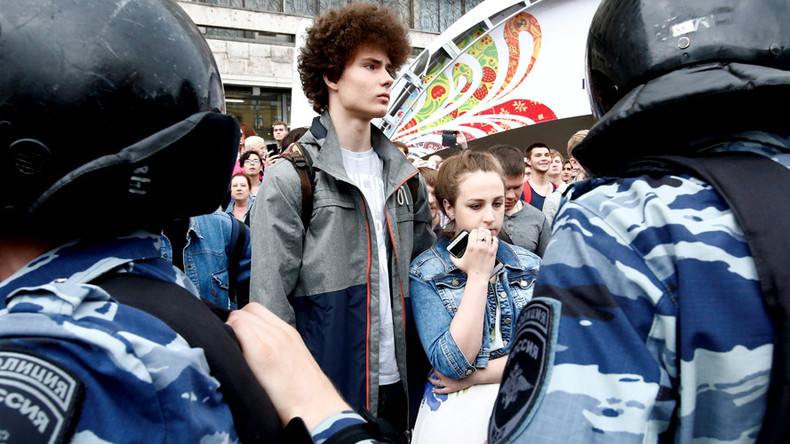 Opposition figure Aleksey Navalny's decision to move an officially authorized protest to an unauthorised location appears to be an effort "to peddle his narrative" of repressed freedom of expression in Russia for the consumption of Western media, John Laughland, from the Institute of Democracy and Cooperation in Paris, told RT.
RT: What do you think of the timing of Aleksey Navalny's protest?
John Laughland: I am speaking to you from Rue de Varenne in Paris, which is the street where the prime minister's office is located. And I can tell you, having lived in Paris for 10 years, if you try to organize a demonstration in the part of the city where you are not allowed to be or you haven't been authorized to organize a demonstration, you will be met with very great force by the French police. And that happens all the time; there are very often such clashes. Even, indeed, when people have remained in the authorized place.
So, it is very obvious that the reason why Navalny wants to launch such a provocation is to keep the narrative going, which is his unique selling point. The narrative that Russia is a dictatorship and that the people are prevented from expressing their opposition to the government by force. That is the narrative that Navalny is peddling. And he is doing it largely for the consumption of Western media.
Think about France, where anti-government protests have been banned there. People have been arrested, and it wasn't news at all really, because it happened in France, a Western country, a NATO country. Of course when someone critical of the government is arrested in Russia, it's all around the world, front-page news… The fact is, Russia is a democracy, there are opposition movements, people do march against the government, and it's right and proper that people should be allowed to protest… The concern seems to have been from the authorities that Navalny would take his supporters into the 'Russia Day' celebrations and there might have been some nasty incidences there. - Neil Clark, journalist and author, to RT
It's rather funny that he tried to interrupt an historical reenactment – in other words, make-believe – but he himself is involved in make-believe because he is trying to create the illusion that free expression is forbidden and repressed in Russia. We all know that that's not true. On the contrary, people can hold meetings if they want if they've applied for the appropriate permission. But his purpose is to create a narrative – enact a narrative – in order to discredit in advance the presidential elections which will take place next year. That is what this is all about.
'Facts should be sacred'
RT also spoke with Martin Summers, author and broadcaster, who believes the problem with Western reporting on Russia is that "there is a deliberate attempt to distort the news agenda."
RT: A Financial Times journalist and a New York Times journalist both mistakenly tweeted that Moscow was using 'tank traps' against locals. It might have been tongue-in-cheek, but what do you think it says about attitudes to Russia?
Martin Summers: The kind of misrepresentation of what has happened is rather typical of what the Western press does. Aleksey Navalny is a well-known figure in Russia. He is not that well-known in the West. But he is not actually a member of parliament… and, in the West as well, those small factions that can't get into parliament often have to use street protests to get their message across. And you could argue that, by putting these protests at the top of the news agenda, the protesters have got what they wanted. But whether they are going to get what they wanted in terms of the direction of Russian policy is another matter. Because the mass of the Russian population doesn't really agree with them and the rest of the Western media doesn't seem to understand them.
Yet another example of crap, misinformed Russia analysis on Twitter. These were actually erected for a WW1 re-enactment "Времена и эпохи" pic.twitter.com/4cwxxT0z5R

— Bryan MacDonald (@27khv) June 12, 2017
RT: CNN has been reporting "hundreds of thousands" of protesters. But all witnesses have reported much smaller figures. Who should we believe?
MS: I think it is pretty clear that the eyewitnesses know better than CNN. Of course, the problem with Western reporting on Russia is there is a deliberate attempt to distort the news agenda. Everybody's got opinions, we all know that. But facts should be sacred. You don't need a large number of people to make a protest.
The statements, views and opinions expressed in this column are solely those of the author and do not necessarily represent those of RT.
You can share this story on social media: