Three attacks in three months in UK under May's tenure 'is deeply worrying'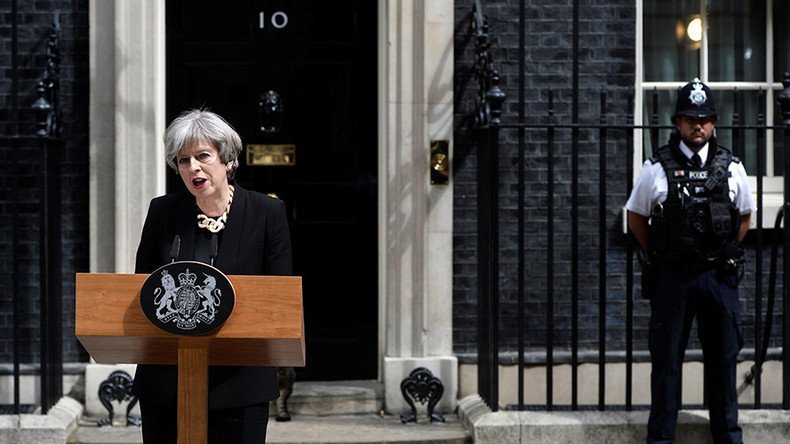 It's disappointing the Tories used security to elicit votes, says former Home Office counter-terrorism adviser Jahan Mahmood. How are they going to get things right in the run-up to the election when they've got it so wrong over the last few years?
In the wake of terrorist attacks at London Bridge on Saturday, in Manchester on May 22 and the assault on Parliament in March, UK Prime Minister Theresa May said regulations are needed to deny space for extremism.
"We cannot allow this ideology the safe space it needs to breed – yet that is precisely what the internet and the big companies that provide internet-based services provide," May said.
With the UK general election, just days away, not every party is keen on implementing the investigatory powers which UK Prime Minister Theresa May wants.
The Labour Party says any new measures must be both proportionate and necessary while the Liberal Democrats warn the bill must protect people's privacy. The Scottish National Party thinks the investigatory powers bill needs an overhaul while the Green Party says it will lead to abuses of power.
RT: Each time there's an attack, it feels like deja vu: the attackers turn out to have been known to the intelligence services. Politicians make defiant statements, and security is cranked up. And then another attack takes place. Is there any way to break this cycle?
Jahan Mahmood: It has been very difficult. I don't think that the authorities have really progressed from their counter-terrorism strategy; prevention has certainly failed in its outreach. The way they we can make amends is by coming together: the media, the government, the tech companies and clerics need to pump out a consistent and solid message across community and society. But of course, there is always one individual who can take it upon himself to ultimately break out of the net and cause issues as we have already seen on three occasions in three months. The Tory record at this moment is very weak. And I know that I don't feel safe under their current record as well and the fact that the Home Secretary has now become the prime minister and partly her policies are to blame. And I think it is highly disappointing if they used a security issue to try and win votes when they failed so miserably. How are they going to get things right in the run-up to the election when they've got it so wrong over the last few years?
RT: This time round, Theresa May struck a tougher note saying there's too much tolerance of extremism in British society. Why did she make this statement only now?
JM: Because she has to talk tough, she has an election coming up at the same time, so she has to prove herself to be a worthy leader… Normally, the rhetoric is increased and heightened immediately after to assure communities and society. But particularly just before an election, you have to be that much more vociferous and vocal. However, as I stated her record to date has not been a very good one on engagement with the right people. And certainly the fact the three incidents have taken place in three months under her tenure is deeply worrying.
Political analyst Chris Bambery says he doesn't agree with Theresa May's stance that there's too much tolerance of extremism in British society.
Chris Bambery: I think what it means is that she is saying there is a substantial tranche of the Muslim population in Britain who sympathize with ISIS. And all the evidence suggests that that is not the case. The people who have been carrying out these attacks have been people who were not particularly religious until they got caught up in the ISIS network usually through the internet…They were not people who were super religious, people who attended the mosque regularly. The predominant message that we got there is that such actions that we saw in London on Saturday are abhorrent to Islam and should not take place in Islam's most holy month Ramadan. So, I think there is some issue about what Theresa May is trying to say. There is volume after volume of emergency legislation which has been passed in this country, not just since 9/11. We are going right the way back to the IRA bombing campaign in the 1980s and 1990s. What Theresa May is now finding difficult, particularly given the thrust of the Labour Party's contribution in this election, is to explain why there has been is a cut in police numbers and in particular there are fewer armed police now than it were five years ago, when the Conservatives first entered Downing Street to take over premiership. And I think she is struggling on that and it is not quite playing out as many people thought that Theresa May will be seen as a strong prime minister in the wake of these dreadful attacks to which people would rally. I think it is opening up a debate…There are suggestions that one of the perpetrators of the attack on Saturday have been reported to the security services, that was the case for the Manchester attack, which raises questions why they were still at liberty in order to carry out these atrocities.
RT:London Mayor Sadiq Khan repeated May's idea of 'enough is enough' and also added the fight should be launched against radicalization. He said, "we should make sure we stop youngsters from being radicalized." How could this be done without imposing controls on the internet and media - without taking away basic freedoms?
CB: The suggestion is that this is done voluntary by working with those providers. They have responded fiercely to Theresa May's suggestion of not doing enough by saying that they are cooperating. I think it has to be done in cooperation and of course, it can't just be done in one country, in the UK. But also I think Sadiq Khan's message is slightly different from Theresa May. He started in the same way that she did after the Manchester bombing with an appeal for unity across the community. For people to come together, to isolate the tiny minority of people who sympathize or perpetrate such atrocities. This time Theresa May didn't say that, and that has been left to Sadiq Khan and others to put forward the idea that we should be united and we should not let this people divide us as a consequence of this disgusting attacks.
The statements, views and opinions expressed in this column are solely those of the author and do not necessarily represent those of RT.
You can share this story on social media: