#LondonBridge terrorist attack: 'Time to admit Western anti-terrorism policy isn't working'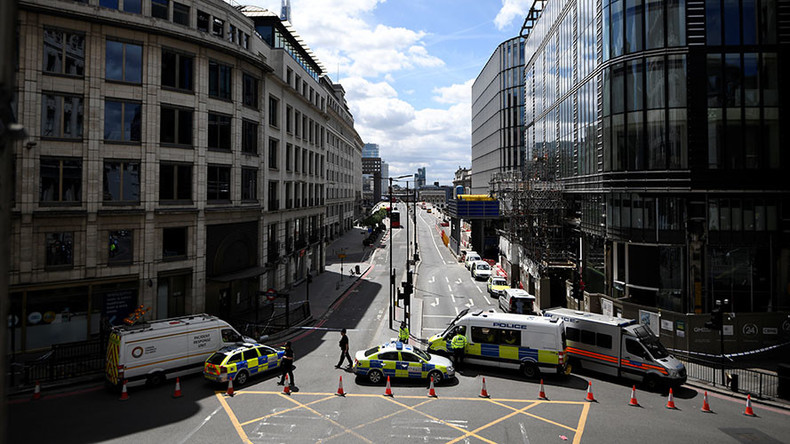 As the London Bridge terrorist attacks happened just days before the general election, it is time people woke up to the connection between Western foreign policy and the increasing regularity of terrorist attacks, political commentators told RT.
Central London was shaken by a brutal act of violence with seven people confirmed dead after a van traveling at high speed struck pedestrians on London Bridge shortly after 10 o'clock last night.
Police say three men armed with knives then exited the vehicle and went on a stabbing spree heading south to Borough Market. The statement said all three suspects believed to be involved in the attack have been shot dead by security forces.
London police are calling the incident a terrorist attack.
'Strange to see heavily armed police on London streets'
RT spoke with Patrick Henningsen, geopolitical analyst, 21st Century Wire.com, about his view on the situation and the ongoing terror threat in the UK.
"The timing of this just a few days before general election is going to reignite the national security, the terrorism discussion in the run up to the general election … Britain seems to have become acclimated to get used to this - not just get used to a fully-armed police state sort of atmosphere - but almost cheering it on now. In this sense, the state has done a great job in promoting the first responders and the security services to the point people are really happy to see armed police patrolling bank underground stations or the Tube stations tonight as we saw footage of this on Twitter. It is getting into a very strange place overall this conversation with security, terrorism, heavily armed police on the streets of London. This is something Londoners will just have to get used to if this is going to keep up. We will see if it keeps up after the general election."
'A correlation between the attacks and foreign policy'
John Wight, writer and political analyst, also provided his thoughts on the attack.
"It is time people woke up to the connection between the UK foreign policy, part of a wider Western foreign policy, and the increasing regularity of these attacks. That's certainly not to justify them in anyway. They are heinous attacks and those who participate in them in any way are to be condemned. But there is a correlation undoubtedly between our foreign policy and what is going on in the streets of Manchester and certainly what is happening in London as we speak. Because ISIS and Salafi jihadism was not in Libya until Britain participated in a NATO air campaign which toppled the countries government led by Muammar Gaddafi in 2011. And Salafi jihadism and terrorism was not present in Iraq until we destroyed that country in 2003. So, there is a deep connection. The establishment can no longer deny it. And every time it does deny it, it only increasingly discredits itself."
'Time to question anti-terrorism strategy'
Seif Dana, associate professor of Sociology and International Studies at the University of Wisconsin-Parkside.
"People in the whole Middle East don't feel safe every day and this could be easily attributed to Western foreign policy. The issue here is the frequency of these events in the West, in Europe and particularly in Britain, in France, Belgium and other places, must push people to question their government's foreign policy and that's not an attempt to justify it as much as trying to understand the event. And also question Western anti-terrorist policy. Obviously the Western anti-terrorist policy is not working. And actually terrorism is increasing and expanding. There is something wrong here. Some commentators and analysts basically say that the West hasn't been really fighting terrorism as much as has been employing terrorism to blackmail some nations and to promote certain foreign policies. And if this is true, then this would be part of its consequences. I think at some point Western governments should start questioning their anti-terrorism strategy."
'Crude instruments of death'
Adam Garrie, political analyst
"The very reason for lots of people not predicting that [London Bridge] would be a target is the reason that these terrorists decided to hit. For those who don't know the area, for the last few years London Bridge has gone through a somewhat derelict area into an up and coming, so-called 'gentrified area.' The tallest skyscraper building in Britain is there, meters away from there is Borough Market, which has had something of a commercial renaissance… When we are talking about terrorism, there is obviously the hard targets, big targets: you've got your concerts, big sporting events, crowded central areas in London that would be Piccadilly Circus, the equivalent of Times Square. But these terrorists, especially those operating with very crude instruments of death, in this case a van, which is not normally thought of as a weapon, but terrorists throughout Europe have been using cars and vans as weapons, it shows that it takes more than just intelligence about local affairs in order to prevent these things. And again that is why this has got to be related to the malicious foreign policy decisions of governments that fund terrorism in Syria, in Libya, in Yemen who are on the side of terrorists, weapon's merchants, drugs merchants in Bosnia, Albania and the occupied Serbian province of Kosovo and Metohija and why should anyone be surprised when it blows back? The local security services in countries like Germany, Britain and France would have a much easier time if things could be taken at of preventative level in terms of foreign policy."
The statements, views and opinions expressed in this column are solely those of the author and do not necessarily represent those of RT.