'Terrorist groups in Afghanistan strengthened, security deteriorating'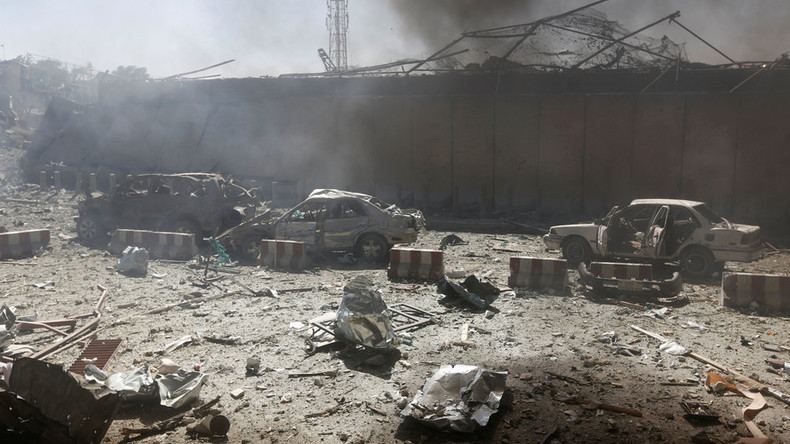 What does the deadly Kabul deadly say about the state of security in Afghanistan? Could this attack prompt the US and its allies to go back with more troops? How is it possible the attack hit the heavily protected diplomatic district? RT asked analysts.
At least 80 people have been killed and over 350 injured as a result of a powerful car bomb in the capital of Afghanistan, Kabul. The explosion occurred during the morning rush hour on Wednesday. It ripped through Kabul's diplomatic district which is thought to be one of the most secure areas of the city.
Middle East expert Ali Rizk told RT that "terrorist groups in Afghanistan appear to have strengthened."
He recalled that another attack in Kabul on March 8 killed over 40 people.
READ MORE: Bombing in Kabul's embassy district kills dozens
"The security in the capital appears to be deteriorating," he said, adding that it could have been because of many reasons, including an increased number of terrorist groups present in the country.
It's been more than 16 years since the US started its war on terror and went into Afghanistan.
"…Currently, discussions are taking place in the White House. We have Trump's National Security Advisor Herbert McMaster – he has been advocating a plan to have a significant increase in troop levels in Afghanistan. On the other hand, we have the Chief Strategist in the White House Steve Bannon, who has been against such a plan. So there has been this discussion even before the attack; there has been this discussion in the White House of once again increasing troop levels in Afghanistan," Rizk said.
However, Wednesday's attack, he continued, "might tilt the balance in favor of those who support an increase in the troop levels."
"This could have a great impact on US troops going back to their former levels, establishing a larger presence for themselves in Afghanistan. We're also not sure how this will have an impact on NATO. But when it comes to American strategy itself it could contribute to fulfilling the wishes of those in the White House, who support generally speaking a troop increase in Kabul and Afghanistan in general," he told RT.
Political commentator Marwa Osman suggested the attack – particularly given that it hit the diplomatic area - might be retaliation for the "mother of all bombs" the US dropped on eastern Afghanistan in a strike against ISIS in April.
"This might be the major retaliation toward what happened in those areas because at that time we heard the Pentagon saying the bomb was targeting members of ISIS, and apparently the millions and millions of dollars' worth of bomb killed only 35 ISIS members…But I think this is majorly linked with the Taliban. ISIS, Taliban – this is majorly the same thing in Afghanistan, they are not that far from one another," she told RT, adding that earlier the Taliban warned about the start of their spring offensive across Afghanistan.
As for possible reaction from the authorities, Osman doesn't rule out an increase of Western troops on the ground.
Now, the Pentagon will have "the green light, which "they give to themselves" to bring back troops to Afghanistan, the country "has been war-torn for the past 30 years because of the US involvement to begin with." In her opinion, US President Donald Trump might also ask NATO allies to increase their troop's presence in Afghanistan.
German Foreign Minister Sigmar Gabriel said some people in the embassy were injured as a result of the bomb explosion in Kabul, and Afghan security staff employed there were likely among the dead, Reuters reported.
Professor & Dean of Jindal School of International Affairs Sreeram Chaulia says the attack might be meant to send a message to foreigners, including the Germans.
"Remember that Germans are very active in the north of Afghanistan in Mazar-e-Sharif – that is where their headquarters have been as part of the NATO military operations. Mazar-e-Sharif has also been attacked in the last few months. As we speak, there are many such incidents happening across the country. So the Germans are seen as active participants in the war, alongside the US. It's been a thorn in the flesh – the Germany presence. Therefore I think they want to send a message if at all it is directed at the German embassy," he told RT.
"This spring offensive there is sending out a signal: "We want all outsiders to leave…" They maybe also are trying to look at softer targets, and one of them is, of course, European forces including German forces, if not forces, then civilians and diplomats for sure," Chaulia added.
Islamic State (IS, formerly ISIS/ISIL) is reported to have claimed responsibility for the Kabul attack.
RT asked writer and commentator Abdel Bari Atwan what it would tell us if confirmed. Is ISIS expanding its presence in there?
"ISIS is now facing extremely difficult times in Syria and Iraq," he said. "They moved to plan B – to expand to areas, which is a very soft target for them. They can expand easily, especially into Afghanistan. They managed to strike some sort of alliance with the Taliban recently, and they are giving their lethal experience to Taliban volunteers and Taliban forces. I believe this kind of attack could be the fruit of this coordination and cooperation between ISIS and Taliban movement in itself," he told RT.
According to Atwan, Al-Qaeda's influence in Afghanistan in decreasing and ISIS is taking its place.
"So ISIS now is more lethal, more deeply involved in that part of the world," he said. "ISIS is taking the place of Al-Qaeda. The Taliban is very strong, controls more than 2/3 of the territory of Afghanistan."
Sultan Mehmood Hali, a retired group captain in the Pakistan air force, says he finds "it appalling that an area, which is supposed to be the most heavily guarded, the most secure, in the heart of Kabul gets struck."
In his opinion, it is only going to show that "the enemy is striking with impunity."
As to who might be behind the attack, he said the situation on the ground if "extremely complex."
"There are certain forces, which do not [want] Kabul to be stabilized and they would like the war to go on, and they would like the state of turmoil and conflict to continue," Hali told RT.
Commenting on why it is so hard for the Afghan authorities to counter this terror threat, he said they themselves admitted they don't have control.
"More than 1/3 of their territory is under Taliban control. The problem lies with the USA, which is trying to blame Russia for sponsoring the Taliban, which is totally untrue. In the near past, if you noticed, when Russia, China, and Pakistan sponsored the trilateral peace talks in which Afghanistan was also invited …on the eve of [those talks] the 'Mother of all bombs' [MOAB] was dropped in Afghanistan," he said.
The statements, views and opinions expressed in this column are solely those of the author and do not necessarily represent those of RT.