Scandal-ridden Malta government produces 'blame Russia card' ahead of snap elections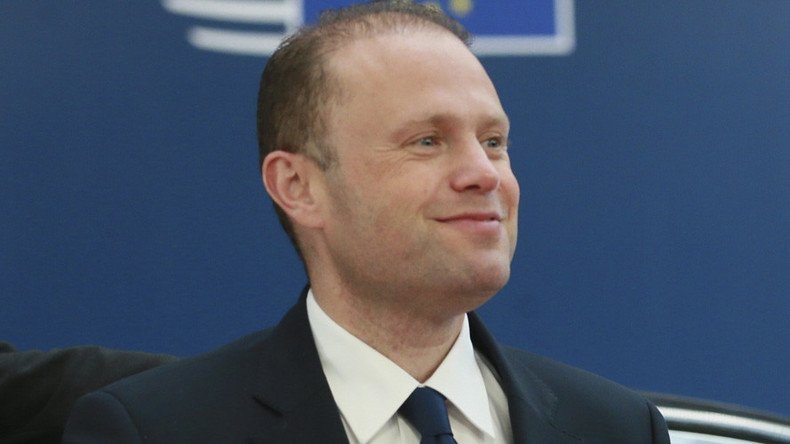 Talk about Russian meddling in Malta's upcoming snap election is a decoy to keep people from discovering the truth about a recent scandal. Anything, just like blaming Russia as usual, works, says Stephen Florian, the Għaqda Patrijotti Maltin member.
Last month, Maltese journalists released documents allegedly showing that Prime Minister Joseph Muscat's wife may own an offshore company mentioned in the so-called Panama Papers, the name for millions of leaked documents detailing financial and attorney–client information on more than 214,488 offshore entities.
After this disclosure, the Prime Minister announced snap elections to be held in June. And as the election draws closer, Muscat has suggested Russia is behind the leak as an act of revenge over Malta's refusal to allow the Russian Navy fleet to refuel at its port as it was on its way to Syria in October.
Russia strongly rejects the allegations. The Embassy of the Russian Federation to the Republic of Malta stated that "Russia has never interfered into Malta's domestic affairs and has no intention to do so in the future. All questions regarding these allegations should be addressed to the so-called 'security services of allied countries' that spread this fake information".
To make matters more complicated, Malta currently holds the rotating presidency of the European Union and will do so until June 30.
RT: What is your take on these allegations concerning Russia's involvement in Malta's domestic affairs?
Stephen Florian: News came out during one of the party press conferences held by the Malta Labour Party. One of the journalists in the audience asked Prime Minister Joseph Muscat whether he knew or not that 'Russia was involved in interfering in Malta's general election to be held on the June 3.' The PM stopped and insisted that the journalist repeat his question. This is not very normal in this sense. And then the Prime Minister emphasized that yes, he did have information by a particular foreign agency mentioning Russia and the issue. Obviously, other previous issues were mentioned connected with this event, namely the refusal by Malta to refuel the [Russian] aircraft carrier Admiral Kuznetsov and other fueling ships during the naval campaign towards the shores of Syria. What was expressed then – namely was the fact that Malta is a neutral country and should stay neutral. But this is all relative and ironic in the sense that it is no secret that NATO ships keep coming and going out of Maltese ports, even though Malta is not a NATO member...
RT: What do you make of the timing of Muscat's statement?
SF: Two weeks before election day, the PM makes such statements and, obviously, not only the Panama Papers, or Pilatus Bank comes to mind, but also what is happening in terms of Maltese foreign affairs in regards to Ukraine. Malta right now has the EU presidency, which will expire towards the end of June, and one has to keep in mind that during the Maltese presidency there was the so-called visa waiver for Ukrainian citizens and also a very subdued visit by President Petro Poroshenko to Malta during the last two weeks. Prior to that, Muscat about two years ago was introduced to then-Ukrainian Prime Minister, Arseniy Yatsenyuk, which some people considered as 'dangerous liaisons' considering what was happening in the Ukraine.
RT: What was your initial reaction to the news that Russia was allegedly interfering in Maltese political affairs?
SF: Frankly, when I heard the news that Russia was meddling in Maltese political affairs, it humored me because this election itself is a blanket cover to keep people away from discovering the truth. And truth is less important right now than who is going to win these elections. We have two major parties, two big parties, which are institutions and which would like to keep power for themselves. People are very concerned trying to make their own party win right now and they are not actually bothered about the truth. So, any excuse - like blaming Russia, as usual - anything goes in that way.
The statements, views and opinions expressed in this column are solely those of the author and do not necessarily represent those of RT.
You can share this story on social media: