Are airstrikes possible? Mixed signals from Washington on Syria safe zones
Published time: 6 May, 2017 15:34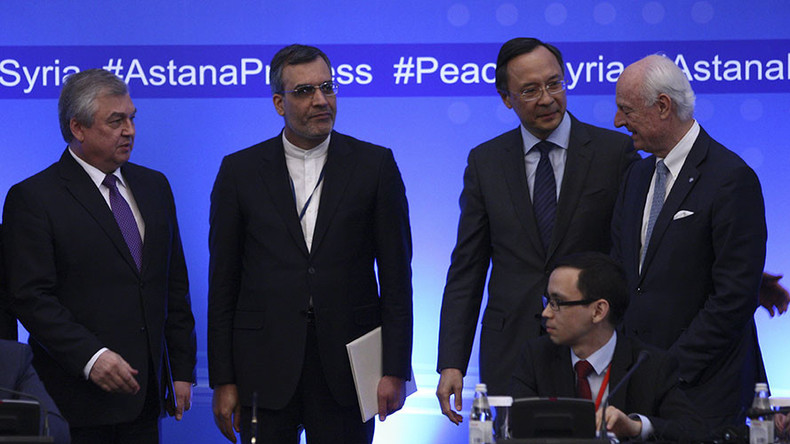 It remains to be seen whether Washington will get behind the Russian-backed de-escalation deal on Syria, analysts say. However, if we're looking at America's national interests, there is a lot for Washington to take advantage of here.
A deal on Syrian de-escalation zones, also known as safe-zones, officially came into force on Saturday. It was brokered by Russia, Iran, and Turkey at talks in Astana on Thursday, with the aim of ending the bloodshed in Syria.
The deal foresees the establishment of zones free of any military hostilities and also aims to improve the humanitarian situation in the war-torn country by providing rapid and safe access to aid workers.
The first zone will include the whole of Idlib province and certain parts of a neighboring province. The second will cover areas in the north of Homs province and another will encompass parts of the Daraa and Quneitra provinces in the south. The last will be established in some areas of eastern Ghouta, just outside the capital.
The US has remained fairly reserved in commenting on the safe-zone deal, however.
Michael Maloof, a former Pentagon official, told RT that, since the US has forces on the ground in Syria assisting the Kurds, it could be very dicey if it can't go in to support them.
RT: The Pentagon says it'll strike Islamic State (IS, formerly ISIS/ISIL) wherever it is. Does this mean the US could conduct airstrikes in the de-escalation zones?
Michael Maloof: It's conceivable. They've been trying to protect the Kurds up in some of the areas where they have been fighting ISIS. So, it is going to be questionable just how the US intends to respond. This is why I think Turkey was so happy to be a signatory to it, because it doesn't want the US and the Kurds to be working together. It is conceivable that they could. Also, you keep in mind – we have some forces on the ground up there, and it could be very dicey if the US can't go in with their support to protect the US troops on the ground who are assisting the Kurds. That could be problematic.
RT: Could these safe-zones help people on the ground more than the no-fly zones we've seen implemented elsewhere, like in Libya, for example?
MM: That is the concept. The de-escalation zones are one thing – as opposed to the free zones that you had in Libya. They are totally different. One of the concerns is that, by having these free zones, it has a tendency to create a partition of Syria itself. That is something the Syrian government itself has said it is not going to put up with. But the Russian government has said that the US can go ahead and bomb ISIS near Raqqa and on toward Iraq itself. Then that raises the question: what is the US going to do once it achieves that mission in Syria. This is all still a work in progress.
We've had de-escalations and ceasefires before – they haven't worked. The question is: how this one will be monitored and compliance enforced. There is even discussion of bringing in some foreign troops. One thing that the Syrian opposition certainly doesn't want are Iranians. They sort of go along with the idea of having, let's say troops from Kazakhstan or even Egypt. Egyptians, of course, are not going to be putting boots on the ground. This is going to be a very dicey thing. It is an effort in reaching these four areas that the Russians have been doing for quite some time through the reconciliation efforts out of Khmeimim air base in Latakia. It effectively takes care of the western portion of Syria, but not the eastern portion. That is going to be a division line. But you stand the risk of dividing Syria as a country as a consequence of that.
Former US diplomat, Jim Jatras, who is a GOP Senate policy adviser, does not rule out the possibility of the US conducting airstrikes in the de-escalation zones.
"But let's be clear that ISIS and also Al-Qaeda are not part of the de-escalation agreement in the first place. So, in principle, that shouldn't be an issue, although there are many other issues associated with that, starting with the fact that there is no legal authority for the US to be bombing anything in Syria against the wishes of the Syrian government. Nonetheless, bombing the Islamic State specifically should not be a problem with the de-escalation arrangement," he told RT.
As to whether Washington will use its commitment to target IS as a pretext to carry on its air campaign – that remains to be seen, Jatras said.
"When we talk about the American-led coalition effort against ISIS, we've only talked about ISIS. We haven't really talked about Al-Qaeda, and certainly not about other terrorist groups that are associated with Al-Qaeda. I don't see that aspect of the American policy changing very much. I think what more of a question mark is, is whether Washington will get behind this de-escalation agreement at all," he said.
Jatras cited comments made by Russian Deputy Defense Minister Lieutenant-General Alexander Fomin at a media conference in Moscow on Friday.
"He said the Americans had been consulted; that they are being cooperative. We have to see what that means. This is something where, obviously, the US is not taking a lead. But I can see that if we're looking at a national interest-based policy, there is a lot for Washington to take advantage of here to say: "Look this can help wind down the war and stop the war, and defeat the terrorists, why shouldn't we get behind it?" Jatras added.
Dr. Makram Khoury-Machool of the European Centre for the Study of Extremism says that, in his view, the Pentagon can't operate independently.
"If we properly read the situation, this is a peak in what has been achieved. I believe that this is the culmination of long efforts exerted by the Russian administration, as well as Turkey and Iran. Practically achieving such agreement – these four memorandums is the art of negotiation, especially when they had to integrate both military skills, as well as diplomatic skills, in a very divided area, as well as very complex," he said.
"If you remember that last September there was a sort of agreement between Russia and the States, but this agreement did not succeed. Why? Because there was reluctance amongst both the so-called moderate opposition armed groups, as well as the mercenaries and the terrorist groups, not to disentangle. They wanted them to disentangle at that time so that the Syrian and the Russian air forces would actually attack, eradicate, terrorism and extremism. What hindered that effort at that time, back in September 2016, is the very fact that both sides worked sort of in cahoots and did not agree to disentangle. This is why we had to wait for around seven-eight months in order to achieve this very important agreement now. I don't think that the Americans will have any influence. Probably, we could say, they will have very little influence, because the key players are really the Russians, the Syrians, as well as the Iranians and the Turks," he said.
The statements, views and opinions expressed in this column are solely those of the author and do not necessarily represent those of RT.