'Emmanuel Macron, a creation of French media & finance, now faces a real campaign'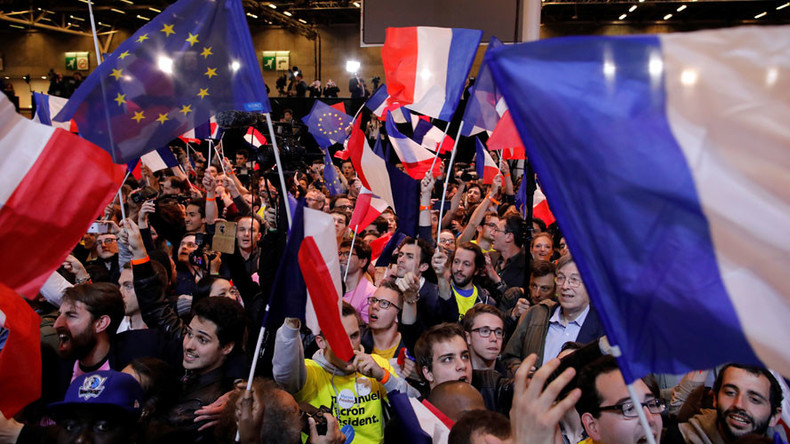 The media and the EU openly support Macron, this interference is totally unacceptable, says lawyer Mischael Modrikamen, who leads the Belgian People's Party. It will be for the ordinary people of France to decide who will be their leader, he adds.
The next two weeks will see intense campaigning between the two remaining contenders for the Elysee Palace, Marine Le Pen, and Emmanuel Macron, with the final showdown on May, 7.
However, some already view Macron's victory in two weeks as a foregone conclusion, ignoring the fact the first round difference between the two candidates was just a couple of percentage points.
Read more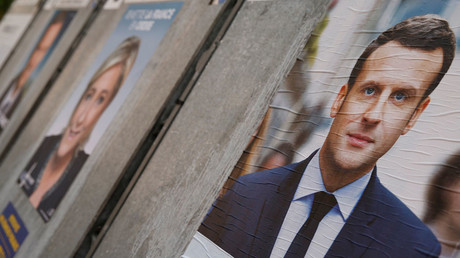 RT: Many of those who now support Macron in the second round say Le Pen should not be allowed to become the president accusing her of being nationalist. Are they true supporters of Macron or simply against Le Pen?
Mischael Modrikamen: I think the whole system is trying to save itself by combining central right, central left and central forces in order to fight the Euroskeptics and anti-establishment forces represented by Marine Le Pen and by Jean-Luc Melenchon on the left side. It is an end of an era. They just promoted a kind of marketing person - which is Emmanuel Macron who came from nowhere, without any program, or at least any detailed program so far in order to fight these new trends. The EU is clearly coming in support of Macron; it is clear interference. And I think it is totally unacceptable from the civil servants at the EU level. Ultimately, it is not for the press, it is not for the establishment or elites to decide who will be the next president. It will be for the people, for the ordinary people of France to decide who will be their leader in two weeks.
What we have seen is that both the right-wing Liberal party and the Socialist party have been totally cast out of the system. They are the humungous losers of the first round of this presidential election. Macron is a sort of imaginary candidate that was made up by Francois Hollande when Socialist Francois Hollande as a president realized he couldn't represent himself, he created Emmanuel Macron. The situation today is such the Macron has been able to serve on his newness, his complete blank past but he will now have to start talking about programs, about what he actually stands for. You will see in the next coming two weeks that when it comes to crucial issues like the economic situation in France, like unemployment, like insecurity, like terrorism, Macron doesn't have a program… He is a creation of the media. Mr. Macron was put there with support of the French Socialist government; Mr. Macron has behind him the financial institutions. And Mr. Macron has behind him the essential media from France … But he will be brought to reality once the real political campaign starts, and that is right now. - Patricia Chagnon, National Front member.
RT: Everybody seems to be campaigning for Macron: the French media, the defeated candidates, and even many top European officials. Do you think it is right to try to influence peoples' minds on such a scale when it is supposed to be a fair democratic choice?
MM: Again, I think this interference, at least from civil servants, is totally unacceptable. But if you look now at the role of others like the media, they've been indeed hardly campaigning for Mr. Macron. They've already proclaimed him as the new president, but the second round hasn't even begun. If you look at the attitude of many of the leaders, this is very strange because we have seen people around Fillon, for example, the central right candidate just after the announcement of the result immediately supported Mr. Macron. And a lot of the electors felt betrayed by this kind of attitude. I think we must say that although Le Pen's results were fairly low, around 21 percent, still it is not yet won by Mr. Macron contrary to what all the press said. Because if you look at the situation, for sure a lot of people who voted for Mr. Fillon, central right, will vote for Ms. Le Pen. You have people who voted for Nicolas Dupont-Aignan who is a sovereignist candidate that will presumably vote for Ms. Le Pen. And you have the electors of Mr. Melenchon on the far left which are very Euroskeptic and anti-Euro that will certainly for most of them abstain in this vote. So, I wouldn't take Mr. Macron election for granted notwithstanding what all the polls say today.
The statements, views and opinions expressed in this column are solely those of the author and do not necessarily represent those of RT.