'Main question of Egypt Coptic church attacks: Who's behind the terrorists?'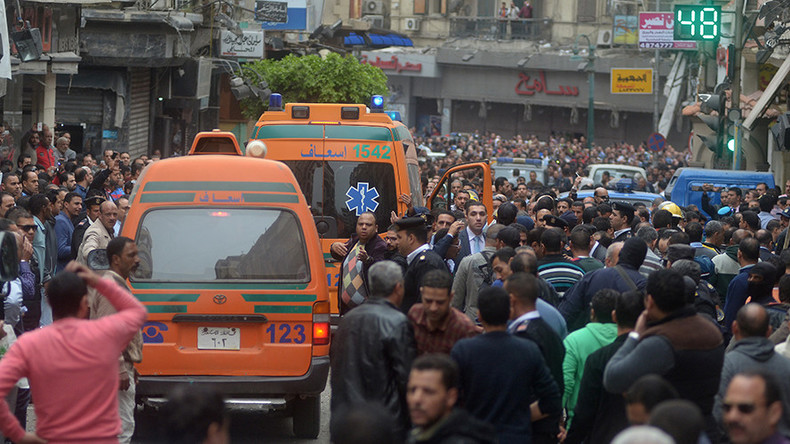 The aim of those behind international terrorism is clear: they want to divide the Muslim and Christian world, have a civilizational warfare, says Dr Said Sadiq, professor of political sociology, American University of Cairo.
An explosion inside a packed Coptic church in the Egyptian city of Tanta killed at least 25 and injured over 40, according to local media. The blast targeted worshippers who had gathered to celebrate Palm Sunday, marking the beginning of Easter week.
The second attack came just hours later, rocking the Coptic Christian Cathedral in Alexandria, leaving 11 people dead and 40 injured.
Islamic State (IS, formerly ISIS/ISIL) has claimed responsibility for two Egyptian church bombings for the attacks in Tanta and Alexandria.
Last December, a bomb hit Cairo's largest Coptic cathedral, leaving 25 people dead and around 50 injured. That attack in the capital was the deadliest attack against Egyptian Christians in recent years.
Read more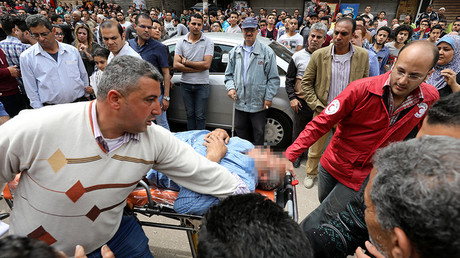 RT: This is the second Coptic Church bombing in Egypt since last December. Why are the Coptics such a target given they make up only around 10 percent of the country's population?
Dr Said Sadiq: As you know, minorities and certain symbolic buildings that belong to them are always targeted. Because the aim is to destabilize the country, and they expect that it would create sectarian thrive, the Coptic minority would criticize the government for not giving enough security and some clashes can occur. But this did not happen.
I think the Coptic Church was aware about the certain things like that. The Egyptian population is criticizing the terrorists and wondering why this is happening at this time when tourism in Egypt is improving, when the country is stabilizing. There is an international support of Sisi's regime. So, whoever is doing that is behind the terrorists. It is simple to say that they are terrorists, but who is behind the terrorists? This is the issue. Because many of the terrorists that we know are really simple people, extremists, and they don't know what is a target and what time do you pick. But they pick a target at a particular time – Palm Sunday - this is something that everybody among the Coptics is celebrating, this is a Church and this is symbolic building. They want to send a message inside Egypt and outside Egypt that the country is unstable, "Don't come to Egypt, don't invest in Egypt." This is the aim of this operation.
Read more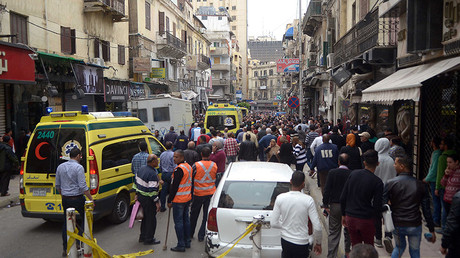 RT: Recently, terror attacks in Europe have been under the spotlight, but some terror acts like the one in Tanta today don't get as much coverage. How would you explain that?
SS: International media agenda-setting. They pick which terrorist operation or terror attack gets highlights and which should be ignored. Again, we have to see how the world media are picking the topics and how they explain the attacks. Why do they put this at the top agenda, top news and why they keep some topics in the background? It has to do also with international political agenda. And that is why I said you could not simply say that these are terrorists who did it. Who is standing behind the terrorists? Who are the planners? Why did they pick this time? This is far beyond the guy who are nuts, who go and plant a bomb or go on a suicide bombing mission. The planners are the real target, and you have to see who is behind this kind of international terrorism. Who is behind the terrorism in Sweden, in London…Why do they pick certain countries and ignore others? This is a certain issue.
RT: ISIS claimed responsibility for two Egyptian church bombings. Coptic Christians have previously been targeted by ISIS. Do you think extremists are leading a fight against Christianity in Egypt?
SS: Yes, somebody has this agenda. They want to divide our world. They want to have a world war between religions, between civilizations. This is very clear on the agenda of the terrorists. We have to remember that terrorists have plans. They are not insane; they look in a rational way. What is the political objective that they want? They pick soft targets like people in a Church or people on the beach or people in the restaurant. This is very easy, no problem. But what is the aim? The aim is very clear: they want to divide a Muslim world and Christian world and the rest of the world in a civilizational warfare.
The statements, views and opinions expressed in this column are solely those of the author and do not necessarily represent those of RT.