At least 44 killed in Egypt church bombings on Palm Sunday, ISIS claims responsibility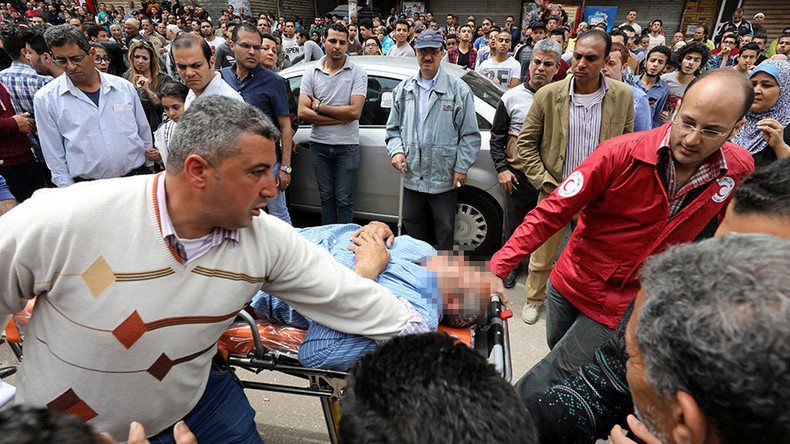 Islamic State (IS, formerly ISIS/ISIL) has claimed responsibility for two Egyptian church bombings that killed 44 people, mainly Coptic Christians, Reuters reports, citing Amaq news agency, which is affiliated with the terrorist group.
The terrorist organization said that an IS-affiliated group was responsible for the attacks in Tanta and Alexandria.
First, there was a huge blast in the St. George Church in Tanta, with at least 27 killed and another 78 wounded in the explosion, according to the Egyptian Health Ministry.
The bomb was reportedly planted beforehand in the prayer hall.
The second attack came just hours later, rocking the Saint Mark's Cathedral in Alexandria, leaving 17 people dead, including three officers, and 40 injured.
Both explosions took place on Palm Sunday, which celebrates the entry of Jesus Christ into Jerusalem. The attacks were reportedly carried out by two suicide bombers.
In response, Egypt's President Abdel Fattah al-Sisi issued an order to deploy military forces across the country on Sunday, his office said in a statement, according to Reuters.
"President Abdel Fattah al-Sisi the Supreme Commander of the Armed Forces has ordered units from the military to immediately deploy and assist the civilian police in securing vital facilities in all provinces of the republic," the statement said.
Armed vehicles and heavily armed military convoys have been deployed to guard Cairo mosques and churches in the aftermath of the attack, TASS reported, citing its own correspondents.
Sisi has also declared a three-month-long state of emergency, which will be introduced after the necessary legal procedures.
"A series of steps will be taken, most importantly, the announcement of a state of emergency for three months after legal and constitution steps are taken," Sisi said in a speech aired on state television.
A few days ago, the town of Tanta was in fact targeted in an attack, when 16 people were wounded in a police training center bombing.
The assaults come ahead of Pope Francis' visit to Egypt scheduled for late April.
Dr. Said Sadiq, professor of political sociology, told RT that the timing of the attacks couldn't be more suspicious.
"I talked to some people [after the attacks], and they were all criticizing the terrorists and were wondering why this happened at this time: when tourism in Egypt is improving, when the country is stabilizing, there is international support of Sisi's regime. So, whoever is doing this [the bombings] is standing behind terrorism. It's simple to say that they are terrorists, but who is behind the terrorists? This is the issue."
READ MORE: 20+ killed after church bombing in Egyptian city 90km from Cairo
There has been heightened security in Egypt, freelance reporter Jacob Wirtschafter told RT, but "the problem is we've got 10 million Christians and hundreds of churches, there's no way to secure them all from a would-be suicide bomber."