Syrian crisis buys Washington & Beijing more time to consider North Korea standoff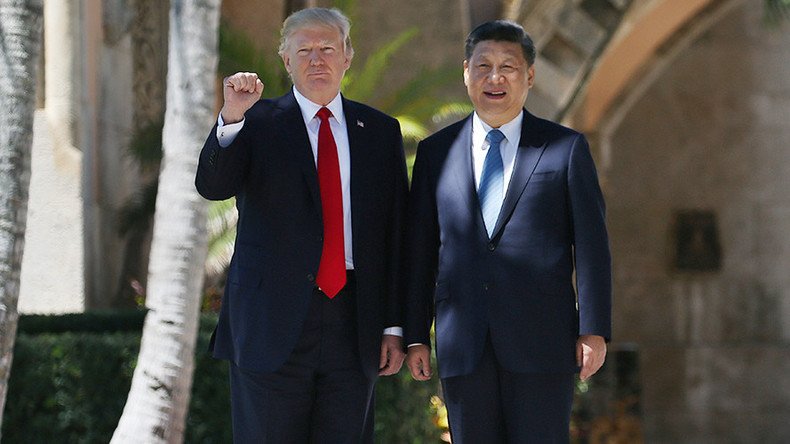 Washington's preoccupation with Syria kept its summit with China to a 'get to know each other' level with no embarrassing public squabbles, exactly what President Xi had wished for.
As the Chinese President Xi Jinping was preparing for a summit with new US President Donald Trump at his Mar-a-Lago Florida resort, Trump announced US missile strikes on Syria's Homs airfield. Beijing has been gasping for a right strategy to deal with the unpredictable and less-restrained US under Trump ever since his campaign days, and the attack seems to have delayed the inevitable.
On the campaign trail, Trump attacked China's unfair trade and fiscal practices, and vowed to revive blue collar American jobs and counter China with protectionist measures. Once in office, he took steps considered to be too spontaneous to some, be it repudiating the Transatlantic Pacific Partnership (TPP), or pulling America out of the Paris Accord on climate change.
In the wake of this Trump storm, Syria served as a diversion for Beijing from making any concrete commitments on some of the contentious issues during the summit.
Pyongyang calling
North Korea, an item that featured high on the agenda of the Xi-Trump summit, was perhaps one such issue for which Xi would have preferred a touch and go approach, if not avoid altogether.
Trump's known rhetoric has been China isn't doing enough to contain Pyongyang's nuclear ambitions, while Washington is aggressively pushing Beijing to crack down on Chinese companies dealing with North Korea.
The popular belief is the Syrian strike is a veiled warning to President Xi Jinping that the US could resort to unilateral actions if Beijing did not take "adequate measures" to rein in Pyongyang.
However, Beijing knows Washington will not resort to such perilous proposition because North Korea - with nuclear capabilities and potential to strike back resulting in huge ramifications for US allies Japan and South Korea - is a far riskier target than Syria.
To underscore this, just before the Xi-Trump summit, North Korea carried out five nuclear arms tests. Chinese experts say Washington's options in North Korea is limited.
Apart from a nuclear North Korea - the entire Korean Peninsula, including China, Japan, and South Korea - is mired in deep contradictions and cold relationships with each other. And much of the responsibility for seeding this 'strategic distrust' in the region must go to the US.
Pyongyang could abandon its nuclear ambitions voluntarily if it were guaranteed a collective security agreement driven by relevant regional powers. But that's a scenario far from possible given the unlikelihood of China, Japan and South Korea joining together for a unified action.
North Korea is behaving very badly. They have been "playing" the United States for years. China has done little to help!

— Donald J. Trump (@realDonaldTrump) March 17, 2017
Washington, on its part, continues to escalate sanctions and military threats against North Korea, while stepping up its military investment in Seoul - an approach that further added to Pyongyang's security anxiety.
Beijing, on its part, also feels North Korea's nuclear and missile proliferation has left no space for the relevant countries to make strategic adjustments. It even announced a suspension of all coal imports from North Korea, Pyongyang's crucial source of foreign currency.
But China would not allow Washington to attack Pyongyang, which is strategically important given its straining relations with South Korea over the deployment of the US anti-missile system on Seoul's territory.
These are deep issues that require careful consideration, and, fortunately for China, President Xi did not have to take any on-the-spot decision on North Korea except for the usual optics of "sharing the view North Korea's nuclear capabilities has reached a very serious stage."
Meanwhile, Beijing was content to deflect any heavy criticism over the trade deficit and job losses.
However, here again, the United States must accept some of the blame. In the run-up to the summit, Chinese op-eds iterated that the trade deficit doesn't indicate only loss for the US. About 40 percent of the trade surplus is actually generated by US companies in China.
In addition, China says bilateral trade and investment created 2.6 million American jobs in 2015.
Surprisingly, Trump did not resort to any of his campaign days jibes. Instead, he called the relationship between the two presidents "outstanding."
Following the summit, President Xi agreed to work on a 100-day plan for trade talks aimed at boosting US exports and reducing China's trade surplus with the United States. The Chinese President also invited Washington to participate in its "One Belt, One Road" plan, the infrastructure development project across Asia, Africa and Europe.
With China slated for a major transition in its political leadership as the Chinese Communist Party (CCP) convenes its 19th National Congress in late 2017, all Beijing had hoped for is a "get to know", not some embarrassing squabbling summit.
The Trump administration's preoccupation with Syria offered just that opportunity.
The statements, views and opinions expressed in this column are solely those of the author and do not necessarily represent those of RT.
You can share this story on social media: