Chemical reaction: Trump in U-turn, bubbling with Syria regime change

Finian Cunningham
is an award-winning journalist. For over 25 years, he worked as a sub-editor and writer for The Mirror, Irish Times, Irish Independent and Britain's Independent, among others.
is an award-winning journalist. For over 25 years, he worked as a sub-editor and writer for The Mirror, Irish Times, Irish Independent and Britain's Independent, among others.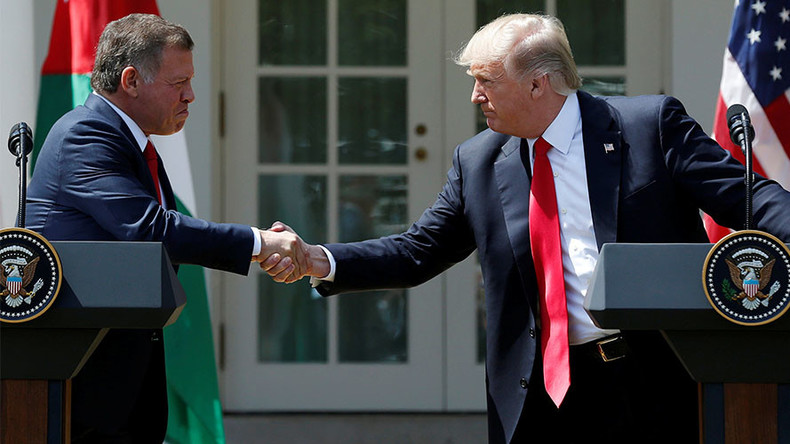 Last week, the Trump administration announced it was abandoning a failed US policy of regime change in Syria. This week, however, the White House suddenly back-flipped, saying Syrian leader Bashar al Assad "must go".
The dramatic U-turn in US policy was, of course, in reaction to the reported chemical weapons incident in Syria's Idlib province on Tuesday morning in which over 80 people were allegedly killed. Among the dead apparently were some 30 children.
Such a vigorous contradictory response from the Trump administration is strongly suggestive that the incident was an orchestrated political stunt; carried out for the purpose of achieving that very outcome by the Syrian militants and their foreign sponsors. It wouldn't be the first time such a false flag device has been attempted to influence US policy in Syria.
Within minutes of the alleged attack in Khan Sheikdoun, in Syria's northern Idlib province, Western governments and media were rushing to blame the Syrian air force for dropping chemical weapons on the town. Such claims were based entirely on images and information released by the discredited so-called rescue group, the White Helmets, who are reportedly affiliated with the Nusra terror organization. There was no attempt at verification by Western outlets, just straight-to-screen broadcast.
Speaking in the White House Rose Garden on Wednesday, alongside Jordan's King Abdullah, a visibly emotional Donald Trump lamented"innocent little babies" having been massacred.
"And I will tell you that attack on children yesterday had a big impact on me, big impact. That was a horrible, horrible thing," Trump said. "I've been watching it, and it doesn't get any worse than that."
The US president accused the Assad government forces of carrying out the attack, which he said "crossed many, many lines".
Meanwhile, US ambassador to the UN Nikki Haley openly accused Russia of being complicit in the alleged massacre. During a heated emergency meeting of the Security Council, Haley held up photographs purporting to show Syrian children dying from chemical weapons.
"How many children have to die before Russia cares?" asked the US ambassador. She also warned that Washington was prepared to use unilateral military action against the Syrian government if Russia "continued to shield" its Syria ally.
"When the United Nations consistently fails in its duty to act collectively, there are times in the life of states that we are compelled to take our own action," Haley said.
Haley's views on US military intervention were also echoed the same day by Vice President Mike Pence. He too accused Russia of complicity in the apparent killings and said that "all options were on the table" for his country's response regarding Syria.
The rush to condemn was reflected in the hasty UN draft resolution drawn up by the US, Britain and France. Russia's acting deputy ambassador Vladimir Safronkov noted that the entire Western position was based on discredited sources like the terrorist-linked White Helmets.
"Taking the White Helmets at face value is not professional and not serious," said Safronkov. He also added that the Western position was driven by an ideological expedience for "regime change" in Syria.
The last major deadly incident in Syria allegedly involving chemical weapons was in August 2013, when hundreds of civilians, including children, apparently died from exposure to the nerve agent sarin.
As with this week's incident, Western governments and media were quick to accuse Syrian armed forces of carrying out the supposed attack in East Ghouta, a militant-held suburb of capital Damascus. Horrific images of children gasping for air were likewise given saturated coverage by Western media outlets.
The then Obama administration asserted "conclusively" that the Assad government was guilty of "heinous crimes". Washington was on the verge of taking unilateral military action because of "red lines crossed". It was only due to Moscow's last-minute diplomatic intervention in September 2013 that US military involvement was averted, when a deal was struck by which the Syrian government vowed to decommission its chemical weapons arsenal under the auspices of the UN-affiliated Organization for the Prohibition of Chemical Weapons (OPCW).
The Assad government insisted back then that it did not carry out the East Ghouta attack even though it was willing to comply with the Russian-brokered decommissioning deal. It later emerged from investigative reports and Syrian testimonies that the East Ghouta chemical weapons massacre most likely was carried out by militants as a propaganda stunt aimed at forcing the Obama administration's hand to act on its "red line" threats of military intervention in Syria against the Assad government.
This week, Damascus again categorically denied that its forces had used chemical weapons in Idlib province. The Syrian government said all such weapons had been disposed off under the 2013 disarmament.
Syrian foreign minister Walid Muallem said his country's forces have never used chemical weapons nor ever would, even "against terrorists".
So, what did happen in Idlib this week? Russian military spokesmen said that Syrian air strikes in the area may have struck a munitions depot used by the Nusra terror group for the manufacture of chemical weapons, resulting in the accidental release of toxic materials. The foreign-backed militants are known to have carried out several attacks involving chemical weapons in the past. It is thus plausible that such a depot existed in the militant-held town of Khan Sheikdoun.
Still, a more sinister possibility is that the militants used the cover of Syrian air strikes to stage a deadly release of chemicals, knowing full well the lethal consequences, with cameras at the ready.
Notably, the images and video footage released by the White Helmets "aid responders" show no sign that those suffering from chemical exposure were caught up in the aftermath of an air strike. The location indeed appears to be a depot, and the people appearing to administer aid and recording the video footage seem to be doing so with a strange air of calm deliberation.
At one point in the video footage, three semi-conscious adult males are dragged from prone positions on a floor and then propped up against a pillar. The "aid responders" then walk away, but the video footage of the "victims" continues to run. Is that the expected action of "humanitarian responders"?
Last week, the Trump administration announced at the UN that the removal of Syrian President Assad was "no longer a priority" as under Obama. That marked a significant shift from Washington pursuing regime change.
Days later, however, in the aftermath of the supposed chemical weapons atrocity in Idlib, the Trump administration is threatening to military action against Assad. Both Washington and the European Union have redoubled their calls for the "Assad regime to step down".
Moreover, the Trump administration is blaming Russia for having complicity, and is uttering dark warnings to Moscow to "reconsider its support" for Assad.
US ambassador Nikki Haley asserted the alleged atrocity had "all the hallmarks" of the "Assad regime".
What she really meant to say was "all the hallmarks" of a false flag propaganda stunt. A stunt in which the blood of "little babies" bemoaned by Trump is really on the hands of Western-backed militants.
The statements, views and opinions expressed in this column are solely those of the author and do not necessarily represent those of RT.