'Fate of all Latin America being decided at Ecuador election'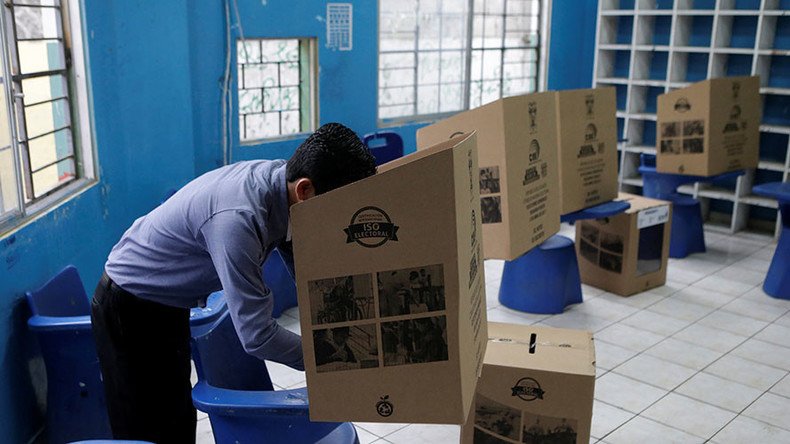 The US has a long history of meddling in Latin American countries. Any leader who stands up to oppose US domination becomes enemy number one, says Daniel Shaw, a professor of Latin American and Caribbean Studies at the City University of New York.
The fate of WikiLeaks Editor-in-Chief Julian Assange is now in the hands of Ecuadorian voters, who are electing a new president on Sunday.
One of the two candidates in the second round, Guillermo Lasso, has promised to evict Assange from the country's embassy in London, where he's been living in asylum since 2012.
READ MORE: Ecuador presidential hopeful plans to evict Assange from London embassy if elected
WikiLeaks recently revealed that Lasso had been a frequent guest at the US Embassy in 2007. He was reportedly briefing the ambassador on the fight against the incumbent president, Rafael Correa. Lasso also rallied the business sector against Correa. According to WikiLeaks, the US was supportive of the opposition and big business lobbying to change the Constitution of Ecuador to their advantage.
RT: What do you make of WikiLeaks claims about Guillermo Lasso's links to the US?
Daniel Shaw: Ecuador's fate and really the fate of all of Latin America, it is a crucial moment. Guillermo Lasso has promised that if he wins, Julian Assange will be expelled from the Ecuadorian Embassy. Julian Assange and WikiLeaks have functioned as a giant monkey wrench in the everyday machinations of the CIA and US imperialism. And they're used to just trotting around the globe, doing whatever they want in "sovereign" countries. Assange is one of their number one public enemies.
RT: The US likes to point the finger and accuse other countries of meddling. Do these revelations show it to be hypocritical?
DS: The US has such a long history of meddling in Latin American countries from Chili to Nicaragua, from Venezuela to Ecuador. It is not secret, the role of the National Endowment for Democracy and USAID, and the NGOs, and the role they have played in Ecuador, working closely with the opposition candidate. They are against what Rafael Correa and Lenin Moreno represent. Correa very historically and heroically insisted that the US close their military base in Manta, kicked out many US diplomats with links to the CIA, and has functioned as another anti-imperialist in Latin America. And this is the reason they are against him.
RT: Lasso promises to evict Assange from Ecuador's Embassy if he wins. How would such a step affect the country's international image?
DS: Julian Assange's fate really hinges on what happens in the next 24 hours. If Assange is expelled from the embassy, he will immediately be arrested by police in London and sentenced, and the US will try to have their way with him. They are not used to any type of surveillance or anybody exposing their covert machinations into other countries' electoral systems…
RT: How much influence does the US have in Latin America nowadays?
DS: For example, Venezuela, the country that broke free from US imperialism in 1999 [during] the leadership of Hugo Chavez – they've done everything for the past two decades to interrupt any progress, advancement of people's democracy, genuine democracy… And they have been trying to do the same thing in Ecuador. Ecuador has suffered a long history of CIA meddling – we should remember Jaime Roldos, also the Panamanian Omar Torrijos, both were very mysteriously killed in plane accidents when they were the presidents in the early 1980s of those two respective countries, Ecuador and Panama. And that is what we've seen in the history of Latin America: any leader who stands up to oppose US domination has become enemy number one for the US immediately.
The statements, views and opinions expressed in this column are solely those of the author and do not necessarily represent those of RT.
You can share this story on social media: