Assange's asylum status at stake in Ecuadorian presidential runoff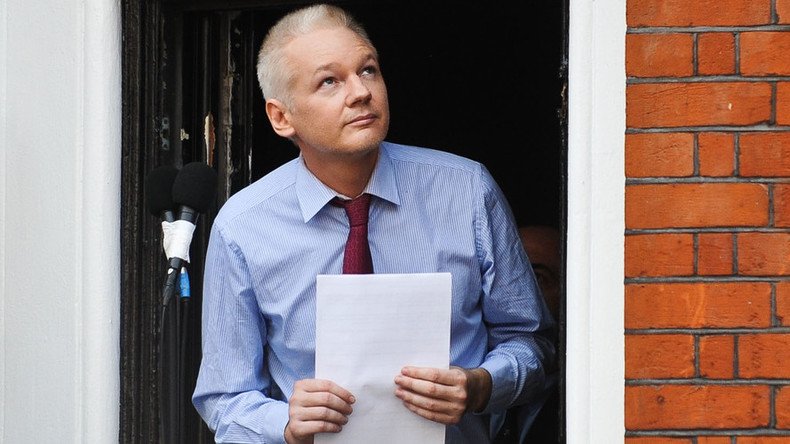 The upcoming Ecuadorian presidential election could potentially have dramatic consequences for WikiLeaks co-founder Julian Assange, as the public chooses between two candidates with vastly different opinions of the whistleblower.
Opposition candidate Guillermo Lasso has spoken out against Assange during his campaign saying, "Ecuador had no business spending a single cent protecting someone who definitely leaked confidential information."
Lasso said that he would give Assange a 30-day deadline to leave the embassy if elected, reported Reuters.
If forced to leave the embassy, which has protected him since 2012, Assange would face potential arrest, Latin America specialist in the Clinton administration Eric Farnsworth told the LA Times.
"I think it's pretty clear that Assange's fate rides on Ecuador's election returns," he said.
Bruce Bagley, international relations professor from the University of Miami, warned that along with Sweden, where a charge of rape still stands against Assange, the US may have an interest in Assange if released.
"He could be brought up on charges of purveying secrets of the U.S.," he said, claiming Donald Trump would likely prosecute him.
READ MORE: Assange must reduce 'meddling' in US policies while in Ecuadorian embassy – Moreno to RT (EXCLUSIVE)
Polls open on Sunday for the runoff presidential vote, after ruling party candidate and former Vice President Lenín Moreno failed to secure the 40 percent required for outright victory in February.
Moreno is more likely to be Assange's candidate of choice - he served under President Rafael Correa who first offered asylum to Assange in 2012.
Unlike his predecessor though, Moreno insists that despite supporting Assange's asylum he would introduce conditions.
Speaking to RT in February he said, "one of the conditions will be to not meddle into the policies of the countries we are friends with. The same as we do not meddle in their policies."
Assange responded saying that he is happy to speak to both candidates but that WikiLeaks does not publish from Ecuador and "will not respond to pressure."
Latest polls show Moreno narrowly edging ahead of Lasso, according to Reuters. However, one of the country's most closely watched polls put Lasso ahead earlier in the month.
You can share this story on social media: