'Trump-Juncker showdown: If you're shouting in the forest, you'll get an echo'
Published time: 31 Mar, 2017 14:09
Edited time: 31 Mar, 2017 14:10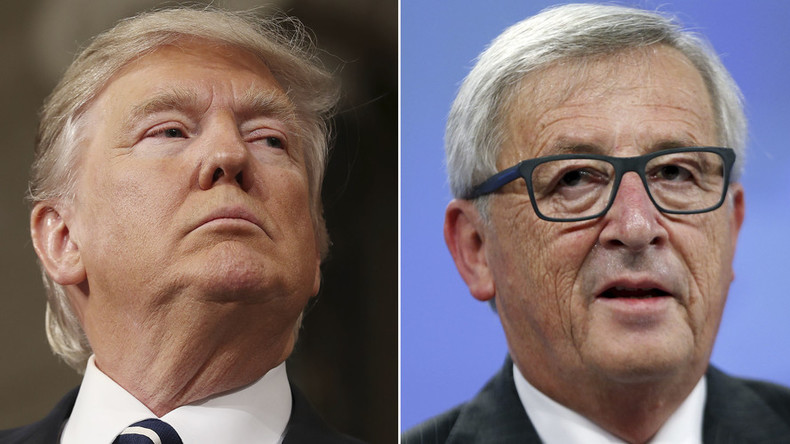 Trump saying he expects other EU members to follow Brexit was the first nonsense. Juncker's reaction was nonsense as well. But we have to see what the American administration does in the end, says former German national security adviser Horst Teltschik.
EU Commission head Jean-Claude Juncker has threatened to push for the break-up of the United States if President Trump continues to voice support for countries leaving the EU.
"Brexit isn't the end. A lot of people would like it that way, even people on another continent where the newly elected US president was happy that Brexit was taking place and has asked other countries to do the same," Juncker said on Thursday during a conference of the center-right European People's Party in Malta.
RT: Juncker's threats to promote a break-up of the US states sounds quite bold. Does he represent the official position of the EU?
Horst Teltschik: I think it depends on the members. There is a core of members who never will give up the European Union whatever the American president might think or might say. This is the guarantee for peace in Europe, and therefore it would be a nightmare destroying the EU. President Trump has no idea about the EU. I had to deal with several American presidents and the main problem with most of them – they haven't had any interest in the EU because they thought it is always a kind of competition to the US and NATO. You can understand such a position only if knowing that a guy like Trump doesn't know European history at all.
RT: What are your thoughts on the reaction of Jean-Claude Juncker? This is one of the most powerful figures in European politics, and he is speaking about perhaps promoting a break-up of America in response to Donald Trump's statements.
HT: The announcement of President Trump that he welcomes Brexit and that he does expect that other members of the EU will follow was the first nonsense. And if Juncker is reacting in a similar way it's nonsense as well. We have to see what the American administration at the end really will do. Trump has made so many announcements; quite a lot were wrong and silly, therefore we have to wait and see what his administration will do. He will come to Europe, and there is an opportunity to talk about the EU and future of NATO and the work and the intentions of G20. Then we can explain to him what the EU is. To start public announcements trying to push the president back in a similar way as he did is not very wise.
I didn't hear a single word from Juncker when Barack Obama was coming over to the UK and telling us that we shouldn't vote for Brexit. But when the message is one that he doesn't like, he is reacting in this way. I think I have got two problems with this. Firstly, somebody in a position like the President of the European Commission really shouldn't be saying something like that; it's not really an appropriate thing for him to be saying in the first place. And secondly, it seems that all this will do is cause unnecessary discord…- Jonathan Arnott, UKIP MEP for the North East
RT: Are we going to see his fellow politicians agree or disagree with Juncker?
HT: First of all, one of Juncker's mistakes was his announcement that… he will retire in two years. To announce your retirement, there is a danger that you're a lame duck. Because everybody might then wait till he has left to come forward with new ideas and proposals. This is one of the problems of Juncker. The other problem of Juncker is that he can't take decisions by himself. It is a job of the prime ministers and presidents of the European Council, and they will decide how to go along with Trump. Therefore, we have to wait for the meetings in Europe with the president.
RT: How helpful is such rhetoric in building healthy relations between the EU and the new American president?
HT: I know Juncker very well, we are good friends… He is a convinced European politician; he loves the European Union and was all the time struggling for its success. Don't overestimate that he is sometimes getting angry about the American president, that's understandable... There is a German saying: 'If you're shouting in the forest the echo comes back.' That's Trump and Juncker's situation right now.
RT: Juncker is planning to go to Washington next month, but a meeting with Trump hasn't been confirmed. What should we expect from his trip?
HT: It's good that Juncker is going to Washington, and hopefully, the president will welcome him, and they can discuss the advantages of the European Union and the future of the EU and all the opportunities of cooperation between the EU and the US. We have started to discuss a free trade agreement between the EU and the US. This was a great idea. And hopefully, they will come back to such a proposal.
The statements, views and opinions expressed in this column are solely those of the author and do not necessarily represent those of RT.