Former Russian MP killed in Kiev: Moscow guilty by default?
The murder in the Ukrainian capital, Kiev of the former deputy of the Russian State Duma, Denis Voronenkov, was quickly interpreted as "a Russian crime" by both Ukrainian President Petro Poroshenko and the anti-Russia hawks in the West.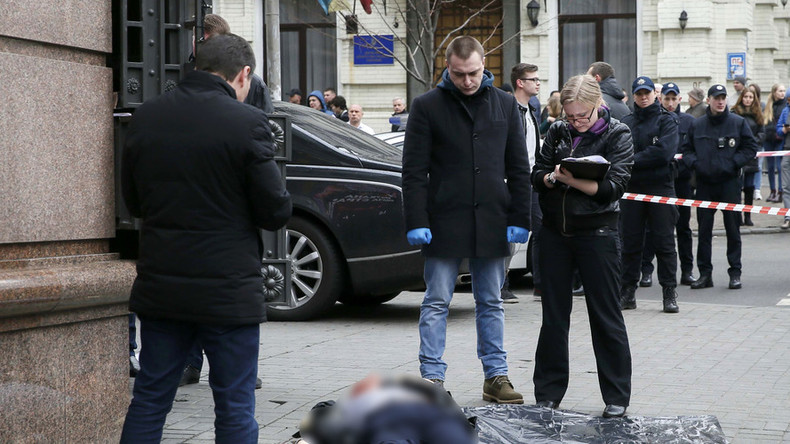 For the moment, events are unfolding in the usual way for high-profile killings of the last 25 years: even in the total absence of evidence, the Kremlin is accused of being behind the murder, and the impression of "Russia being tied to it in one way or another" is almost forced on the public.
Associated Press, for instance, came out with a headline that reads "Ukraine: Russian Agent Killed Kremlin Critic."
Meanwhile, at the moment of AP's publication, it was only known that the suspected killer, Pavlo Parshov, was a Ukrainian citizen and previously served in the National Guard, a Ukrainian paramilitary force popular with ultra-nationalists. The agency cited Anton Gerashchenko, an adviser to Ukraine's interior minister, who wrote on his Facebook page that Parshov "underwent a special course at a school for saboteurs." He didn't explain "how that information was obtained," AP added, but the headline about the "Russian agent" was still presented to the public.
Poroshenko knows best – before everybody else
The expected reaction from a leader of a civilized state would be a condemnation of the murder and a promise to hold a thorough investigation into the crime. But that's apparently not the case with Ukraine.
Instead, President Poroshenko hurled accusations at Russia just hours after the shooting near the luxurious Palace Hotel in Kiev where Voronenkov was killed and his alleged killer, Parshov, was badly wounded (he died shortly thereafter in the hospital).
"This is an act of state terrorism by Russia, which [Voronenkov] had to flee for political reasons," Poroshenko stated.
"It is an obvious handwriting of Russian special services that has been repeatedly demonstrated in various European capitals," he said. "Voronenkov was one of the main witnesses of Russian military aggression against Ukraine, particularly of the role of Yanukovych in sending Russian troops to our country."
After such a fast and hostile reaction from Kiev, no wonder Kremlin spokesman Dmitry Peskov called Poroshenko's statement "shocking" and "untrue." Russian Foreign Ministry spokeswoman Maria Zakharova retorted that the regime in Kiev "is obviously bent on doing everything possible to prevent anyone from learning the truth about [the murder] that happened in Kiev."
Not unexpectedly, the Russian side denied any responsibility for the murder in Kiev. It reminded the public that Voronenkov was not just a star witness against "Putin's stooge Yanukovych" (an expression of US Senator John McCain, which disregards many years of bickering between Putin and Yanukovych on European and post-Soviet integration projects of the two countries). Voronenkov was also a former Communist member of the Russian parliament who betrayed his own communist convictions and was wanted in Russia on several criminal charges, including embezzlement of large amounts of money.
McCain's fiery rhetoric
Chairman of the US Senate's Armed Services' Committee John McCain – a known nemesis of Russia – went even further than Poroshenko, calling the murder of Voronenkov "a brazen act of Russian state terrorism."
Without even bothering to find out the identity of the slain killer, McCain put the murder in Kiev into the same line of "KGB-style brutality" as the death from a killer's bullet of Yeltsin's former first vice-premier Boris Nemtsov, and the death in prison of a fugitive billionaire, William Browder's lawyer, Sergey Magnitsky. These deaths happened under very different circumstances, and the victims' reputations were much better than Voronenkov's, but McCain just put them into the same category of "those who paid with their lives for speaking the truth" – filling his own pantheon of anti-Putin heroes.
Unfortunately, McCain's thoughts are coming not from an irresponsible showman or a stand-up comic, but from the chairman of the Senate's Armed Services Committee, a person who got tens of millions of votes in the presidential election of 2008. Here is what the former US presidential candidate has to tell us now – without even knowing the killer's name: "This horrific crime marks the continuation of a campaign of KGB-style brutality designed to intimidate anyone who dares to oppose the tyranny of Vladimir Putin."
Who profits? And who is the killer?
The logic of both Poroshenko and McCain is the same: since Voronenkov promised to present some evidence against the former Ukrainian president, ousted from power by a violent "people's coup" in 2014, Russia must be behind his murder. The facts – that Voronenkov was involved in large-scale criminal schemes, had a lot of business enemies in both Russia and Ukraine, and was not a more reliable witness than the late Berezovsky – obviously do not impress Poroshenko or McCain.
In fact, when the identity of the killer, Pavlo Parshov, 28, was revealed by the Ukrainian Interior Ministry the day after the murder, the version about "Russian terrorists behind Voronenkov's murder" started to capsize. The late Parshov was born in 1988, three years before the collapse of the Soviet Union. In 1991, he became a citizen of Ukraine together with more than 40 million other Ukrainian citizens, and, officially, he never left the borders of Ukraine.
In 2015, Parshov joined the so-called 'Ukrainian National Guard' – a voluntary paramilitary force initially created for the suppression of the rebellion in Donbass, and mostly filled with extremist Ukrainian nationalists recruited among the former Maidan rebels. This does not jive well with Poroshenko's theory of Parshov being a Russian agent. Why would a Russian agent go to Donbass to quell the rebellion of the Russian-speaking population there?
As Ukrainian parliament (Rada) deputy Mustafa Nayem revealed in a program aired by 112Ukraine television channel, Parshov served in National Guard Unit 30/57 in Mariupol – a city located right on the line separating the Ukrainian Army from the Donbass rebels.
'Expelled for breaching his contract'
Ukrainian Interior Minister adviser Gerashchenko admitted that Parshov had been a fighter in the National Guard until August 2016, when he was dismissed from the ranks for "breaching his contract." The information about Parshov in National Guard operations was confirmed by spokespersons of the Ukrainian National Guard itself.
Gerashchenko added, however, that the Ukrainian investigators had information about Parshov crossing the border with Belarus and later going to Russia illegally in 2015 (allegedly, Parshov just walked through a border checkpoint).
During a very brief period, in Gerashchenko's words, Parshov must have been trained by Russians in a special secret services school which had been set up back in the days of the NKVD (Stalin's secret police). After this very brief training, if we believe Gerashchenko, Parshov was sent back to Ukraine – as a Russian agent to be planted in the Ukrainian National Guard.
"These fairy tales from Gerashchenko can't stand any serious scrutiny," says Alexander Chalenko, an analyst with Ukraina.ru website, specializing on coverage of Ukraine. "Look, in just about every high-profile murder that was committed in Ukraine in the last 3 years we see the hand of the veterans of the so called anti-terrorist operation (ATO) against Donbass. When a trial on the murder of the Ukrainian anti-nationalist writer Oles Buzina (slain in Kiev in 2015) is finally held, at least two of the suspects involved in his shooting in 2015 are going to be veterans of ATO. At least one version of the recent murder of the famous Ukrainian-Belarusian journalist Pavel Sheremet is connected to the veterans of ATO's Azov battalion – open nationalist extremists, whose activities Sheremet investigated. It is clear that the National Guard, once touted as Ukraine's 'pride,' has become a source of killers for the deadliest of crimes. The reasons are simple. These veterans have no jobs and no feeling of mercy."
Since denying Parshov's enrollment into the "pride of the Ukrainian armed forces" would be futile, Chalenko opines, the state's spokesman, Gerashchenko, is talking about Parshov being "imbedded" into the National Guard as a Russian agent.
A blow to prestige
It should be noted that during the murder, Voronenkov was accompanied by security guards from the Ukrainian security service (SBU). Did the agents fail or were they simply unwilling to protect their client? Alexander Vilkul, a deputy of the Opposition block inside the Ukrainian parliament, sees in Voronenkov's murder another blow to the prestige of the regime in Kiev.
"I don't know if Voronenkov was an angel or a demon, but his murder shows the powerlessness of law-enforcement bodies. If in the broad daylight in the center of Kiev one can murder a person who enjoys personal protection (!) from the Ukrainian state, then who can feel safe in this country?" Vilkul asked rhetorically in an interview quoted by Ukraina.ru.
Vilkul's statement about the conflicting images of Voronenkov reflects a dubious reputation which Voronenkov had in Ukraine. The Ukrainian newspapers gladly cited Voronenkov's pre-defection statements in support of Crimea's return to Russia and in support of World War II veterans against the attacks by Ukrainian nationalists. Voronenkov made these statements in Russia, but he quickly stopped making them in Ukraine, where showing solidarity with "Putin's Crimea" or challenging the theory of "two equally bad totalitarianisms" on World War II can be dangerous.
A lot of Ukrainian nationalist activities, citing these quotes from Voronenkov's speeches, questioned his newly obtained loyalty to the Ukrainian state, whose citizenship he got immediately upon his arrival in Kiev – and not after long procedures, as with other defectors.
Voronenkov also made conflicting statements after his defection to Ukraine in November 2016. But for Poroshenko, this is not important. He has already linked Voronenkov's murder to the yet unexplained explosions at a munitions' depot in the Kharkov region, which started days before Voronenkov's murder. Behind every misfortune in Ukraine one must see Russia's hand – such is Poroshenko's logic.
But this logic is too absurd to be true, in the opinion of Bogdan Bezpalko, the head of the department of Ukrainian Studies at Moscow State University (MGU).
"Voronenkov was not a great thinker and his testimony could not be a threat to anyone in Russia, including the authorities. His murder looks like a provocation from those people, who want to destroy the relations between Russia and Ukraine forever," Bezpalko said. The latest reports from Ukraine identify Parshov as a Ukrainian "fascist," with close to the most radical ultra-nationalist groups inside Ukraine's National Guard.
The statements, views and opinions expressed in this column are solely those of the author and do not necessarily represent those of RT.
You can share this story on social media: