'Park's impeachment, THAAD: Security tensions mounting on Korean peninsula'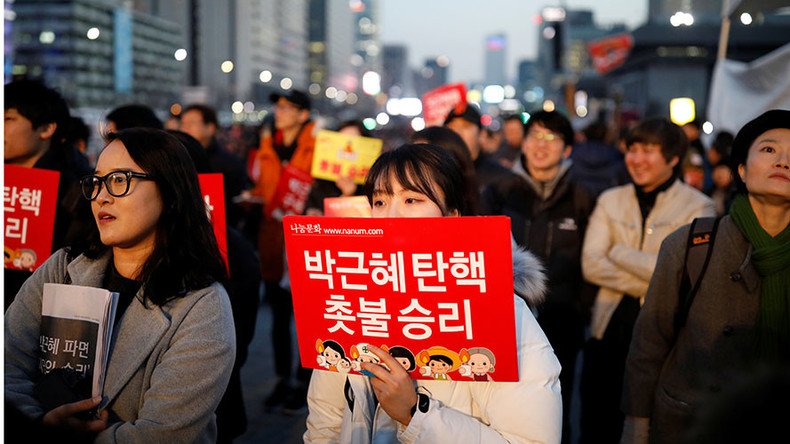 It's the worst time for South Korea President Park's impeachment because of the uncertainty and deterioration in the security situation on the Korean peninsula, according to Viktor Goa, Director of the China National Association of International Studies.
Two people died in demonstrations in Seoul, South Korea following a court's decision to uphold the impeachment of former President Park Geun-hye. Supporters and protestors gathered outside the courthouse, and there were violent clashes with police.
There have been sporadic demonstrations in South Korea over the last six months as revelations of the former leader's role in a corruption scandal emerged.
A presidential election will be held within the next 60 days.
RT asked Viktor Goa, Director of the China National Association of International Studies, whether public opinion is divided since mass protests were calling for the resignation of the former President, and a lot of people turned out to support her.
"The court's decision to uphold the impeachment of President Park of South Korea as well as the demonstrations right now are very polarizing events in politics in South Korea. It is happening at probably the worst time possible mainly because on the Korean peninsula there is a great deal of uncertainty, there is a deterioration of the security situation over there. This is time to call for a strong leader in South Korea. Now with the impeachment of President Park, with the political process very much in an uncertain period of time, it is more likely that unexpected negative events may happen on the Korean peninsula bringing damage not only to North Korea and South Korea but neighboring countries like China," he said.
The former President was very friendly toward the US. As to what impact will the impeachment have on relations between Washington and Seoul, Goa said:"More recently the US is very aggressive in terms of deploying the THAAD anti-missile system in South Korea despite widespread opposition in South Korea. President Park signed up to this deal of THAAD deployment. This was also the beginning when her own political career started to unravel because of some personal scandals involved, and I would say that between South Korea and the US a lot also depends on who eventually will win the presidential election in the coming two months or so," he said.
"And also I think the relations between China and South Korea are deteriorating because of the imminent deployment of the THAAD anti-missile system. So, you are talking about a time when lots of these security tensions are mounting on the Korean peninsula, and South Korea is facing pressure in its relations with China and also uncertainty at least in its relations the US. And all this is not conducive for more constructive development on the Korean peninsula and raises more concern in countries like China," Goa added.
Aidan George Foster-Carter, Korea expert and Honorary Senior Research Fellow at Leeds University argues that the South Korean public "is not very divided."
"Even a few people can make a very big noise in any country. Although, there have been street protests…The opinion polls tell their own story. And they are overwhelmingly hostile to now ex-President Park Geun-hye. The last one I saw - 78 percent of South Koreans wanted to see her jailed," he told RT. "My understanding of the popular mood from a lot of surveys and also the relative sizes of the demonstrations – everybody overwhelmingly wanted her out except for a few elderly diehard ultraconservative supporters," he added.
The statements, views and opinions expressed in this column are solely those of the author and do not necessarily represent those of RT.
You can share this story on social media: