Totally un-American: 'Whatever the US political left dislikes they smash and censor'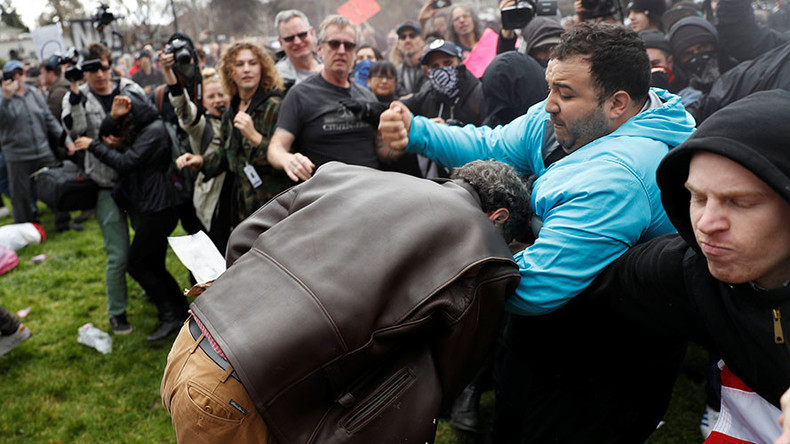 The leftist groups that showed up at the 'March 4 Trump' event set out to physically assault people, those who support First Amendment rights and support the President of the US, says Kathy Zhu, pro-Trump activist and co-organizer of Berkeley rally.
Over the weekend, participants of the 'March 4 Trump' demonstration, an event organized to show support for President Donald Trump and free speech, were met by members of the 'By Any Means Necessary' counter-demonstration group in downtown Berkeley.
The result was chaos and violence as some members of the opposing sides engaged in fist fights.
Police reported that five people were arrested for battery, four for assault with a deadly weapon and one for resisting arrest.
RT: The demonstration in Berkeley was one of dozens across the country in support of the President. Why did you think it was important to take action?
Kathy Zhu: Free speech has been around since forever. It is our First Amendment Right to have free speech – just talk about whatever we want to without having anyone censor us. I feel it is really important… Whatever we speak, whatever we say that doesn't relate to the left, or that doesn't correlate with their political agenda – we get censored. It is really important to have advocated for that, and to support the First Amendment Right – no matter what.
This march... was a march for free speech. As most people could see, at the end of the event we had a free speech banner that these leftist agitators burnt. It is quite clear that this isn't so much about Trump versus whomever – Democrats versus Republicans – this is a dangerous Marxist ideology that has literally infiltrated the minds of American youth and is growing like a cancer. It needs to be stopped. - Rich Black, political activist
RT: The opponents of Donald Trump obviously have a right to demonstrate, but some want to go further, saying that his supporters should be haunted every single day. Is that a view that you often encounter?
KZ: See, this free speech thing, it wasn't just a pro-Trump movement. It was free speech advocating for our First Amendment rights. For them to censor us, because we're protesting and we are advocating for the First Amendment rights – that is not ok. That is un-American, and that is unjust. We have the right, and we should be able to say whatever we want without being censored.
RT: How hostile is this response you are getting from the Democratic supporters? Do you consider it to be fair enough, or do you think they're going too far at times?
KZ: They are definitely going too far. We have rallies every day, every time, and we never get violent. We don't specifically target someone. The left, however, they get violent with us. We weren't violent until they showed up last night at the rally or at the march. So I don't think they wanted to it go peacefully. They wanted to target us. They want to physically assault people, who support the First Amendment rights and support the President of the US.
The left has this idea that anyone who goes against their political agenda, mindset or ideas that they have to censor. That is not okay. There are many people who go against our ideas, or they are anti-Trump, but we don't censor them. We allow them to speak whatever they want. But as soon as they physically assault people and physically hurt people, that is not okay, and we have to stop it.
The statements, views and opinions expressed in this column are solely those of the author and do not necessarily represent those of RT.
You can share this story on social media: