Donald Trump's 'knock it outta the park' speech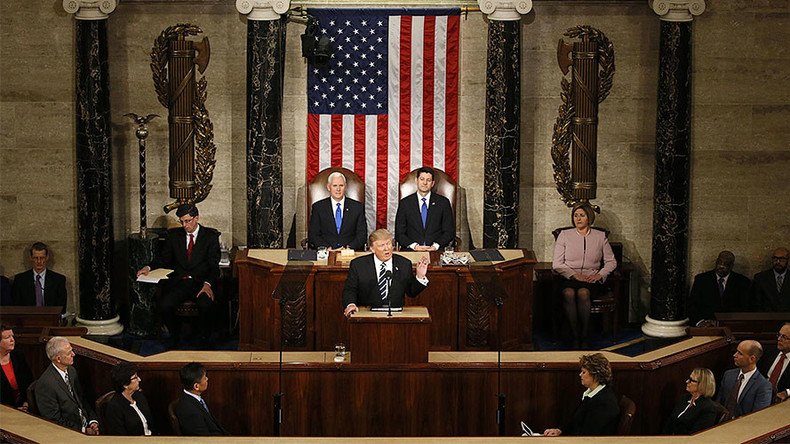 Those who voted for Trump "heard exactly what they wanted to hear" in his Congress speech, analysts told RT. While nobody will remember economic issues mentioned, they will remember Trump paying tribute to fallen Navy SEAL Ryan Owens, they added.
President Donald Trump gave his first major speech to a joint session of Congress on February, 28. He focused mainly on domestic issues as well as the hot topic of immigration.
Those in attendance were clearly split by his address with half the room applauding points made by the president while others chose to remain silent.
RT America's Ed Shultz said: "the president knew that he was on his biggest stage and he proved that he is a prime-time player and very serious about turning this country around when it comes to the economy, immigration, and international relations."
"If you voted for Trump – you heard exactly what you wanted to hear… He challenged the Congress in a very positive manner talking about America's greatness and what we can achieve as a country if we all work together. It was a speech of unity and the speech of vision."
Ed Shultz said he was really impressed by the way the president talked about the 250th anniversary of the US founding coming up in nine years and asking the American people "where we are going to be in 'Year 250'. Where do we want to be?"
"I think he spoke to American exceptionalism which Ronald Reagan used to talk about. It was very Reaganesque. He made the country feel good about itself. Now the question is – can the Congress and Trump administration deliver," Shultz said.
'Trump finds his presidential voice'
Geopolitical analyst and executive editor of 21st Century Wire.com Patrick Henningsen commented on the most important points of Donald Trump's speech: "First of all, I think [Trump] has found his presidential voice: the question is how long can he keep it," said Patrick Henningsen, geopolitical analyst and executive editor of 21st Century Wire.com Patrick.
"Clearly, we saw the House divided. That was pretty pronounced. Democratic women, in particular, all dressed in white alluding to the suffragettes. Apparently, they think that women's rights are under threat. This is sort typifies the sort of division we have," he continued.
According to Henningsen, "Donald Trump hit a lot of big, emotional points: he acknowledged the disabled person in the gallery and some if his initiatives in that area. African Americans, education - that was a big point. Veterans. The widow of Ryan Owens who was killed in the raid in Yemen in January. It was a big emotional point."
"He ticked all the boxes in that respect and some of his critics would be neutralized by that. But in terms of domestic politics – still extremely divided. Although, there might be a pause for 24 hours, but I think we might see is back to the fight later in a week," he added.
Patrick Henningsen said he wasn't surprised that Trump's speech was predominately about domestic issues since "the foreign policy is a very sticky issue right now because the whole Russian hack or various Russian conspiracy theories that are being floated toward Donald Trump, those are sort of in the air at the moment. And they are very difficult in the wake of the resignation of Michael Flynn."
However, symbolically, Trump did acknowledge foreign policy, Henningsen added, referring to Trump saying "We want peace, wherever peace can be found."
Trump also said: "America is friends today with former enemies. Some of our closest allies, decades ago, fought on the opposite side of these terrible, terrible wars".
In Henningsen's view, the US president was "foreshadowing potential détente with Russia," which is "clearly still a major part of the agenda."
"The approach that this president is taking at the moment with someone like General James Mattis at the helm of the Defense Department is 'peace through strength.' That is the sort of package that Donald Trump is trying to sell. And that is all willing good until a potential intervention pops up or the political demand is there for a military intervention like in Syria, for instance," he said.
'Frank Capra's Hollywood'
Media and legal analyst Lionel described Donald Trump as "magnificent."
"We are not going to remember tomorrow particular aspects of trade, although they were very good. What he did -was Ryan Owens. This was Hollywood, this was Frank Capra. When Carryn, his wife looked up at over a two-minute standing ovation and put faces to these issues," Lionel continued.
"This president knocked it out of the park. I don't know who I saw. That looked like Donald Trump, but that wasn't a Donald Trump I saw on the campaign trail. That wasn't a shortsighted, ill-tempered ruffian. That was magnificent when he pointed humanity and showed those people they're above these issues. We need to talk about migrant crime. I am not xenophobic; I am talking about these people, of all races and all aspects of American humanity," he told RT.
'Peace through strength' mantra
Joel Anand Samy, Co-Founder of International Leaders Summit, agreed that "President Trump articulated a very pro-America speech."
"He communicated the importance of renewing the American spirit. As he was on the campaign trail - he focused primarily on the domestic issues," he said.
"And as we've seen that the importance of principal leadership that he was communicating on the campaign trail which was lacking, which he communicated time and time again, is something he focused on," he said.
Samy also noted that Trump "has been very strong on building the wall which he reinstated and re-communicated" during his speech. At the same time, the US president "threw some excerpts that were given out earlier: he communicated the importance of a pathway for those who have come to this country illegally, at least to have some form of legal documentation."
Trump mentioned the increase in the military budget but said nothing specific about what it will be used for.
In Samy's opinion, those who voted for President Trump certainly want him to "focus on America's challenges first and foremost."
"Indeed, American leadership abroad has been weakened. There was a perception that America has led from behind rather than through a strong leadership position… As we've seen Trump communicate the important mantra 'peace through strength,'" Samy told RT.
The statements, views and opinions expressed in this column are solely those of the author and do not necessarily represent those of RT.
You can share this story on social media: