'In the war against ISIS, the people of Mosul have suffered enough collateral damage'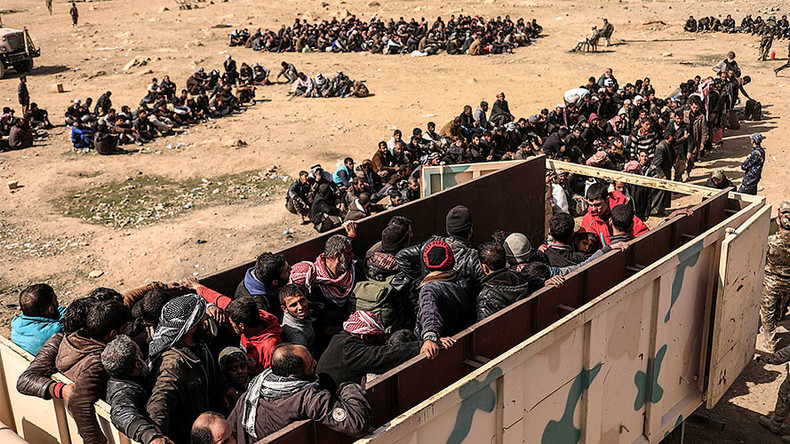 In a 'suburban' or 'urban warfare,' the civilians are always the victims of so-called collateral damage. There are technological ways to discern them, but it is never going to be 100 percent urban warfare, says Paul Vallely, retired US Army Major General.
The US-backed coalition army in Mosul, Iraq has recaptured a bridge linking the liberated eastern part of the city with the Islamic State-held west.
In just under a week, more than 10,000 civilians have fled the conflict zone as Iraqi forces advance through Mosul's western districts.
The intensified fighting has led to an increasing number of casualties. At least half of the casualties are reportedly civilians as the anti-ISIS campaign moves to dense urban areas.
RT discussed the situation in and around Mosul with humanitarian and military experts.
RT: You've been to Mosul where the battle is now raging with civilians left vulnerable and exposed. What has the Iraqi government done to keep civilians out of the crossfire?
Paul Vallely: Really in a battle like that, when you're battling what we call 'suburban' or 'urban warfare,' the civilians are always the damage; that happens in any type of street fighting, block to block, building to building. It is always a tragedy. But in order to completely neutralize and defeat the ISIS forces within that urban area, this is just what happens in warfare. It is terrible, especially the women and the children and the older generation, but they are evacuating them out of Mosul as fast as they can. They've brought in a whole convoy of buses to take them to settlement or refugee camps where they will get medical treatment and so on. And the US advisers who are over there working with Iraqi forces to facilitate that, even with aircraft and helicopters to transport perhaps the most seriously injured.
It is terrible, especially the women and the children and the older generation, but they are evacuating them out of Mosul as fast as they can.
RT: Most agree that a war against terror is needed but what can be done to avoid so many civilian victims while carrying out this fight?
PV: It is always difficult. You can use overhead surveillance. They use drones, satellites, you can actually look down and see... those civilians in the streets that are evacuating out of Mosul. And so any targeting by helicopters or aircraft, or even artillery will try to stay away and isolate that versus where the ISIS concentration of their forces may be. They are armed fighters. So there is a way to discern that to a great degree, but it is never going to be a 100 percent urban warfare, unfortunately.
RT: An American commander on the front line near Mosul has said "It is considerably more than we thought we were going to shoot when we left Fort Hood" talking about the use of artillery. Have they underestimated the enemy?
PV: No, I think they've always said - at least for four to five months now, to my recollection - they knew that ISIS would be very difficult to penetrate into the urban area there, find out where they are located and basically target ISIS forces. They captured a lot of vehicles as you may remember - tanks, and armored personnel carriers in Mosul. So, they had great mobility there to move the ISIS forces around. They have already taken and neutralized eastern Mosul. Now, it is western Mosul by the airport there. And once that is done, then they will take care of all of these evacuees as best as they can.
RT: Retaking Mosul is the main aim for the Iraqi troops and the US-led coalition. But when ISIL is pushed from the city, what's next? Do you think they'll just move to another part of the country, capturing more civilian areas? It is very difficult to know what happens out of Mosul, isn't it?
PV: In a way, it is. But keep in mind again, we can look down and see if they are using vehicles to evacuate to other villages or towns in northern Iraq or even into Raqqa, Syria. Which is the main next target, the headquarters of ISIS, which is Raqqa. So, there are a lot of villages out there. But it is very barren country. So it is easy to target, it is easy to identify where the forces may be moving. And believe me, most of them will be using vehicles. There will be some walking, but they will be able to see them during the daylight as well as nighttime. And so we will try to track them wherever they go and take the necessary action.
'People have suffered enough'
Former Prime Minister of Pakistan Shaukat Aziz said his understanding is that "the US troops in the region essentially have a peacekeeping operation."
"But obviously, if they are in danger, they need to protect themselves... the situation in Iraq is serious – it needs to be settled by dialogue. Obviously, that hasn't worked so far quite effectively. But we need to take a peaceful part to find the solution to the tension in Iraq because it is destabilizing the whole region," Aziz told RT.
"Whenever you have an intervention by any military, the desire to close and get to a solution and achieve the objectives is definitely there. That may cause things to accelerate. In the long run, this is all reason for finding peace in the country, Iraq, and bring it back to its normal life. People there have suffered enough. And I think peace is the best dividend we can give to them," he said.
'ISIS morale way down'
"We have had over 200,000 displaced people from Mosul. We were expecting even more. Prior to the operations we were thinking that it might go up to 700,000 to one million, but gladly there are less than that,"former Iraqi human rights minister, Bahtiyar Amin told RT.
"But of course, in the narrow neighborhoods of the western part of Mosul with the snipers, with creating tunnels, with all kinds of methods and strategies that ISIS has adopted, there certainly will be casualties among the civilian population, there will be sufferings, there will be displacement. But their moral is very down in ISIS: some are fleeing, some are resisting fiercely, and some divisions within ISIS has occurred between the indigenous Iraqi ISIS and also the foreign ISIS. They are from over 100 countries… committing all kinds of atrocities and crimes." Amin said.
The statements, views and opinions expressed in this column are solely those of the author and do not necessarily represent those of RT.
You can share this story on social media: