Maidan 2.0: 'Ukrainian nationalists provoking political crisis with coal blockade'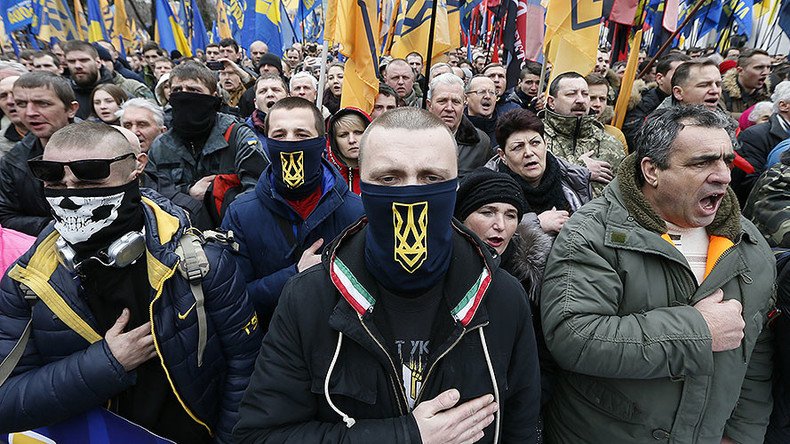 Kiev appears to be worried that if they try to take forceful action against the ultranationalists who are blocking railway coal shipments, it will provoke violence that they may not be in the position to handle, Jim Jatras, former US diplomat, told RT.
The blockade organizers boasted over social media that they have stopped some 74,000 cargo cars from crossing the disengagement line between Kiev-controlled and rebel-held parts of Ukraine.
Thousands of wagons filled with coal cannot leave the Donbass area, Donetsk Region, as pro-Kiev activists block train lines leading to government-controlled territories.
The nationalists argue that buying coal from mines controlled by the rebels in the East is equivalent to treason. However, without the necessary coal supplies Ukrainian power plants are threatened with closure.
Kiev has declared a state of emergency for the nation's energy industry.
RT: The rail tracks were cordoned off some time ago by Ukrainian nationalist activists and MPs. What do you think they are trying to gain here?
Jim Jatras: Frankly, I think they are not sure what to do. They know that this is extremely damaging to the Ukrainian economy, as of February 15 they said they had 40 days reserve and we're going to be coming up on the exhaustion of those reserves very quickly. The Prime Minister Mr. [Volodymyr] Groysman has said that 300,000 jobs are potentially going to be lost here if they are not able to maintain coal supplies – this is 12 percent of the country's production. They cannot sustain this. You would think that this kind of illegal activity – there is no legal authority for this blockade – would be something that the government would step in. I can only imagine that they don't do it because they feel too weak to do it. They are afraid of the kind of ultranationalists that are behind this, and that if they try to take forceful action against them, it will provoke a resort to violence that they may not be able to handle.
RT: Ukraine has shot itself in the foot with this blockade, hasn't it?
JJ: As you said, shooting themselves in the foot, or shooting the rest of Ukraine in the foot. The party behind this, including some of the members of the Rada, is what is called the Samopomich Party – this of course is based in West Ukraine. Frankly, I don't think they care very much about the Donbass or about Eastern Ukraine at all. They don't want to see anything that would reintegrate these areas back into Ukraine as called for in the Minsk-2 agreement. I think their target is actually something larger. They are claiming they are fighting corruption and so forth, but I think they are trying to undermine the government in Kiev and to force a political crisis. We've heard talk about a potential new Maidan at some point. I don't exclude that that's what they are really aiming for here. They are hitting an economic Achilles heel in the hopes of provoking a crisis of government in Ukraine.
RT: However, it seems that all this situation doesn't play into Kiev government's hands, does it?
JJ: I think it could. I think that in part explains the government's hesitation to try to do something about this in that it would act as a catalyst for that very agenda, which is not what they want to do. Let's also keep in mind that all of Ukrainians closest partners in the EU, the US, the G7, have all said that this blockade is very bad for Ukraine. This is something that all of the Kiev government's closest friends and supporters in the Western countries also have denounced. So there is really nobody who is for this, as far as I know, except a small groups of radicals.
RT: There have been speculations that this disintegration in Ukraine works in favor of some Western countries. Could that the case? If yes, what are they trying to accomplish here then?
JJ: It could be. However, and certainly that suggestion has been made with respect to the uptick in fighting that we've see on and off in the past few weeks, more than a few weeks, that there is an attempt to raise the temperature level so Western countries, particularly the US, would be more supportive of Ukraine. Although, in fact they are quite supportive already. I don't see how this blockade can lead to that though. This is clearly an internal problem within Ukraine; this is not with regard to the Lugansk and Donetsk Republic, and in a military sense doesn't do anything to the Russians obviously. You wonder what they think they are going to accomplish here. I don't see how this really works to Mr. [Perto] Poroshenko's advantage. In fact, as far as the Western countries and support goes I can see where would be counterproductive, where they would just say: "Look, this place is even more unstable, it is not reliable. We're not going to increase our support. We're going to decrease it."
The statements, views and opinions expressed in this column are solely those of the author and do not necessarily represent those of RT.
You can share this story on social media: