'US preparing public opinion for greater military involvement in Iraq, Syria'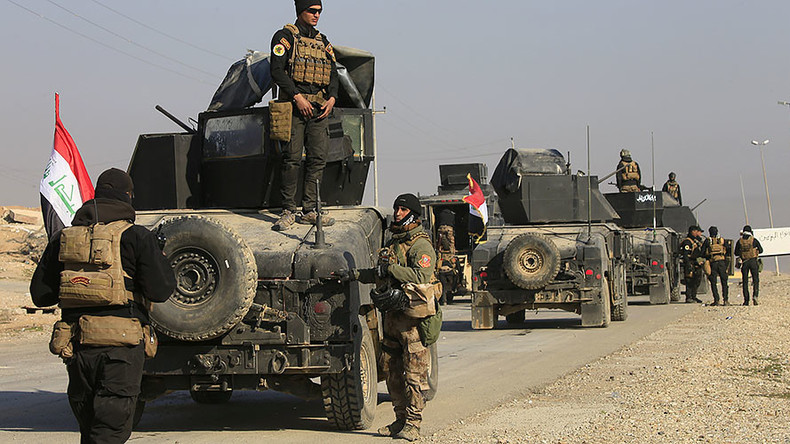 'Advise and assist' is a mellow term for domestic use in America, where Middle East wars of the past 15 years are very unpopular, analysts told RT, adding that the US is preparing for a larger reengagement of ground troops in Iraq.
This week, the US government admitted for the first time that its troops are fighting on the front line against Islamic State (IS, formerly ISIS/ISIL) in Iraq. The Pentagon said American troops have come under fire in the embattled city of Mosul. The statement contradicts earlier claims that US personnel were merely serving as advisers in the battle to retake the city.
According to Brian Becker of ANSWER coalition, the American involvement in combat operation "has been going on for some time."
"We know that American troops have been wounded, taking casualties in Iraq in the fighting, including in the battle for East Mosul," he told RT.
However, what is important there is to step back and understand "the politics of the so-called admission by the Pentagon that American troops are engaged in fighting" but not simply serving to assist or train, Becker said.
In his opinion, the Trump administration is preparing public opinion for greater military involvement both in Iraq and in Syria. Later in the month, on February 28, Defense Secretary James Mattis is due to give Donald Trump his report about what the new strategy will be to defeat IS in Iraq and Syria, Becker explained. The same day the US President will give his first speech before a joint session of Congress.
"This is a political preparation to prepare public opinion for a larger reengagement of ground troops in Iraq," Becker said.
As to whether this could turn into a full-fledged military operation, Becker said that "there is a severe limitation on this administration, as there would be on any administration".
"Remember during the campaign in March 2016 Trump said 'we'll send 20,000 – 30,000 troops to Iraq,' adding 'That is what the generals are telling me. That is what I am hearing.' Of course it was not definite, it was only one of those generals' statements. Nonetheless, he floated the figure of 20,000 – 30,000. Can Trump actually do that? Can the American people, or will the American people tolerate that level of troop engagement in Iraq? I don't think so," the analyst said.
"Also the American government is trying to prove its relevance in the struggle against ISIS in Syria. It's been Iran, It's been Turkey, especially Russia and the Syrian Arab Army that's been defeating ISIS and Al-Qaeda. Trump wants to reenter that game as well," Becker added.
The term "advise and assist" is used mainly for the domestic population in the US and is a public relations message "not so much for the rest of the world, but to the American population," says Karen Kwiatkowski, retired US Air Force Lieutenant Colonel.
"The long occupation and wars in the Middle East that the US has been involved in for over 15 years now are very, very unpopular in the US. So the term 'advise-and-assist' – that is the mellow, friendly language that's used for the Americans. This time it was not true. I think in most cases it is not true, as we found out," she said.
In Kwiatkowski's opinion, however, Trump is being more honest about the US agenda in the Middle East than his predecessors were.
"So far I can't tell where the real shift has occurred, but he is more likely to tell you that we're fighting, and that we are, as the US government, very interested in Iraqi oil. This is very consistent with what Trump said during the campaign, as well. In some ways you can believe Trump to some extent here. He is not really going lie to you. Unfortunately, the policies that he is pursuing maybe not be the best ones for peace or for long-term success," she told RT.
The latest developments "tell us a lot about the strategy that the Trump administration will be taking in Iraq," says political commentator Marwa Osman.
"First we have to ask if actually combat did happen, and if there were really soldiers who got shot against in Mosul, [fighting] against ISIS… I cannot say that the information is right or wrong, because they refuse to give any numbers, they refuse to give any real statistics," she told RT.
Osman recalled Trump's speech at the CIA headquarters last month.
"He told them it was a very bad move to leave Baghdad and to leave Iraq, especially to leave the oil for the Iraqis and leave them with the chaos and void of security. And then we should retake control and he said: ["Maybe you'll have another chance]," she added. "If we go fast forward two weeks later, when the US Defense Minister said [that] despite the tensions in the Middle East there would be no increase and boots on the ground. And less than a month later everything is changing, and it is changing so fast."
The statements, views and opinions expressed in this column are solely those of the author and do not necessarily represent those of RT.