Remembering Ambassador Churkin: The face of new Russia & its diplomacy
Ambassador's view
Dr Alexander Yakovenko, Russian Ambassador to the United Kingdom of Great Britain and Northern Ireland, Deputy foreign minister (2005-2011). Follow him on Twitter @Amb_Yakovenko
Dr Alexander Yakovenko, Russian Ambassador to the United Kingdom of Great Britain and Northern Ireland, Deputy foreign minister (2005-2011). Follow him on Twitter @Amb_Yakovenko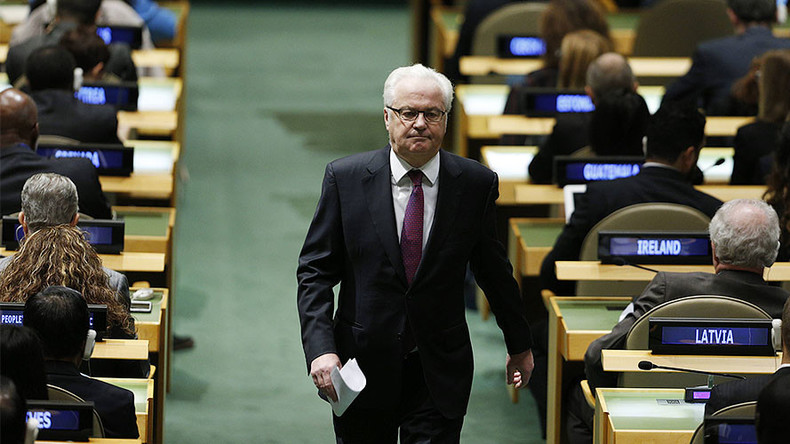 Working at a United Nations mission in New York differs a lot from any embassy. Especially when it's the mission of a permanent member of the Security Council.
With the war in Iraq, intervention in Libya, and crises in Syria and Ukraine the last ten years when Vitaly Churkin represented Russia at the UN have undoubtedly been the busiest and most strenuous. On all these issues there were serious differences between the major powers, which required multilateral diplomacy. On many occasions there were non-stop, marathon sessions looking to reach a consensus, and find some common ground as a basis for international action.
READ MORE: Diplomats' job more hectic than ever, but we like being busy – Churkin to RT in his last interview
All of it required an experienced diplomat and a bright personality at the head of our mission, which Vitaly Churkin was. Of course, he acted on instructions from Moscow, but he defended Russia's position with intelligence and eloquence that gained him respect, even if sometimes it wasn't enough to bridge the differences. This is made abundantly clear by the international response to his passing, including from his colleagues in New York.
He was one the best representatives of his generation in Russia's diplomatic service. He always spoke up, never minced words. He was one of the first Russian diplomats, who defied the orthodox convention of speaking stale bureaucratese and, thus, helped make diplomacy human and accessible to all.
In fact, it was his generation, that took upon themselves the responsibility for new Russia, and he rightfully became one of many faces of our country and its diplomacy. His work and personality explain why his generation, with a broad view of things not constrained by any ideology or dogma, was able to reestablish continuity in our history and diplomatic tradition, well in line with the imperatives of our time.
WATCH MORE:
The statements, views and opinions expressed in this column are solely those of the author and do not necessarily represent those of RT.