'Michael Flynn's resignation - US establishment coup'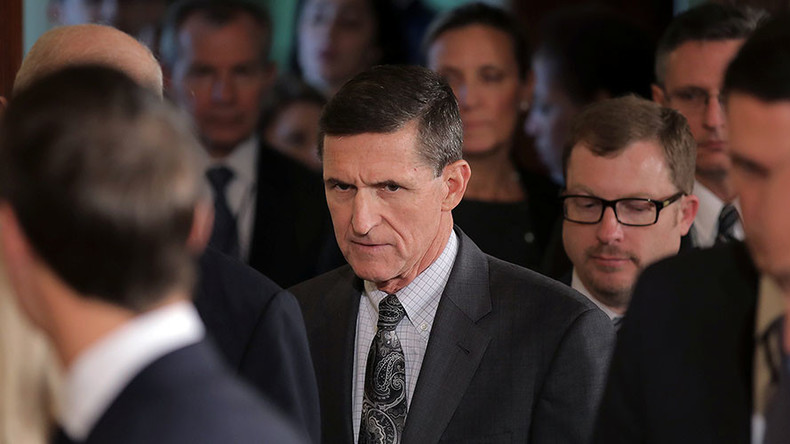 The GOP elite, the Democrats and mainstream media couldn't stop Donald Trump from becoming president, so now they have a coup, says lawyer and filmmaker Mike Cernovich. Michael Flynn's resignation is a huge victory for them, he adds.
The White House has confirmed the President Trump's National Security Advisor has resigned.
US media reports had earlier been claiming Michael Flynn was removed from his post over alleged ties with Moscow. Michael Flynn had drawn criticism for his alleged close relationship with the Kremlin and talking with Russian officials.
It is reported Vice President Mike Pence claimed Flynn was lying when he downplayed a conversation he had had with a Russian ambassador about sanctions. The Kremlin insists there's been no talk of lifting the restrictions with Flynn or any other US representatives.
READ MORE: Flynn resignation internal US matter – Kremlin
RT: Are you surprised by this development?
Mike Cernovich: I heard earlier that this was going to happen. I actually reported earlier that there was a meeting where they are going to discuss the future of Flynn, so I am not surprised. It is very unfortunate because there was no proof ever that Flynn had done anything wrong and had done anything inappropriate. There were allegedly nine anonymous sources, and the Washington Post which has been caught making up news... For example, the Washington Post said Russian hackers had hacked the power grid in the US. This was, of course, a fake news story. The Washington Post, all they do is create fake news. So, it is very disappointing… to see General Flynn leave.
RT: In his resignation letter, Flynn says he provided the Vice President with 'incomplete information' about his phone call with the Russian ambassador. The Democrats have been quick to demand a full transcript of the phone call. Could there be compromising comments in this transcript as Flynn was reportedly opposed to the sanctions against Russia?
MC: Most sane Americans…are opposed to the sanctions against Russia because we want our leadership talking to Russia. We do not want World War III with Russia. We think it's bizarre that there are people who are trying to destroy the relationship between the US and Russia. I am not surprised they talked and glad that they were having diplomatic relations. But General Flynn is a professional. Remember that he worked with special forces for six years, he headed JSOC. He had been involved in highly classified top secret information. He would have known that every conversation he had had was being recorded. The question I have right now: is the CIA leaking information, have they been spying on Trump? What have they been doing? Who is committing these felonies? Who are breaching our nation secrets and leaking it to the media? I think that is a far bigger story and a far bigger scandal.
RT: Even before Trump was elected, Michael Flynn was being criticized for his alleged links to Russia. Looks like a trend here, doesn't it?
MC: The fake news media - this is what people call the American mainstream media - they have been going after General Flynn since November. They even tried to say that General Flynn one time linked to a blog article that people thought was a wrong story. This is completely bizarre. They dug up these all tweets and they tried to find the tweet that maybe they didn't like. They've been going after him, Stephen Bannon, Kellyanne Conway, and Stephen Miller because those are the four people who really are pro-Trump, pro-America, they really want what is best for America. Reince Priebus and the other establishment Republicans, they are no different than the Democrats in America. They are controlled opposition, so what we see right now is a coup. The elite members of the Republican Party are trying to take over, they are very upset that Trump won, they didn't want Trump to win. They tried to sabotage him the entire campaign. So, what they are doing now is the next best thing: they couldn't stop him from becoming president, so now they have a coup.
RT: There's been a lot of discontent from the Washington establishment about Trump's top picks. Some call it a huge victory for the Democrats…
MC: It is huge. It is a huge victory for the Democrats. For their media allies, it is a massive win…Remember the American election – every media outlet in the country hammered Trump. Trump proved that you can win an election in America even if the media hates you. The media had not had a high profile of victory in a very long time. So, this is a big victory. Cause in America this is no difference between the media and the Democrat party. They are all one and the same…That's why they keep trying to say WikiLeaks is involved with Russia. Because WikiLeaks proved that the DNC would coordinate stories with the Associated Press, with Politico, with the Washington Post, with the New York Times…In America, we don't really have a free press. The Democratic party controls the mainstream media.
READ MORE: Russian lawmakers blame US 'paranoia' for Michael Flynn's resignation
Kamal Alam, military analystof the Institute of Statecraft, argues there is a history behind Flynn's resignation which has to do with him challenging US foreign policy.
"There was definitely a targeting of General Michael Flynn, it is not to do with this particular phone call with the Russian ambassador, it has to do with Flynn's whole challenging of US foreign policy in the region. And that is why he was forced out of the White House when he was director of the Defense Intelligence Agency. He fundamentally challenged the way American intelligence is run. And he is no stranger. He is probably the most decorated military intelligence officer of the last two decades the Americans have had. And he has said there is something wrong with the US intelligence policy. So, once he went against the grain, he became a target for the so-called experts in Washington."
According to historian and Russia analyst Martin McCauley, "General Flynn was in a very difficult position after he conceded to the Vice President he hadn't given him a full version of his conversation with the Russian Ambassador to the US Sergey Kislyak, and that was very damning indeed."
"And once you do that and the media gets hold of that, then you are fair game. The Democrats seized on that, and the opposition. Remember there is a groundswell against Trump. They will use any evidence they can to discredit him and those he has appointed. So, General Flynn was a very good general, but as a politician, he hasn't been very good because he should have come clean and told the Vice President, exactly what he had said in the conversation with the Russian ambassador. And once that was conceded, he hadn't done that, then, of course, the wolves set upon him, and there was only one course he could really do, that was resign," he told RT.
The statements, views and opinions expressed in this column are solely those of the author and do not necessarily represent those of RT.
You can share this story on social media: