'We are not extremists, we defend German interests' – AfD member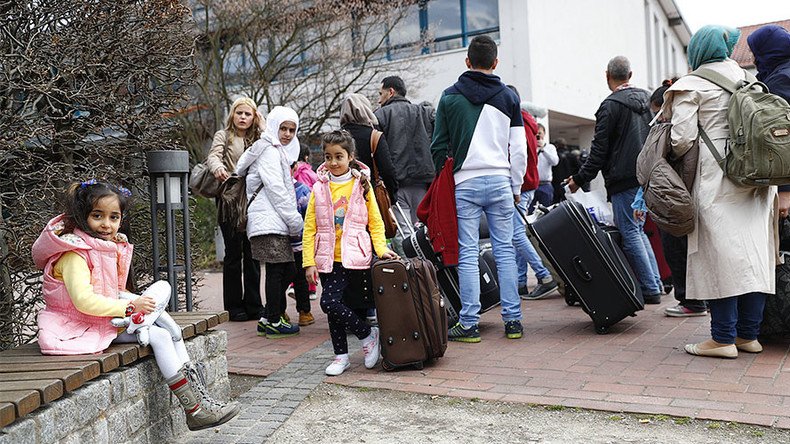 Angela Merkel has sworn to uphold the interests of the German people and constitution, and she does the opposite, said AfD member Hansjoerg Mueller. If Germans fled to other countries nobody would open the doors for us, he added.
German Chancellor Angela Merkel and several other EU leaders rounded on the immigration restrictions imposed by Donald Trump. However, Germany's Finance Minister Wolfgang Schauble seems to be breaking away from Merkel on migration. He admits the country made mistakes with its open-door policy.
RT asked Hansjoerg Mueller, head of the Alternative for Germany (AfD) economic forum, why the Chancellor is still refusing to change or adapt her migration policy - despite widespread criticism.
"She sticks with [this policy]. Anybody who thinks logically can't understand it anymore because Merkel has sworn an oath to defend the interests of the German people and German constitution. Obviously, she does the opposite," he said.
He said AfD members are convinced they do "what the Chancellor, the ministers, the government should" and have done to defend German interests.
"This is how [AfD] came up. We are the citizens out of the middle of society. We are not any extremists. This is a typical lie by the political establishment of Germany because we have become a too powerful threat for them," said Mueller.
Commenting on what the AfD party would do regarding migration, he said they would "stick to the constitution" to defend German interests. That, according to Mueller, means "to close the borders against illegal immigration, and to do it quickly."
Mueller agrees that an influx of young people can be good for the economy particularly when many populations in Europe are aging. However, he argues, "the percentage of the young and qualified immigrants is less than 10 percent."
"Ninety percent of the immigrants who came in during the last one and a half years have no qualification. We are in desperate need of the Syrian medical doctor – yes; we are in desperate need of the highly qualified Indian software programmers- yes. But who comes in? People who for 90 percent will stay in our country and live their life until they die at the expense of the German taxpayers …"
Some people are accusing the AfD Party of being "heartless" over their call to remove the right to asylum from the German constitution. Mueller insists that it is not the case.
"We are prepared to give shelter for a certain period of time, until the war stops, not forever, for people fleeing from war zones," Mueller said, adding that the majority of migrants are not coming from war zones but "are only searching a better life."
"If the Germans fled to other countries nobody would … open the doors for us," he said.
The statements, views and opinions expressed in this column are solely those of the author and do not necessarily represent those of RT.
You can share this story on social media: