'For average Syrians, all members of opposition are terrorists' - State Senator Richard Black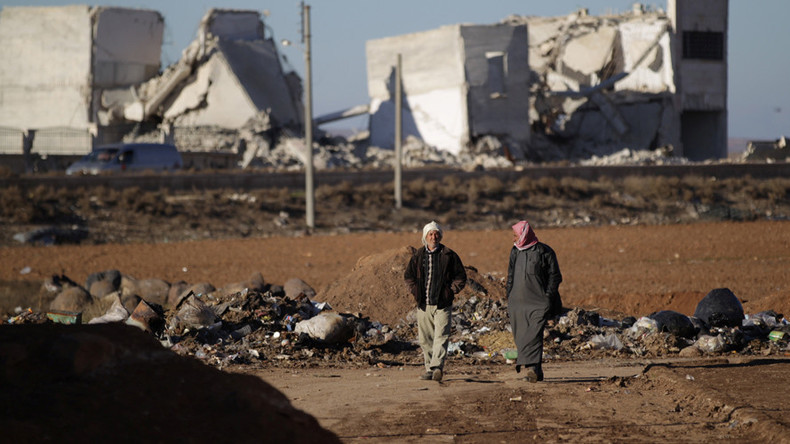 This week, the draft text of a new constitution for Syria was drawn up with the help of the Russian advisors. RT sat down with experts to discuss the provisions in the document and the obstacles to its implementation.
The document outlines a Syrian state based on the principles of democracy, the supremacy of law and equality for all citizens. The draft also bars the Syrian military from interfering in politics in contrast to the dominant role the armed forces have played for decades.
RT: What do you make of this draft constitution?
Jim Jatras, former US diplomat: To start with, I was a little surprised it was offered this early in the process. Normally you think about working out constitutional arrangements toward the end of a negotiation, not at the beginning. But perhaps it was thought having a blueprint, or an idea of what you are trying to achieve will help lead to the question of how do you get there.
A few things did strike me. One, it envisions renaming the Syrian Arab Republic to simply the Syrian Republic. And even rights for the Kurdish language in Kurdish areas, which is interesting because the Kurds were not represented at the Astana talks. There is also a great deal of strengthening of the role of the parliament vis-a-vis the presidency. There is a significant restructuring of Syria that is envisioned here. The thing that I also found very striking is the equality that civilians would have before the law. And you really wonder how various anti-government groups, like Mohammed Alloush's Jaysh al-Islam will respond to that because they are trying to create a sectarian Salafist state, and certainly that kind of vision is not provided in this constitutional draft… What is being presented today should be acceptable to any normal person from a democratic country who wants to see the protection of human rights and equality before the law…
RT: The document also proposes an extension of the Syrian parliament's powers. Can this help to tackle the problems in the country in your opinion?
JJ: I think it could. I think it shows that there would be a more of a balance of power between the executive and the elected legislature. There is also provision for certain seats being set aside in the government for minority communities. And we see this in the constitutions of many countries like Lebanon… I don't know as they negotiate this, how it will work out exactly. But in a country as diverse as Syria, it seems like a good idea.
Asked why some of the opposition groups are undermining the peace process, author Adel Darwish, journalist and co-author of Water Wars: Coming Conflicts in the Middle East, said: "Because the so-called Syrian opposition are actually everyone claiming to be opposing the regime, but they are also in opposition to each other and in opposition to new ideas as drafted in the constitution."
"It is very difficult to define who these groups are. I think everyone is coming with maximum demands. They wanted a regime change before the talks started. Some of these demands ignore reality on the ground. Some of them are under attack as we speak from the Al-Qaeda affiliate, Jabhat Al-Nusra who renamed themselves Ahrar Al-Sham. So, when we use the word 'opposition groups', it is something difficult to define," he added.
Outspoken Virginia State Senator Richard H. Black, also commented on the draft Syrian constitution: "It is an interesting thing. What Russia is doing is a little bit what the US has done where we have come from a foreign perspective and attempted to impose rules on governments of other countries. It is much more complex with Russia. Because Russia did not begin the war in Syria. The war in Syria was begun by the US, the UK, France, Turkey, Saudi Arabia and Qatar. Russia was pulled in at a critical time. They are trying to resolve things."
According to Richard Black, "it is always a problem when people who are not a part of the culture try to impose government rules on another nation. They are trying to bring sides together. The problem that you have is that there are no moderate rebels."
"Tulsi Gabbard, when she made her visit to Syria, she found exactly what I had found. When I went in April, I met with Bashar Assad, I traveled all around the country and repeatedly Syrians are offended by this idea of rebels or opposition. To them, they are all terrorists," Richard Black told RT.
The statements, views and opinions expressed in this column are solely those of the author and do not necessarily represent those of RT.
You can share this story on social media: