Power split & minority rights among cornerstones of Russia-proposed Syrian Constitution – leaked doc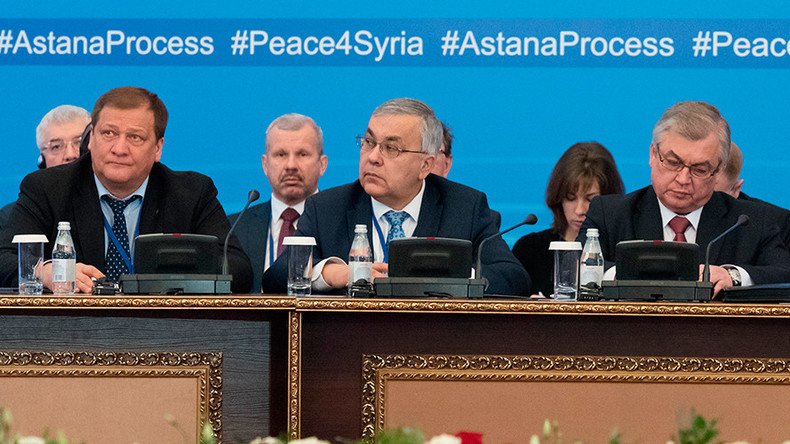 Territorial integrity, separation of political powers as well as respect for minority's rights and international treaties are among the cornerstones of the leaked draft of the Russian proposed constitution for Syria obtained by RT.
The paper was distributed by the Russian side among the delegates of the Syrian peace negotiations, which wrapped up earlier this week in Kazakhstan's capital, Astana. According to Russian Foreign Minister Sergey Lavrov, Moscow has based its suggestions on what it heard "from the [Syrian] government, from the opposition and from the countries of the region" over the past few years.
The proposed Constitution, which RT obtained via an opposition source in Syria, envisions that the word "Arab" be omitted from the country's official title. It states that "the Syrian Republic is an independent democratic sovereign state, based on the principles of people and supremacy of law and equality and social unity and respect of the rights and the liberties of all citizens without any differentiation." It stresses that all "faiths and religious groups" are "respected," as long as they do not violate public order.

The draft further covers the rights of minorities in the country. It says, for instance, that "state bodies and organizations of the Kurdish cultural autonomy are using Kurdish and Arabic languages equally."

It also notes that the status of the Kurdish autonomy "is defined by law."

In terms of sovereignty, the Russian proposal says that Syria "is united, inviolable and indivisible." Its territory is "inalienable" and the state borders can only be changed after a public referendum conducted "among all citizens of Syria."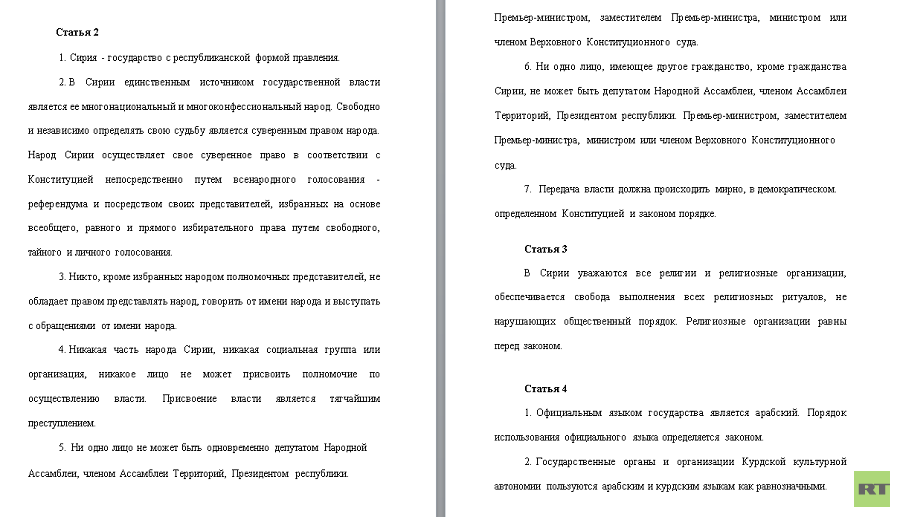 The draft also notes that the country builds its international relations "based on principles of good neighborliness, cooperation and mutual security and other principles envisioned by the international legal norms." Syria also rejects war as a means "to resolve international conflicts" and does not use its armed forces to "suppress" own people.
According to the draft Constitution, the executive branch of power in the country is represented by the President and his government. The President is elected by a public vote and can serve a maximum of two terms with seven years each. The People's Assembly serves as a parliament, passing laws which later should be forwarded for approval to the Assembly of Territories and then to the President.

It says the country's leader can be stripped of his powers by the Assembly of Territories in case the People's Assembly formally accuses the leader of committing "treason" or any other "severe crime."

The highest part of the Judiciary is the Constitutional Court, which among others oversees the legality of laws, decrees and other forms of legislation. The proposed Russian draft notes also that all judges are "independent."

"The Constitution shall come into force on the day of its official publication following the results of the public referendum," the draft submitted to the Astana delegations says.
You can share this story on social media: