New sanctions 'underscore vindictiveness & pettiness' of Obama administration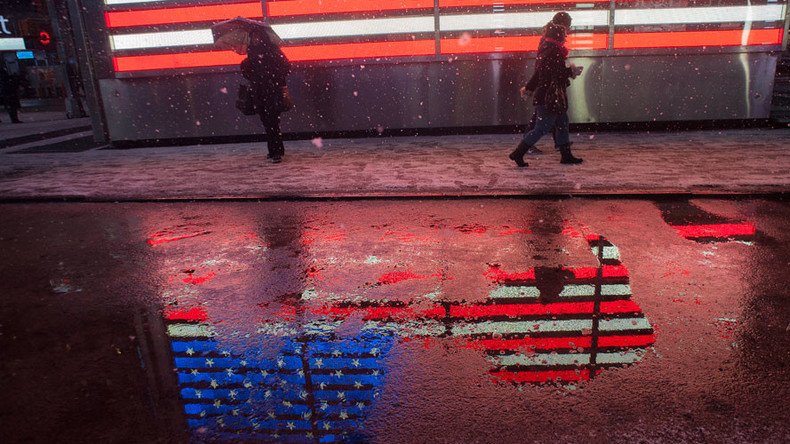 The new American sanctions against Russia are a comedy show and a slap in the face, as there is no real evidence to Russia's alleged interference in the 2016 election, say experts.
The outgoing Obama administration has announced new anti-Russia sanctions that include the expulsion of 35 Russian diplomats from the US. The move comes "in response to the Russian government's aggressive harassment of US officials and cyber operations aimed at the US election," Obama said in a statement on Thursday.
Moscow called the decision yet another manifestation of the unpredictable and aggressive foreign policy by the Obama administration.
"We consider this decision and these sanctions unjustified and illegal under international law," said Kremlin press spokesman Dmitry Peskov, adding that Russia will respond with countermeasures against the US.
RT asked analysts their opinion on the move by President Obama in his last days in office, and whether the new anti-Russian sanctions are going to complicate Donald Trump's intentions to mend relations with Moscow.
'Almost like a comedy show'
"I think it is completely almost like a comedy show that we really think that the Russians somehow convinced American voters to vote differently. Absolutely these are intentional moves. It appears to be just a whole series of actions that have occurred," said Earl Rasmussen, executive director of Eurasia Center.
In his view, there's no evidence to Russia's alleged interference in the 2016 election.
"I think [the US] is completely complicating the international scenario. We've had the horrible foreign policy, to begin with, but I think we're further complicating it, which would cause even more challenges for President-elect Trump and his team to move forward," Rasmussen said.
As to whether Trump will be able to overrule Obama's executive order, "it's going to be challenging" since there are certain members of Congress, "on the neocon side and neoliberal side that are anti-Russia" who seem to be "still caught in Cold War I, and dreaming of Cold War II," he said.
President-elect Trump, Rasmussen said, is expected to reduce US intervention and its role in regime change as well as "to build better relations out of respect and cooperation."
"I think he realizes that it is important for global peace and security and for global economic development to have a strong relationship with Russia. I think he will take whatever step is necessary to move in that direction," he told RT.
The announcement of sanctions followed the release of a new government report on "Russian Malicious Cyber Activity", which has been criticized by security experts as too basic, and it also includes a disclaimer, that the authorities provide no warranties on the information they released.
Commenting on the accuracy of the report, Rasmussen said he doesn't see "any real evidence, and what evidence we get – how reliable is that?"
"We've heard the whole 'trust us' scenario before, which has always proved to be false. We've heard from the sources too. We've heard from two sources: former Ambassador, as well as Julian Assange from WikiLeaks. The information did not come from Russia, or from the Russian government. If all appearances and other things that I've heard, it appears to may have been a leak inside – an insider leak," he said.
'Extraordinary break of protocol by outgoing President'
Once Trump takes office on January 20, he will have the ability to issue an executive order completely nullifying every single one of President Obama's executive orders, said Daniel McAdams, executive director at the Ron Paul Institute.
"I think that would be a good place to start. But it is extraordinary break of protocol for an outgoing President with very few days left in office to initiate a major foreign policy activity such as this is. It is really unprecedented, it is extraordinary, and it is a slap in the face," he told RT.
The timing of the US decision is also notable. It came the same day as Russia announced a ceasefire for Syria, brokered with the help of Turkey and Iran sidelining the US.
"I don't think anybody believes that there is not something to this. And it also just underscores the vindictiveness, the pettiness of the people that Obama has surrounded himself with in foreign policy," McAdams said. "Finally the Russians, the Turks, and the Iranians had to go around the US, because the US has been nothing but obstruction when it comes to solving the Syria problem for years. How many thousands of people have died while the US has been protecting people that it knows are tight to radical jihadists? I think there is definitely a parting shot from the administration against the Russians for spearheading what may well turn out to be a lasting peace plan for Syria. And they did it without the US," he added.
'CIA, White House owe US people proof to let them make decision themselves'
If there is any evidence of Russian interference in the US presidential election, "I would like to see it," says former CIA analyst John Kiriakou.
"The CIA owes it to the American people - as does the White House - to present that proof and to allow us to make a decision on our own," he told RT.
Regarding contents of the FBI/DHS report, Kiriakou says he didn't find them convincing.
"I understand that there is some smoke; I want to see where the fire is," he said. "It's one thing to make an accusation like this; it's an entirely different thing to take action by expelling diplomats and closing facilities."
According to the former CIA analyst, there are two options here: either the Obama administration actually believes that it has proof, or "it's taking a parting shot at President Putin."
'Obama behaving like alcoholic in a closing bar'
Larry Johnson, former CIA and US State Department official, said he is surprised at the scope of the latest sanctions and expulsions.
"I think it is important for the perspective of the Russian people that they look at Barack Obama right now like a drunk, and alcoholic in a bar: it is closing time; he has been informed he can't have the last drink, and he is now throwing wild punches and breaking furniture. The bar is going to close in a little bit, he'll be gone in three weeks. There will be a time to have a genuine reset in the US-Russian relationship," he told RT.
"This is so absurd and so ridiculous on so many levels. Just one illustration is: Obama's administration announces they are going to carry out covert operations. Last time I checked 'covert operations,' they were operations that were not disclosed in public. So they are disclosing in public operations that they are not supposed to disclose. It is that level of juvenile, childish behavior. I can fully understand the anger of the Russian officials would feel at this, particularly since the e-mails were leaked – they were not hacked," he added.
The statements, views and opinions expressed in this column are solely those of the author and do not necessarily represent those of RT.
You can share this story on social media: