'Trump not 'draining the swamp,' he's flooding it with oil' - NE Democratic Party chair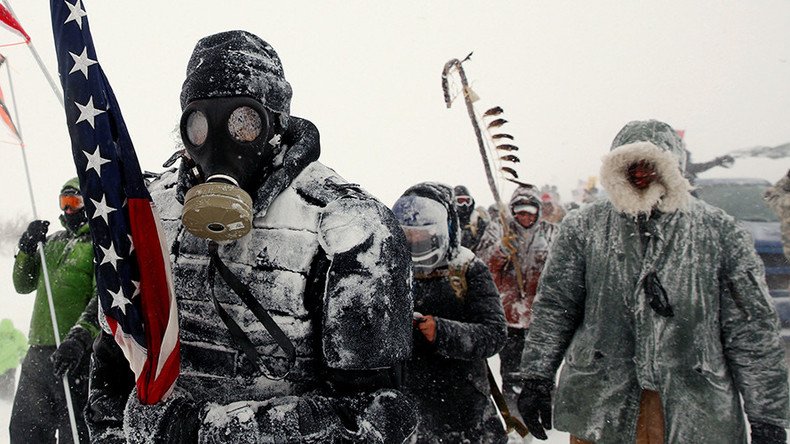 It's terrifying to look at Donald Trump's cabinet picks and the Congressmen who are in the pockets of big oil, says Jane Kleeb, Chair of the Nebraska Democratic Party. The biggest protest against oil in the US at Standing Rock is only the start, she adds.
President-elect Donald Trump is expected to have an entirely different view of the Dakota Access Pipeline (DAPL) controversy from President Barack Obama.
Jane Kleeb joined RT America's Ed Schultz to discuss Obama's options regarding DAPL in the face of the Army Corps of Engineers' decision to postpone the project. They discussed the future challenges for the environmental justice movement, and the need to respect indigenous land rights.
RT: The pipeline has become an epicenter of the fight against big oil in America. Where does the resistance go from here up against the Trump administration favoring drilling? What is the resistance to fight back, and how do you get climate change on the radar?
Jane Kleeb: The resistance against not only the Dakota Access Pipeline but honestly pipelines all across our country is very strong. There is this unlikely alliance of tribes, environmentalists, farmers and ranchers – all standing together. We all see what's happening, which is essentially big oil corporations often financed by foreign corporations and foreign investors, are trying to put export pipelines all across the US to get off to our coast in order to sell their product to the export market.
Standing Rock is one obviously very strong symbol of resistance. There is no question that people are going to go back in droves if Dakota Access thinks that they are going to drill across the river. Quite frankly, I don't think that they will. Anybody who thinks that at the snap of the finger Trump can just reverse the Army Corps' decision that Obama put in place, don't understand the law that's emplaced to protect those types of decisions.
RT: What kind of power would Trump have to reverse that? No power at all, or would he just redirect it to a different location?
JK: They have now to let the environmental impact statement go through. So that's the process now that the Army Corps is going through. There is still an ongoing question of whether or not they are going to put an entire review of the entire pipeline route or just that one river crossing. Trump could go to Congress to try to ask Congress to approve the pipeline and take it out of the hands of the Army Corps. Although, it is a very dangerous precedent. So he does have those options. There is also a ton of court cases ongoing. It is not like the Dakota Access Pipeline could today, even if Trump was in office and tried to reverse the decision, go ahead with construction, because there is an ongoing court case now in Federal Court.
RT: What happens if Trump goes to Congress? That changes legally the entire dynamic, doesn't it?
JK: There is no question. We are prepared for that kind of scenario, where Trump - who is essentially not draining the swamp – he is filling the swamp and flooding the swamp with oil. And it is terrifying to look at his cabinet picks, as well as, the members of Congress, who are in the pockets of 'big oil.' We know that this is a real possibility. But we also know that there is a ton of resistance on the ground and that we have a lot of legal options in our back pockets. We will build solar barns, we will build windmills, we will do everything we can to protect property rights of farmers and ranchers, and to protect the sovereign rights of Native Americans. I don't think America has seen this type of resistance against 'big oil' ever before. Standing Rock is only the beginning.
The statements, views and opinions expressed in this column are solely those of the author and do not necessarily represent those of RT.
You can share this story on social media: