Who profits from Turkey's 'Sarajevo moment'?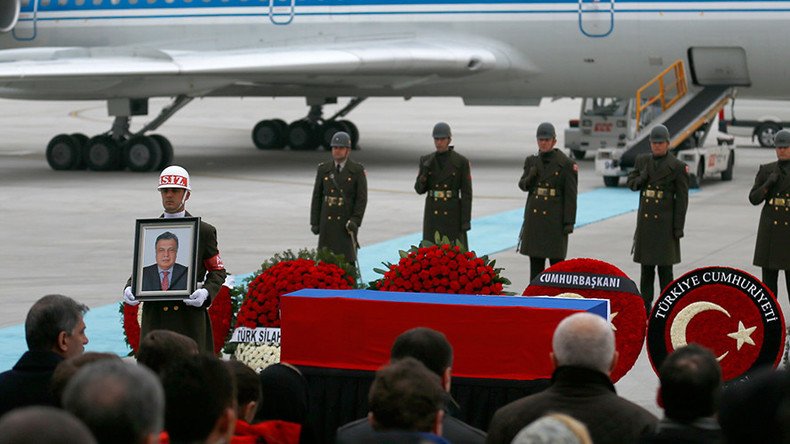 Let's cut to the chase: Ankara 2016 is not Sarajevo 1914. This is not a prelude to WWIII. Whoever plotted the assassination of the Russian Ambassador to Turkey Andrey Karlov – a cool, calm, collected old-school diplomat - risks a mighty blowback.
The assassin, Mevlut Mert Altintas, was a 22-year-old police academy graduate. He was suspended from the Turkish National Police (TNP) over suspected links to the Fethullahist Terrorist Organization (FETO) after the failed July 15 putsch against Erdogan but returned to duty in November.
It's no secret Gulenists heavily infiltrate the TNP; so a particular outcome of the attack will be an, even more, relentless Erdogan/AKP crackdown on the Gulen network. The Turkish investigation will have to focus not only on the (major) security service fail at Ankara's modern art center – but way beyond. It's not very reassuring that Turkish Interior Minister Suleyman Soylu put out a terse statement a very long three hours after the facts.
READ MORE: Assassin shouts 'Allahu Akbar, don't forget Syria' after shooting Russian ambassador (GRAPHIC VIDEO)
The killer in a black suit and tie shouted slogans about revenge "for Aleppo" – the requisite "Allahu Akbar" included – in both Turkish and broken Arabic, something that might establish a connection to an Islamist group's rhetoric, although that's not conclusive evidence.
Timing is crucial. The hit happened only one day before the Foreign Ministers of Russia, Turkey and Iran were scheduled to meet in Moscow for a key Syria strategic discussion. They were already closely in touch for the past few weeks on how to strike a comprehensive deal on Aleppo – and beyond.
READ MORE: Assassination of ambassador an attack on relations with Russia – Erdogan
And this right after the crucial, previously established Putin-Erdogan agreement, which implied no less than thousands of "moderate rebels" responding to Turkey's commands being able to use a "corridor" out of Aleppo. Ankara was fully on board with the plan. That in itself eliminates the possibility of an Ankara-provoked false flag.
President Putin for his part made it very clear he wants to be informed on who "directed" the killer. That's something that could be interpreted as subtle code for Russian intel already very much in the know.
The Big Picture
On the bilateral front, Moscow and Ankara are now working close together on counter-terrorism. Turkey's defense minister was invited to Russia for anti-air defense system negotiations. Bilateral trade is booming again, including the creation of a joint investment fund. On the all-important energy front, Turkish Stream, despite the Obama administration's obsession about its derailment, became the subject of state law in Ankara earlier this month.
Atlanticists are appalled that Moscow, Ankara and Tehran are now fully engaged in designing a post-Battle of Aleppo Syrian future, to the graphic exclusion of the NATO-GCC combo.
It's under this context that the recent alleged capture of a bunch of NATO-GCC operatives – deployed under the US-led-from-behind "coalition" - by Syrian Special Forces in Aleppo must be interpreted.
Syrian member of Parliament Fares Shehabi, the head of the Chamber of Commerce in Aleppo, published the names of the apprehended coalition officers; most are Saudi; there's one Qatari; the presence of one Moroccan and one Jordanian is explained by the fact Morocco and Jordan are "unofficial" GCC members.
And then there's one Turk, one American (David Scott Winer) and one Israeli. So NATO shows up only via two operatives, but the NATO-GCC link is more than established. If this information proceeds – and that's still a big "if" - these may well be coalition military personnel and field commanders, formerly advising "moderate rebels" and now a formidable bargaining chip in the hands of Damascus.
Both NATO and GCC remain absolutely mum; not even non-denial denials have materialized. That might imply a made in the shade deal for the release of the high-value prisoners, further strengthening Damascus' grip.
It was President Putin who all but established a de facto Russia-Iran-Turkey axis dealing with facts on the Syrian ground – in parallel to the rhetoric-heavy, zero-solution UN charade going on in Geneva. Moscow diplomatically emphasizes that the work of the axis complement Geneva. In fact, it's the only reality-based work. And it's supposed to sign and seal definitive parameters on the ground before Donald Trump enters the White House.
In a nutshell; the five-year (and running) NATO-GCC combo's multi-billion dollar regime change project in Syria all but miserably failed. Wily Erdogan seems to have learned his realpolitik lesson. On the Atlanticist front nevertheless, that opens myriad avenues to channel geopolitical resentment.
The Big Picture couldn't be more absolutely unbearable for neocon/neoliberalcon Atlanticists. Ankara slowly but surely is veering the Eurasianist way; bye bye to the EU, and eventually NATO; welcome to the New Silk Roads, a.k.a. the China-driven One Belt, One Road (OBOR); the Russia-driven Eurasia Economic Union (EEU); the Shanghai Cooperation Organization (SCO); the Russia-China strategic partnership; and Turkey as a key hub in Eurasia integration.
For all that to happen, Erdogan has concluded Ankara must be on board the Russia-China-Iran long-term strategy to pacify and rebuild Syria and make it a key hub as well of the New Silk Roads. Between that and an "alliance" of fleeting interests with Qatar, Saudi Arabia, and the US, it's certainly a no-brainer.
But make no mistake. There will be blood.
The statements, views and opinions expressed in this column are solely those of the author and do not necessarily represent those of RT.
You can share this story on social media: