Berlin Xmas market attack: Impossible to prevent or security failure?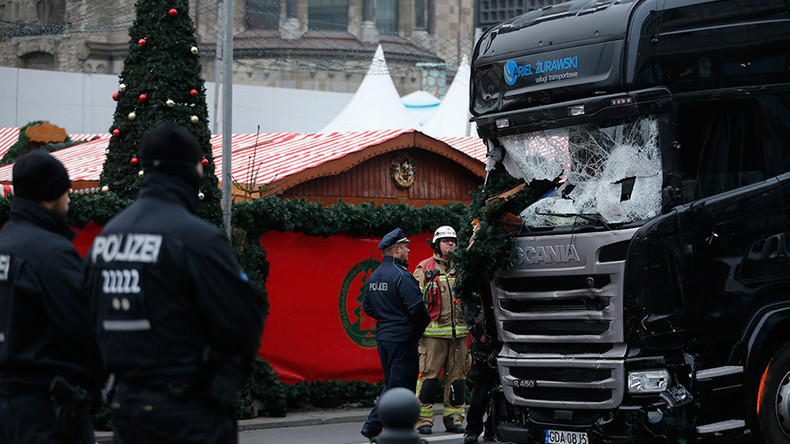 While 100 percent security is hard to achieve, it is also ineptitude on the part of the European authorities managing public safety which are to blame for allowing the Berlin Christmas market attack to happen; experts told RT.
A truck plowed into a Christmas market in western Berlin on Monday evening killing 12 people and injuring dozens more in what has been called a terrorist attack.
German Chancellor Angela Merkel told reporters on Tuesday: "There is much we still do not know with sufficient certainty but we must, as things stand now, assume it was a terrorist attack." She also added it would be hard to bear if it turned out that the "person who committed this act was someone who sought protection and asylum."
Hugh Bronson, a member of the Berlin parliament for AfD told RT that the tragedy would be followed by further "debate about migration and security will further polarize the society."
"The debate will be more aggressive. And we can prepare for a Christmas which is not exactly what we had hoped for," he said.
According to Bronson, "100 percent security is very difficult to achieve" especially in Europe "where we follow a policy of open borders."
"When there is a large crowd coming together to join and to celebrate and to enjoy each other's company, it will attract people who want to inflict great harm and who want to create terror," he told RT.
The Berlin attack resembles what occurred in July on Bastille Day in Nice, France, said former FBI agent James Conway who is managing director of Global Intel Strategies.
"A Christmas market which is a Christian symbol is a classic target for Islamic jihadists. It is the Christmas season, and there have been a lot of threats in respect to the upcoming Christmas season," he told RT.
Ricardo Baretzky, President of European Center for Information Policy, argues that a lack of competency on the part of the authorities managing public security is to blame for the possibility of such a tragedy and for the security situation to deteriorate during the year.
"The problem here is that this is not the information or the intelligence, it is the ability to manage the risk in public spaces. Unless they can manage the risk in public spaces, this will escalate one way or another. Because it is not only about a terror threat as such, but it is also about the present risk situation when you are in public spaces. So, there are a lot of factors; there are a lot of signals and this is very dangerous in a sense that if they can't manage this, it will escalate," he told RT.
Gregory Copley,editor of Defense & Foreign Affairs, said officials were cautious about releasing the details, and motive for the attack as "it would, and it does reflect badly on the German government's policy of open borders which has allowed the security situation in Germany to deteriorate badly."
"We've also seen injunction from ISIS leaders urging their followers to use vehicles and so on to attack the civilian population. We saw results in Nice earlier this year, we've seen similar types of attacks, ostensibly lone-wolf or spontaneous attacks in the US. But with the incitement which comes from jihadist or Islamist leaders," Copley told RT.
Is it possible to prevent such attacks? According to Rania Khalek, independent journalist, it doesn't matter what authorities are doing when they are trying to avoid this kind of attack as the core reason remains the spread of hateful ideology.
"There are so many details that are still unclear, but whenever I do see the attacks targeting the West, all I can think is that for the past several years – the US government, the UK government, and the Gulf States like Saudi Arabia, and Turkey, and Qatar have been funding and arming all these different jihadist groups in the Middle East and really empowering this sort of religious extremism and spreading all this hateful ideology and a lot of sectarianism. And you see that coming back and blowing back into the West and particularly in Europe from ISIS-inspired attacks and attacks inspired by Al-Qaeda. Right now, what I see is a bunch of people in the US, especially on the right, blaming Islam like they always do. But there's absolutely no discussion about the actual hateful ideology that ends up fueling those kinds of attacks," she told RT.
There is a larger political, social and economic story here, argues William Robinson, professor of sociology at the University of California, Santa Barbara. Part of that is a "disaster unleashed" by Western governments in the Middle East in the last 15 years. "The problem here is that security measures can only go so far in this type of terrorist attack and in the battle on the one hand between the Western governments and the ire that the Western governments have done, the anger that generated among groups that are prone to turn toward terrorism," he told RT, adding that the attacks in countries like France and Germany indicate that there was also a lack of security measure being taken by the governments.
Another part of the problem, Robinson went on to say, is that "Europe is entering a social, political and economic crisis and upheaval." That doesn't help to establish security either, the analyst added.
A whole set of measures needs to be applied to improve the situation as "The complete prevention of any of these attacks simply through security measures eventually leads to a police state and the undermining of civil and political rights and freedom," said Robinson.
Radicals "have been trying to hit Berlin for quite some time", says Jack Rice, former CIA officer and international lawyer. However, in case with Monday's tragedy, German authorities "have a benefit" because they have a "survivor" – a man who was allegedly steering the truck - and can potentially find out who was behind the attack and why, Rice said.
"The problem that people face is that you can ramp this up, but there's always a balancing act – you can increase security, you can even increase the powers of the police to try to stop this. But in some ways the more you ramp up some of this, the more you actually may encourage it. It is about trying to figure out how to stop the motivational structure behind this," he said.
Extremists using trucks as opposed to guns or explosives is another challenge security services have now to deal with.
"It is different when you are looking for someone with an AK-47, it is different when you are looking for somebody who actually has plastic explosives, when you have something you can look for. At least then you are looking at a very particular chemical signs. What happens when you use something that everybody has? It changes everything," Rice told RT.
The statements, views and opinions expressed in this column are solely those of the author and do not necessarily represent those of RT.