'McFaul's idea to brand RT foreign agent part of concerted crackdown on dissenting voices'
Published time: 12 Dec, 2016 00:36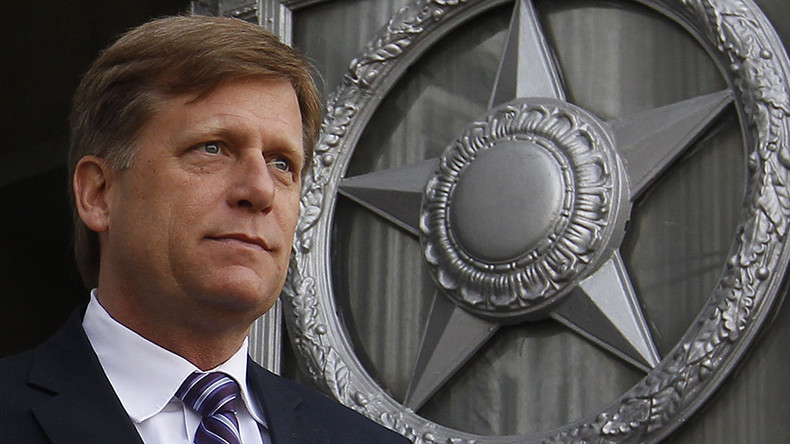 The idea to label RT and Sputnik as "foreign agents" is "flawed in numerous senses" and would not so much damage Russian media as the entire concept of free speech, analysts told RT, slamming the latest attack on dissenting voices.
Former US Ambassador to Russia Michael McFaul suggested registering RT and Sputnik news agency staff as "foreign agents," saying that they supported Donald Trump during the presidential elections.
McFaul's suggestion, which somewhat contradicts the US Constitution and the First Amendment, is a "disgraceful" attempt to "to stop alternative voices, who are not part of [the] mainstream political elite establishment consensus, from being heard," said former British diplomat and human rights activist Craig Murray.
"It's an absolutely disgraceful suggestion, but of course it's not isolated, it's part of this absolute storm of nonsense and disinformation that's being put out ever since Donald Trump's victory about Russian interference in the elections," Murray told RT.
Such a move would not only be "severely damaging to the ability of Russian-based media outlets to appellate," but to the concept of free speech itself.
"Freedom of speech is indivisible. You believe in it or you don't. And obviously this former American ambassador doesn't," Murray said. "Of course we are seeing this not just aimed at the Russian broadcasters, but we are also seeing claims that the internet should be censored and policed, that it should be fact-checked for only so-called facts which the mainstream media put out. What the mainstream media puts out is of course very often lies."
While McFaul's idea is "flawed in numerous senses," the chances of it becoming a legislation are pretty high, Steve Topple, an independent journalist and political commentator believes.
"We've seen the same thing in the UK here … there is more talk again of RT being taken off the air," Topple told RT. "We saw the same with Iranian Press TV in 2009. There is this real panic in the established political parties at the moment. They are losing a grip, if you like, on their control of ... the media, but also what people think and the information they're receiving."
The new proposition fits well the latest "fake news" narrative and is just another attempt to completely silence alternative sources of information.
"This feeds into the whole situation with 'fake news' at the moment. There is a concerted effort to shut down any dissenting voices, anything which doesn't hold the line that the establishment would like us to hear," Topple said.
"This is just another cog in that wheel, if you like; there is a Protecting Our Democracy Act, which is being proposed in the US Senate next week … I think this is just another attempt to shut down dissenting voices, and of course RT is one of those."
At the same time, Topple noted that if a Russian official had come up with a similar initiative against western media, there would certainly be an "outcry … about some sort of breach of international law."
The statements, views and opinions expressed in this column are solely those of the author and do not necessarily represent those of RT.