'DAPL protesters rely on RT, citizen journalists, as MSM goes missing in action'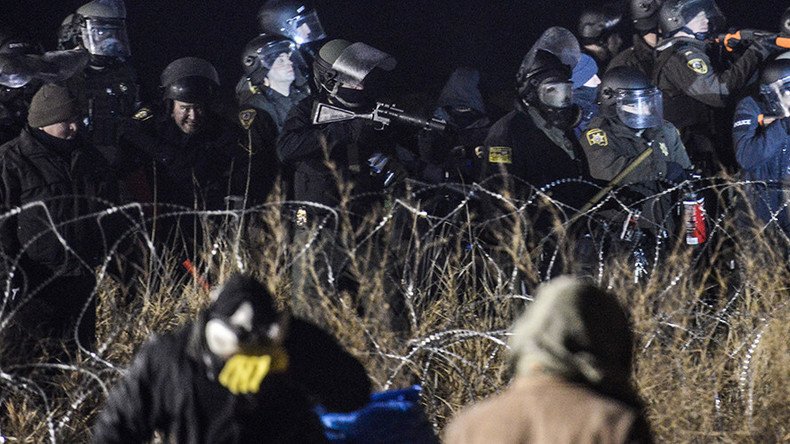 Demonstrators protesting the Dakota Access Pipeline have resorted to social media and outside news sources to get out their message as N.Dakota police reportedly use tear gas, water cannon and concussion grenades, says political analyst Elizabeth Murray .
Police have reportedly deployed water cannon on the protesters, many of whom were trapped on a bridge at the scene, in sub-zero temperatures, and are using LRAD sound devices. There were also reports of police firing rubber bullets into the crowd.
Construction of the $3.7 billion pipeline has been inciting protests since the spring, with the Sioux tribe and environmental activists claiming the project threatens local water sources, as well sacred Indian sites, including burial grounds.
Once on-line, the 1,200-mile pipeline will carry 500,000 gallons of crude oil daily from North Dakota through South Dakota and Iowa to a distribution point in Illinois.
Kelcy Warren, CEO of Energy Transfer Partners, the company constructing the pipeline, told PBS last week the work was not being carried out on Native American property.
"We're on private land," and the pipeline is "new steel pipe," he said.

Political analyst Elizabeth Murray provides her view of the demonstrations and how the US media has shied away from reporting on the disturbing drama.
RT: Tear gas and rubber bullets have reportedly been used to disperse the protests. Why do you think they're use such strong force against protestors who say they're acting peacefully?
Elizabeth Murray: This has been a full-blown assault on completely peaceful, non-violent protesters. I did see several reports, as yet unconfirmed, that the ground was vibrating underneath the area where the pipeline is being constructed and that it's quite possible that this attack tonight could be a cover – actually, a distraction – while underground drilling is taking place.
As we know, Energy Transfer Partners has openly defied both the Army Corp of Engineers and the president's urge to temporarily halt while the Army Corp of Engineers reviews whether they can go ahead with this. It's possible that they may be trying to start drilling under the river tonight, and again, that's unconfirmed, but I wouldn't be surprised and I wouldn't put it past Energy Transfer Partners, which has already said that any kind of alternative route is out of the question and that they intend to drill there…
RT:What do you think about protestors saying the police shot down their drone to prevent them from filming?
EM: I heard the same thing. I've been following the events rather closely on Twitter, but this is clearly an attempt to keep this out of the public eye. I understand that as this has been unfolding tonight, CNN, for example, has been busy going over the Hamilton theater incident with Vice President-elect Mike Pence and hasn't given any attention to this issue. Fortunately, we've had not only RT but all kinds of citizen journalists live-streaming so they're actually able to give citizens facts on the ground.
As you've mentioned and shown tonight, people were sprayed with water cannons in 25-degree cold.
Meanwhile, the Morton County Sheriff is apparently denying that they've used water cannons, but thanks to social media, people can get on-line and check out the live-streaming that has been going on through the night and see the terror that these non-violent water protectors are being subjected to.
It's really appalling.
The statements, views and opinions expressed in this column are solely those of the author and do not necessarily represent those of RT.
You can share this story on social media: