'New York Times politically biased in every way possible'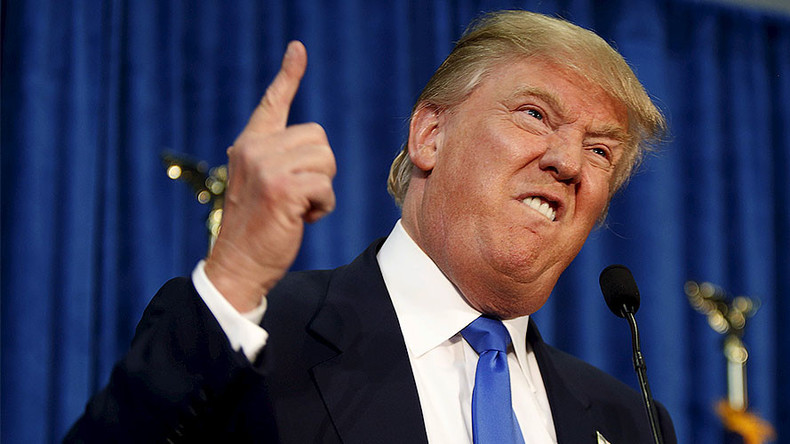 The New York Times avoids polls about some of Trump's positions, such as, abolishing the Department of Education and Obamacare, as well as promoting the idea of pulling the US out of the one-sided alliances, said Arvin Vohra of the US Libertarian Party.
One of America's biggest newspapers, the New York Times, has pledged to "re-dedicate themselves to unbiased reporting." However, many of its readers aren't convinced by the promise.
According to Arvin Vohra, Vice Chair of US Libertarian Party, "The New York Times has repeatedly shown itself to be politically biased in every way possible".
"In terms of polling…they do not even include third parties. Even if you don't like third parties - that actually skews your data heavily, because you're not getting the behavior that you're actually going to see, but it also refuses to poll people on the issues that they want to see," he told RT.
"The New York Times has rarely, if ever, run polls about some of Trump's actual positions, for example, abolishing the Department of Education, abolishing Obamacare. They didn't put questions about pulling out of the Middle East, about ending the war on drugs. If you don't include the issues, you are going to get false data."
One of the things Donald Trump talked about quite extensively was the idea of pulling the US out of "the sort of one-sided alliances where the US basically provides direct or indirect military funding for many, many countries, causing the US to have to spend more than the next several countries combined on military," Vohra said.
The @nytimes sent a letter to their subscribers apologizing for their BAD coverage of me. I wonder if it will change - doubt it?

— Donald J. Trump (@realDonaldTrump) 13 ноября 2016 г.
That stance, Vohra added, was popular among people of all political views.
"Many people want to see that happen, but the thing is the New York Times didn't cover that. They didn't have polling questions about that particular issue. And in doing so, they alienated and forgot to basically measure one of the most central issues, not even to say the secondary impacts of that which would be the higher taxation versus lower taxation. Leaving things like that out mean your data is going to be fraud," he said.
NYT suffering through difficult times in digital age
The New York Times was very biased and pro-Hillary Clinton, and Donald Trump didn't get fair coverage there, John Hajjar of the American-Mideast Coalition for Trump told RT.
RT: What is your take on the whole New York Times story?
John Hajjar: The New York Times, like print media in general is suffering through very difficult times in this digital age. Just recently, it released third quarter profits are down 19 per cent, ads are dropping precipitously, readership is dropping precipitously and they are increasingly desperate… The paper was very biased, very pro-Hillary Clinton. I read the paper occasionally; I have seen some of the clips. Mr. Trump did not get fair coverage whatsoever in the New York Times.
RT: Days after the interview to CNN, Donald Trump said he wanted to make Japan and South Korea pay if they wanted American-made nuclear weapons. He then added that he wanted to end the production of nukes worldwide. Yet the media still claimed Trump urged countries to arm themselves with nukes. What's your opinion on that?
JH: I'd like to see that comment that he said that they should arm themselves with nukes. Mr. Trump is very clear though that he wants all countries that are allied with the US, and he values alliances very dearly, however he wants them to pay a larger percentage of their GDP toward defense as he has pledged to do here in the US... We've always had a preeminent military, and he wants to restore it, but [he'd also] like other countries in Western Europe, Japan, South Korea, etc., all our allies – to step up their military spending to deter our enemies. You can see what's happened after eight years of failed diplomacy and failed leadership under Barack Obama, Hillary Clinton, and John Kerry – our adversaries have gotten more aggressive in the Middle East, in East Asia. We've been set back and have done nothing.
The statements, views and opinions expressed in this column are solely those of the author and do not necessarily represent those of RT.