'CETA another nail in the coffin of European democracy'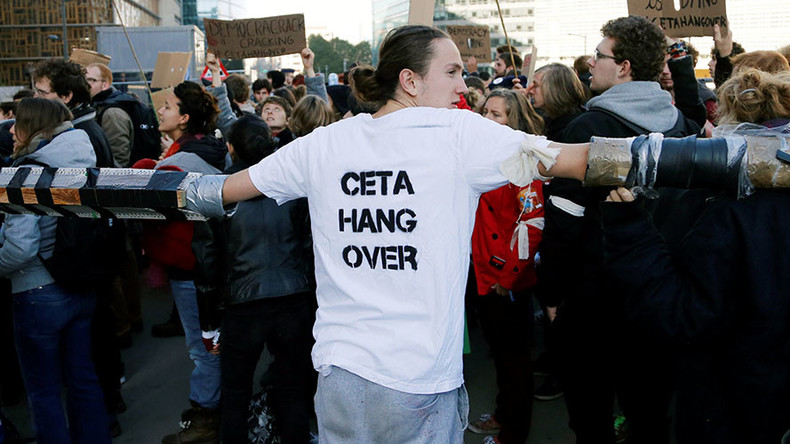 The Comprehensive Economic & Trade Agreement (CETA) will allow the economy to be run by big corporations. And the protesters of the deal - who have solid arguments - have not been heard, says Lode Vanoost, a former Deputy Speaker of the Belgian Parliament.
Protesters have attempted to storm the EU headquarters in Brussels in a bid to stop the signing of the controversial EU- Canada trade deal.
Canadian Prime Minister Justin Trudeau and European leaders inked the landmark trade pact despite the unrest outside.
The Comprehensive Economic and Trade Agreement (CETA) was expected to be signed earlier this month, but a Belgian region used its veto power to block the deal. And it was only on Friday they changed course and gave it the green light.
Supporters claim it will create business opportunities for EU firms in Canada and vice-versa. The deal also aims to create new jobs in Europe.
However, opponents say that it will damage consumer and workers' rights. They also think it will allow multinationals to push small companies out of business.
RT: Why is there so much negativity around the deal? Supporters say it aims to create new jobs and boost economies. What's wrong with that?
Lode Vanoost: First of all, according to the prognoses the European Commission made on this so-called free trade agreement, the impact on growth and jobs is going to be extremely minimal. We have to understand that the real drive behind this deal is. This is not a trade agreement; this is an agreement on the protection of investor rights. Free trade between Canada and the US and the EU is already almost totally free of tariffs and it couldn't be better than it was today. The fact is that this is an attempt now to get the economy not to a so-called free market but to make it an economy dominated and regulated by big corporations.
In the media, they usually say the truth is probably somewhere in the middle. It isn't in this case. The protesters have not been heard. They have very solid arguments. They have also the experience of previous so-called free trade agreements to use. Actually, the profit that is going to be there – the growth - it is going to be distributed to the top, it is not going to go to the small companies but to the big corporations. They are the ones that wrote the text of these agreements.
In the media, they usually say the truth is probably somewhere in the middle. It isn't in this case. The protesters have not been heard. They have very solid arguments.
RT: Protesters believe the deal undermines democracy...Is that the case and will they'll continue protesting?
LV: First of all, we should not forget that these protests, although largely ignored by Western media for the last two years have been going on for a long time already under the radar of big media, which does not mean it is not there. So, what you see it is not just something that spun up two-three weeks ago. This is going to go on definitely. And what has happened now, the one positive thing that happened now because the Wallonian region took this initiative to slow down the signing process is that it gave an enormous boost to this resistance and that people for the first time even heard about this agreement and what it is about.
RT: The Belgian region of Wallonia at first vetoed the deal then switched position. Why?
LV: Actually, that is a very interesting debate in itself. The thing is what they said now: 'We have given the federal government permission to sign, but we are still going to look into it once it comes for ratification to our parliament, because by then we will see that the reservation that we expressed will indeed be considered in the implementation of this agreement.' So, whether this is a change of heart of the Wallonia parliament remains to be seen in the coming months. Everybody gets the impression that signing of the treaty is the end it. It is not. Let's not forget that in reality in democracies treaties are only valid once they have been ratified by all parliaments in the EU in this case. And it gives ample time for the resistance to organize. So, the battle is far from over.
'CETA was written by, with and for big business'
RT: What problems do you see being associated with the passage of CETA? Proponents say it will be a positive development.
Pascoe Sabido, from the Corporate Europe Observatory: Unfortunately, this claim is based mainly on wishful thinking and ideological conviction. Many studies have shown there will be huge job losses in Europe and Canada from CETA, and the same goes for TTIP. You only have to look at NAFTA (North American Free Trade Agreement), signed more than 20 years ago between the US, Canada and Mexico. It will have exactly the same impact. It's a huge threat to jobs, workers' rights, environmental standards, food safety, and will make it will make it almost impossible for small-scale farmers to produce the sort of food we need because they'll be completely pushed out by agribusiness.
RT: Protesters believe the deal undermines democracy. Who's expected to benefit most from the deal? The president of the European Council says it protects workers' rights but then those same workers go and protest against it…
PS: CETA is definitely another huge nail in the coffin of European democracy. This has been a deal written by, and with, big business. You can see it in who's coming out. SMEs [small and medium-sized enterprises] have said, "We're not in favor of CETA or TTIP." Those who are cheerleading it are those very same big businesses so you have more rights being handed over to big business, you have their investors being protected, and ultimately what we're seeing is the profits of the biggest businesses being put before the interests of European citizens and those across Europe who actually want to have a decent quality of life.
The statements, views and opinions expressed in this column are solely those of the author and do not necessarily represent those of RT.