'UNESCO Jerusalem resolution justified as Israel seeks to change status quo'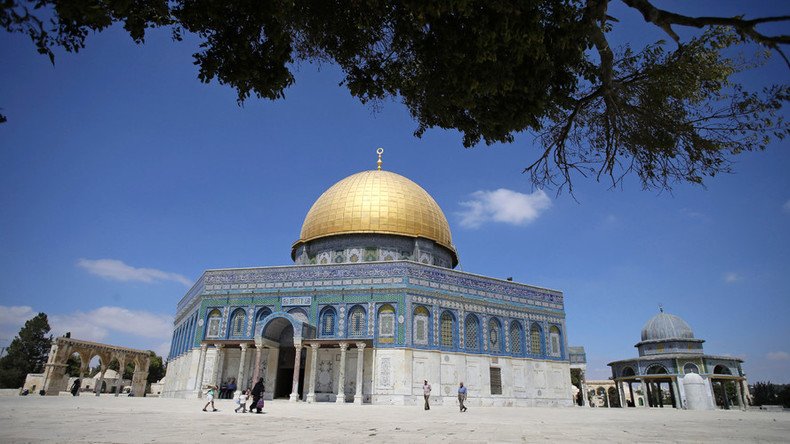 The "mild" UNESCO resolution recognizes that all monotheistic religions have a legitimate interest in the Old City of Jerusalem, and there is a justifiable condemnation of Israeli violence, activist Ofer Neiman from 'Boycott from Within' told RT.
Israel suspended ties with UNESCO after it had adopted a resolution on Temple Mount (known to Muslims as the Haram esh-Sharif) and the Western Wall in Jerusalem, ignoring any Jewish connection. The UN cultural agency said the places should be referred to only by their Arabic names.
The resolution also condemned Israel for restricting Muslims' access to the holy site and denounced aggression by Israeli police and soldiers.
Israel has accused UNESCO of trying to rewrite history.
"We will not negotiate and will not take part in this ugly game. There's no place for those games in UNESCO. This noble organization was established to preserve history, not to rewrite it," said Israel's ambassador to the organization Carmel Shama-Hacohen.
Israeli Prime Minister Benjamin Netanyahu called the UNESCO decision "absurd."
"To say that Israel has no connection to the Temple Mount and the Western Wall is like saying China has no connection to the Great Wall; that Egypt has no connection to the pyramids," he said on Friday.
RT: How fair is the UNESCO resolution?
Ofer Neiman: I believe this resolution is justified. We're all quite sure here that the Israeli government is misrepresenting this resolution, in fact spreading lies, and I can elaborate.
RT: The use of both the Muslim and Jewish names for the sites was not a major point of contention before. Is there any significance in the timing of the resolution?
ON: This resolution is significant in the sense that Israel right now is pursuing at the highest levels changes to the status quo, which is already discriminatory. In Jerusalem what we've had for many years is a political order of racism, occupation, and apartheid. And now there is growing extremism on behalf of the Israeli government and religious Israeli Jewish extremists. They are actively trying to undermine the status quo around Al-Aqsa [Mosque in Jerusalem]. I think the UNESCO resolution is very mild in comparison to this reality. For example, and that is a good thing, it does recognize that all three monotheistic religions have a legitimate interest equally in the Old City. But UNESCO is right in condemning Israeli violence and violation of the status quo around Al-Aqsa.
RT: Do you think it's appropriate for UNESCO to intervene in such a dispute, or should it avoid taking sides?
ON: This is a religious issue, it is also a moral and a political issue and a cultural issue. If UNESCO is taking sides here, they are taking sides for human rights and equality. This is not a resolution against Judaism in anyway. Again Mr. [Benjamin] Netanyahu is spreading lies about this resolution. The resolution acknowledges that all three religions have legitimate interest in the Old City, and there is a very well justifiable condemnation of Israeli violence. I think this violence should be condemned. That is in the interest of equality and justice, and also in the interest of a sane future for Jerusalem. The situation in Jerusalem is very dangerous. People who live in the city want a normal life. I think they all should support this resolution.
RT: Palestinians say Israeli forces have been often violating the status quo at the site, and controlling entry onto Temple Mount. Do you think the resolution may have any effect on that?
ON: At least we have some sort of condemnation from a respectable international organ. Hopefully, there will be some positive impact, because this is indeed one of the worst changes made to the status quo. I hope things can improve.
RT: Given the harsh reaction from the Israeli authorities, do you think the resolution may only fuel the tensions between Israel and Palestine?
ON: People like Netanyahu will always find excuses to trash and smear the international community, human rights activists, even Israeli human rights activist. We've seen Mr. Netanyahu's reaction to the speech at the UN by the director of [The Israeli Information Center for Human Rights in the Occupied Territories] B'Tselem [Hagai El-Ad.] So you can count on Mr. Netanyahu to try and dodge the issues and pursue the current status quo. We should stand up to it.
The statements, views and opinions expressed in this column are solely those of the author and do not necessarily represent those of RT.
You can share this story on social media: